Electric van visiting 'hot spots' in Jurong, Woodlands, Ang Mo Kio offers safe space to befriend, support youth-at-risk
SINGAPORE — Driving by where the dead lie to rest is a white van driven by social workers and loaded up with youth-at-risk, looking out for gravestones of those who died in their youth. 
Youth Guidance Outreach Services launched a project where an electric van will visit selected neighbourhoods to befriend youth-at-risk
This mobile outreach initiative aims to provide a safe space for youth-at-risk, to engage them and offer them mentorship and guidance 
Three young people talked about how they hope this mobile outreach can encourage other youth-at-risk to stay on the right track
SINGAPORE — Driving by where the dead lie to rest was a van driven by social workers, with youth-at-risk as passengers. They were looking out for gravestones of those who died at a young age, in the Lim Chu Kang cemetery area on one of their trips during the past three months. 
It may sound unusual, but Mr Wilson Tan said that such excursions helped him and his team to talk to youth-at-risk about their life goals. 
Mr Tan, 51, executive director of Youth Guidance Outreach Services (YGOS), said: "After a game of hide-and-seek, we look out for these gravestones… which sometimes gets the young people to think, and to talk to us about what they want to do to lead a fulfilling life."
Mr Tan was speaking to TODAY on Monday (May 29) at YGOS Woodlands Centre on Woodlands Street 81, during the launch of the non-profit organisation's outreach van and initiative named Mobile Outreach Support Team.
YGOS aims to help troubled youth through various programmes.
The electric van is part of YGOS' outreach efforts and will visit "hot spots" where youth-at-risk tend to be — places in Jurong, Woodlands and Ang Mo Kio housing estates where young people have been spotted loitering. The team seeks to build friendships with them and keep them out of trouble.
This includes providing them with safe spaces, mentorship and guidance programmes, which range from giving them career guidance to informing them on mental wellness or on how to stop smoking and vaping.
YGOS said that after befriending these young people, they will identify those at risk of getting involved in vice activities or at risk of having mental health problems, then pointing them to or linking them with social services for their needs.
Social workers from YGOS will drive the van from 6pm to 10pm every Wednesday and Friday, with the aim to reach youth-at-risk at "two to three 'hot spots' each day", Mr Tan said.
This schedule was determined through trials over the past three months, where YGOS was able to reach out to about 120 young people in the Jurong area. The places they visited were where the grassroots community have seen youth loitering in public.
The electric van is outfitted with a range of equipment and furnishings, including cushioned seating, a television monitor for playing games with a Nintendo Switch, mobile Wi-Fi, and two extendable canopies on either side.
These retractable shelters provide shade for an outdoor seating area when needed, where the youth and volunteers may relax on camping chairs while enjoying refreshments, and watch movies projected on a cloth screen draped across the van's exterior.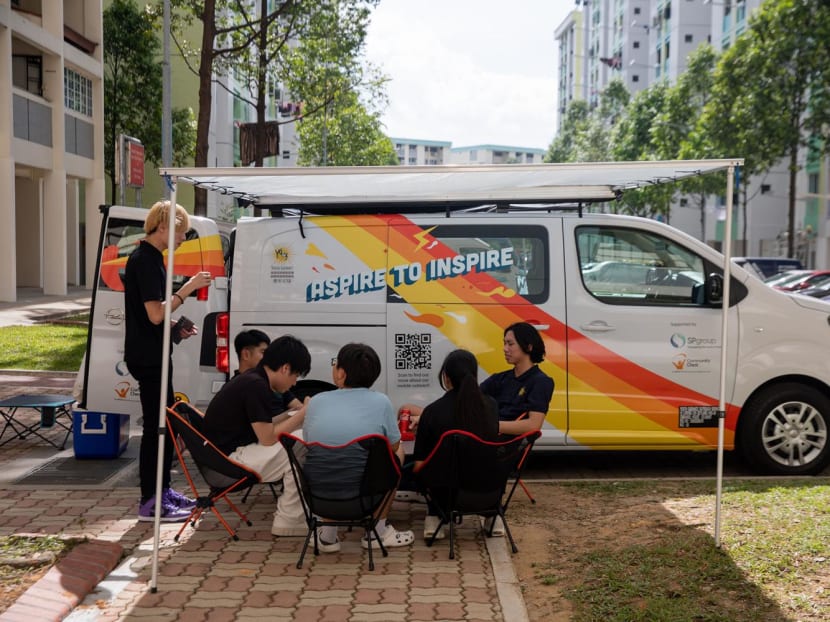 The van, and the expansion of YGOS' youth centres in Jurong and Woodlands, were funded by utilities company SP Group. Part of the company's S$750,000 donation includes credits for charging the vehicle.
"We are bringing this service to them for the youth to find out about YGOS," Mr Tan said.
"The van and team will help to engage the youth-at risk in an unhurried, sit-down manner to genuinely foster connections with them on a one-to-one basis."
Three young people who spoke to TODAY on Monday said that the cosy environment of the van, its canopy that provides a space to hang out with other young persons, as well as the Nintendo Switch game console are draws to attract others to meet the social workers at YGOS.
They have been supported by YGOS and had gathered to view and learn about the van during the launch.
One of them, 15-year-old Xuan Nian Lee, said that this mobile outpost would provide a good opportunity for other youth to benefit from YGOS.
"YGOS helped me find trust and confidence in myself and nurtured my passions in basketball, where I didn't have to feel like a burden to the team," the Pierce Secondary School student said.
"I feel that this is a safe space where I can sound out problems to them." 
The mentors from YGOS and other outreach groups have also inspired another teenager's career. Mr Ryan Tan, 19, hopes to become a counsellor or social worker. He is now pursuing a diploma in psychology at private school Kaplan.
When he was 12 years old, he had his first brush with the law when he made a false police report about being extorted. He got into trouble a few times after that, but changed his ways after he met a mentor at Boys' Town, a charity that helps children and youth from disadvantaged and disengaged families.
"I saw my youth mentor as someone who had earned my respect, which is what youths look for," Mr Ryan Tan said, adding that his mentor's straightforward yet helpful demeanour inspired him.
Later, the teenager also found guidance from YGOS.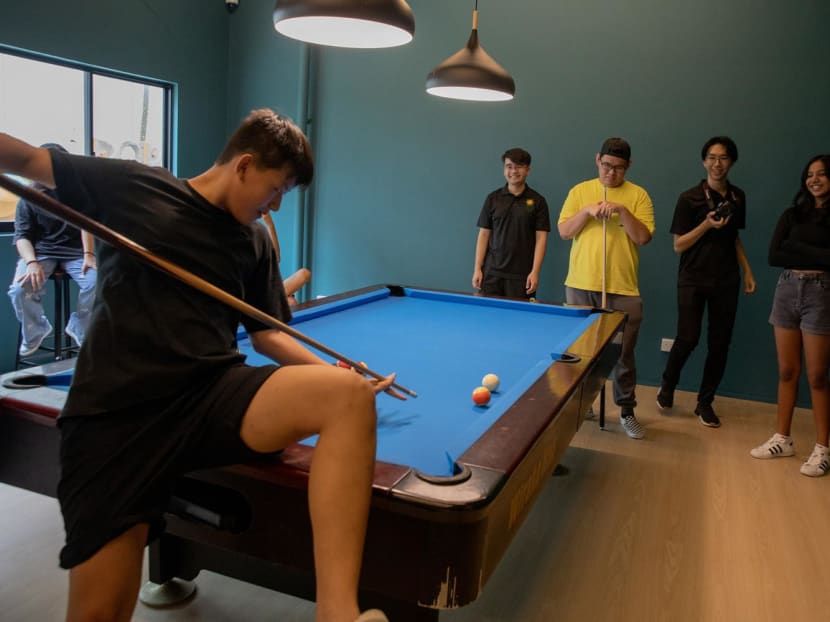 Focusing on his studies now, Mr Ryan Tan is unable to volunteer with YGOS' new van, but he sees this outreach project as an opportunity for youth-at-risk.
"You need to be able to make a change. That's your own effort," he said. 
"Change can be difficult, lonely. So YGOS provides friendship, socialisation and the opportunity to make that change," he added. 
Agreeing with what the other two had said, 16-year-old C Tharani, a student at Jurongville Secondary School, said that the van and other services provided by YGOS give youth-at-risk comfort knowing that they are not alone.
The hope is to expand this mobile service to reach out to young people across the island, Mr Wilson Tan said, adding that this initiative will be reviewed at the one-year mark.
In response to queries from TODAY, SP Group said that further support for the van will also be discussed during the review.