'Elite' RI students 'must be inclusive', retiring principal says of their 'responsibility'
SINGAPORE — The principal of Raffles Institution (RI) caused a stir back in 2015 when he made a speech about elitism, but his candid remarks must have rang true to those who heard it or read about it, because they were surprisingly well-received.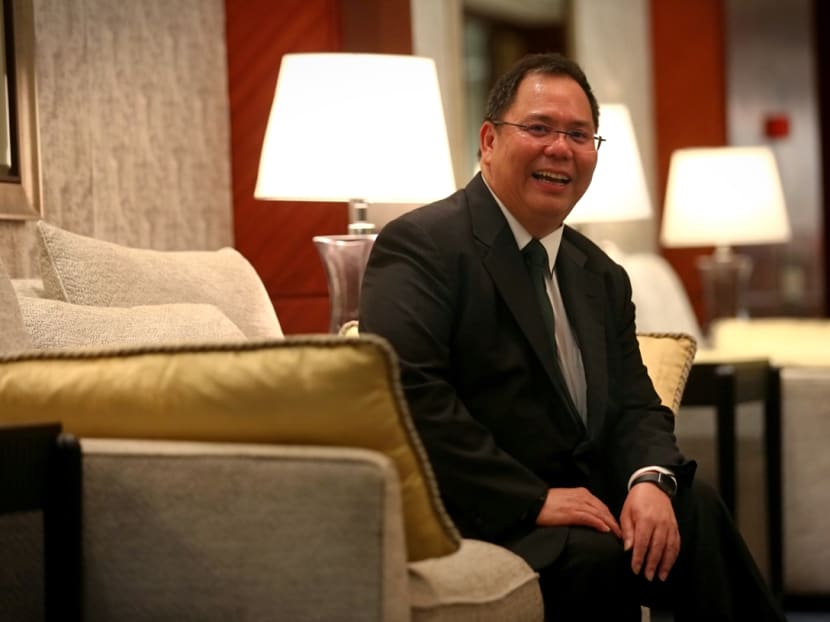 SINGAPORE — The principal of Raffles Institution (RI) caused a stir back in 2015 when he made a speech about elitism, but his candid remarks must have rang true to those who heard it or read about it, because they were surprisingly well-received.
On July 25 that year, while marking the school's 192nd Founder's Day, Mr Chan Poh Meng admitted that RI had become "insular", was not "truly representative of Singapore", and catered to students from the upper class of society. The school had become "middle class" and the student population had become less diverse in terms of their socio-economic backgrounds, which was unlike what it used to be.
Speaking to some 2,000 students, teachers, parents and alumni then, Mr Chan said: "A long period of conditioning means that we often fail to see elitism even when it is staring at us in the face."
His words struck a chord. Some members of the public praised his candour after that. During parent-teacher meetings and gatherings with alumni, the feedback from these groups was that they were "happy" he made that stand, he said.
Commenting for the first time on why he made that speech, Mr Chan, 60, who is retiring from the education service this month, said that it was meant to be a "reflective piece".
"As a school principal, I wanted to acknowledge it with my own people, let them know this was how I felt, and to ask them, 'What do you think?'," he told reporters on the sidelines of the Ministry of Education's annual appointment and appreciation ceremony on Thursday (Dec 28), where he was among 16 retiring principals honoured for their service.
The objective was to reinforce to students that although it was through their academic achievements that they were admitted to RI — which is widely considered to be the best school here — it was a "privilege" to be a part of the school community.
"At the end of the day, there must be some giving back to the larger community… It is a responsibility for us to fulfil," Mr Chan, who was a former RI student, said. He was appointed the school's principal in December 2013.
While it is fine to be recognised as part of an elite group of students who excel in studies or are endowed with other talents, it does not give one the licence to be elitist, he explained. "You don't be exclusive. You must be inclusive," he said.
"It would be terrible if you deny there is such a thing (as being) elite... it's what you do with that as a responsibility," he added.
On how he ended up with a "reflective" speech, Mr Chan disclosed that it was possibly due to his own illness. He was diagnosed with stage three colon cancer in 2014 and took a six-month leave of absence to undergo chemotherapy.
"It could be that... I had so much time at home, thinking about life," he said with a laugh. "It could be one of those moments when I was reflecting about what was the meaning (of life and) what I was going to bring to my job."
When he returned to work, Mr Chan set out to ensure that the school's programmes encouraged students to be more inclusive.
Since 2016, for instance, he has been welcoming students from other secondary schools to join RI's boarding programme for 10 weeks. The programme was started in 2008 to develop students' leadership and character.
There was also a student-led initiative called The Golden Page, which was started in 2014 to allow them to help improve the living conditions of seniors by installing equipment such as ramps and handle-bars in their homes.
INSPIRED BY TEACHERS
Mr Chan himself first wanted to be a teacher when he was a student at the then Park Road Primary School, which was located behind People's Park Complex in Chinatown. He was inspired by two of his primary school teachers, who helped him develop his self-esteem.
His father — who died 15 years ago at the age of 60 — was against the idea because he thought that the profession would not take his son far in his career.
His parents worked as hawkers selling noodles, and Mr Chan is the oldest of three children.
Pursuing his childhood dream anyway, Mr Chan became a teacher in 1982.
Over the years, he took up various leadership positions, including being a superintendent at the Education Ministry's headquarters. He was also the principal of Victoria Junior College for seven years before he was posted to RI.
If there is any regret, Mr Chan said that being in leadership positions took him away from the classroom, so he had less time to spend giving individual guidance to students. "That's what I miss a great deal," he revealed. "I like to be known as a teacher more than a school principal or leader. That was where I found the greatest satisfaction."
On his retirement, he refused to see it as a sad moment, because he is grateful to have served in the education sector for more than 30 years. He is looking forward to taking a break, to travel to Japan, and to see the Northern Lights, for example.
There is a sense of completion as he leaves RI as principal, since he not only studied there but started out as a trainee teacher in the school.
"I would say it's a rare privilege. I don't think anyone who joined the teaching service and was later found suitable to be a school principal would end up in his or her alma mater to lead the school," he said. "So, this full circle is especially meaningful for me."