Enhanced visa arrangements between Singapore and Australia to promote people-to-people ties
SINGAPORE — Singapore and Australia announced on Friday (June 2) two new visa arrangements for frequent visitors and youths who want to work and study Down Under, as both countries seek to further strengthen people-to-people ties.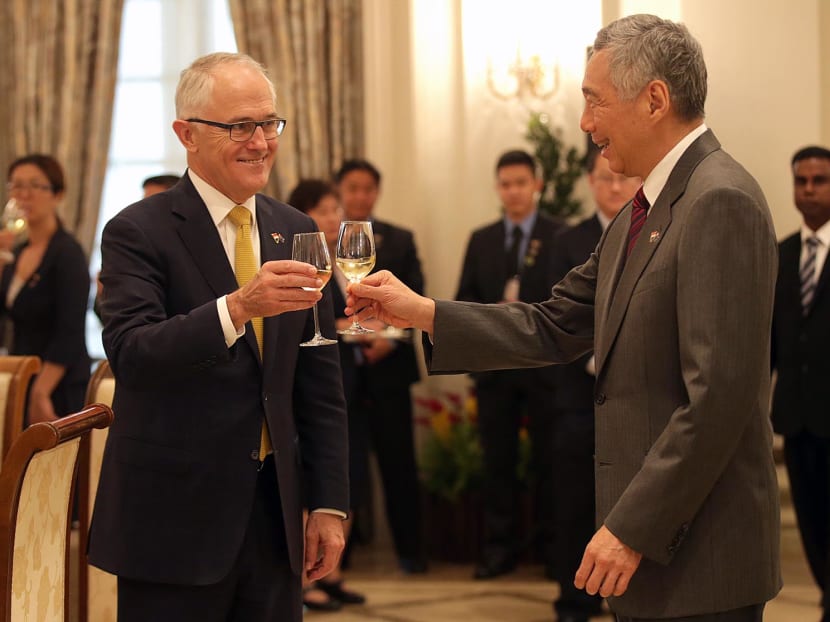 SINGAPORE — Singapore and Australia announced on Friday (June 2) two new visa arrangements for frequent visitors and youths who want to work and study Down Under, as both countries seek to further strengthen people-to-people ties.
"These new visa arrangements will further boost tourism and business links between Australia and Singapore. It will make it easier for people to come to Australia to visit friends and family while also enabling business operators to conduct regular meetings or attend conferences in Australia," said a statement issued by Prime Minister Malcolm Turnbull's office on Friday (June 2).
Singapore and Australia also signed two Memorandum of Understanding (MOUs) on strengthening cybersecurity cooperation and scientific cooperation. 
During a joint press conference by Prime Minister Lee Hsien Loong and Mr Turnbull at the Istana, the two leaders announced that Singaporeans will have exclusive access to a new long-term, multiple-entry visa option by January 1 2018, making it easier to travel to Australia.
The Visitor (Subclass 600) visa will allow travellers to visit Australia for up to three months at a time, over a six-year period, with a single application.
The two leaders also announced a new reciprocal Work and Holiday Maker programme that will commence on August 1 2017.
With up to 500 places available to citizens of each country each year, the programme will allow young people from Australia and Singapore to undertake short term work or study for up to a year, said the statement by Mr Turnbull's office.
Interested applicants should be aged between 18 and 30.  
The statement said applicants must satisfy all usual visa criteria, including health and character requirements and have adequate funds to support themselves for the period of the visit. 
In 2016, more than 230,000 visitor visas were granted to travellers from Singapore, up 16 per cent compared with the previous year.
Mr  Turnbull's office said the new arrangements "will further strengthen ties between our two countries".
Singapore and Australia share a longstanding and multi-faceted relationship, with cooperation that spans the political, economic, defence, culture and the arts, and people-to-people spheres. 
In 2015, both countries concluded a Comprehensive Strategic Partnership (CSP), a broad-ranging agreement that contains more than 80 initiatives to be implemented during the next decade across three pillars of trade and economics, foreign affairs, defence and security, as well as people-to-people links. The new visa arrangements are under the CSP framework.
Mr Turnbull, who is on his first official visit to Singapore, had called on President Tony Tan Keng Yam and met Mr Lee for the 2nd Singapore-Australia Leaders' Summit earlier in the day.
"At the Leaders' Summit, both Prime Ministers reaffirmed the longstanding and excellent bilateral ties, underpinned by similar perspectives and strategic trust," said a statement by the Ministry of Foreign Affairs, adding that the two leaders also exchanged views on regional developments and "agreed on the importance of an open and inclusive regional architecture, and the benefits of free and open trade."
During a lunch hosted in honour of Mr Turnbull, Mr Lee said Singapore has been a strong supporter of Australia's engagement with Asia. 
He added that both countries share similar strategic outlooks and world views.
"We worked closely to launch the Apec (Asia-Pacific Economic Cooperation) and ARF (Asean Regional Forum), platforms that support the regional architecture and Asean centrality," said Mr Lee.
He also noted that both Singapore and Australia support the Trans-Pacific Partnership (TPP)-11.
Talks are underway among the remaining 11 signatories of the landmark TPP to salvage the deal after the United States withdrew from the agreement.
On his part, Mr Turnbull described the relationship between Singapore and Australia as a "powerful friendship, one that operates on so many levels."
Both nations, he said, are sophisticated, educated and committed to innovation and growth.
"For  some of us, it is very much a family relationship in every sense of the word but for all of us, we recognise that this is a relationship build on shared values, shared understanding, shared vision for a region that is committed to freedom, open markets and above all, to a region where rule of law prevailed, where might is not right, where all nations big or small can live together, work together and advance their futures and those of theirs in peace," he said.
Earlier in the day after visiting the Botanic Gardens, Mr Turnbull noted the multi-faceted relationship between Singapore and Australia.
"There are 130,000 graduates of Australian universities here in Singapore, including the President (Tony Tan Keng Yam). And we find the closest relations are developing in business, in education, and we are advancing them," he said.
"So we are announcing today new initiatives in cyber security, in science and innovation, new visa arrangements, working holiday arrangements so our young people can come and work in the other country," he added.
"Visa arrangements that enable us to have more engagement of businesses, Australian businesses operating here, Singaporean businesses operating in Australia."