Ex-manager of Schooling's swimming school jailed for cheating friends of S$83,000 over football, U2 tickets
SINGAPORE — A 38-year-old former sports agent, who promised his friends discounted tickets for a high-profile football match and concert but failed to deliver them, was sentenced to one-and-a-half years' jail on Wednesday (Oct 20).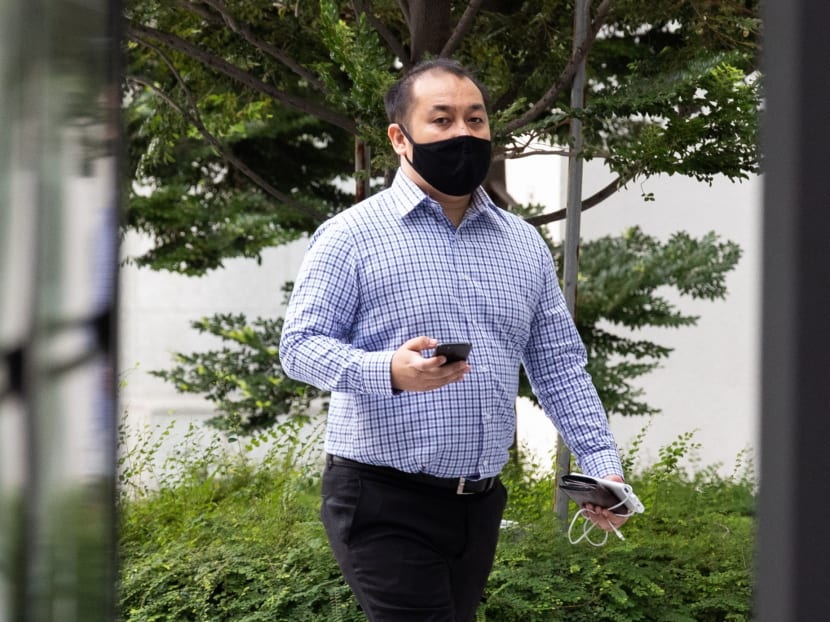 Mohamed Hafidz Ja'afar told his friends that he could get them discounted tickets
These were for the International Champions Cup match between Manchester United and Inter Milan, as well as a U2 concert
He then became uncontactable after they transferred him money
He told the court in mitigation that he had "overpromised"
SINGAPORE — A 38-year-old former sports agent, who promised his friends discounted tickets for a high-profile football match and concert but failed to deliver them, was sentenced to one-and-a-half years' jail on Wednesday (Oct 20).
Mohamed Hafidz Ja'afar had told his friends he could get a 20 per cent discount for the International Champions Cup (ICC) football match between English club Manchester United and Italian side Inter Milan, which was held here on July 20, 2019.
He also cheated others over concert tickets for the popular Irish band U2, which played its first-ever gig in Singapore that same year, as well as over sports shoes and attire.
One victim was his former client and footballer, Ilyas Lee See Qin, who had transferred more than S$17,000 for 52 pairs of shoes. Hafidz did not hand over most of them.
Hafidz pleaded guilty to eight counts of cheating, with another nine similar charges taken into consideration for sentencing. These were in relation to about S$83,000 worth of items.
The prosecution then withdrew four charges.
The 38-year-old Singaporean was fired from his manager role at Swim Schooling — a swimming school set up by Olympic champion Joseph Schooling — shortly after the cheating allegations first surfaced in July 2019.
He was also the former marketing and communications director of Singapore Swimming Association.
KEPT GOING UNCONTACTABLE
The court heard that a friend of Hafidz's bought 16 ICC tickets for himself and other friends, transferring about S$1,700 to Hafidz's bank account.
But Hafidz told him he could not send the physical tickets, instead providing jpeg images of them. This aroused the victim's suspicions.
When match day rolled around, the victim again tried to ask Hafidz for the physical tickets but could not reach him. The victim and his friends then tried to enter the National Stadium using the ticket images but were turned away as the tickets were fake.
Another friend, who knew Hafidz through playing hockey, had asked him to get ICC tickets for him.
When Hafidz said he could secure a 20 per cent early bird discount, the victim transferred about S$2,300 for 10 ICC tickets and about S$2,600 for U2 concert tickets.
Hafidz then emailed over a purchase verification from Singapore Sports Hub, where the National Stadium is located.
When the two men met for hockey training, Hafidz claimed that he had forgotten to bring the physical ICC match tickets, sent the victim a photo of them and assured him he would hand them over soon. But he continued making excuses and failed to do this.
Hafidz then created a group chat with the victim and others, where he apologised, saying that he was busy with work. He continually assured them he would pass them the tickets before match day.
He then exited the group chats he was in with the victim and became uncontactable.
Hafidz told a third victim that several ICC tickets, which the other man had paid about S$1,000 for, had been mailed to his home by mistake.
The victim arranged to meet Hafidz multiple times to get the physical tickets but Hafidz would make excuses not to meet.
About two weeks later, Hafidz handed over two tickets and said he could not pass him the remaining four. He then sent the victim a receipt purportedly from Sports Hub as assurance that he had the tickets.
When the victim went to Sports Hub to make enquiries, a ticketing officer said the receipt was fake and the seats in the e-tickets Hafidz had sent over did not exist. Hafidz eventually became uncontactable.
A fourth victim asked Hafidz for help to buy U2 concert tickets because he knew Hafidz had friends at the Sports Hub.
After the victim transferred S$1,900 for 10 tickets, Hafidz made various excuses again and later switched off his mobile phone.
'OVERPROMISED' FRIENDS
Deputy Public Prosecutor Selene Yap sought the sentence imposed, while Hafidz — who did not have a lawyer — said in mitigation that he had "overpromised" his friends at the time.
"These friends have been with me since 2015. They also benefited from other tickets I helped to purchase for them," he added, telling the court that he had delivered some tickets to others who did not lodge police reports.
Some who went to the police had also received some tickets, he said.
"In this case I overpromised friends — it was not right. I apologise, I'm totally remorseful and I plead for leniency," Hafidz said.
He also said that he had been helping the nation fight the Covid-19 pandemic over the past two years by working at swab and vaccination centres.
He has made restitution of about S$22,000 to the victims, and said he hopes to pay back the others in due course.
He could have been jailed for up to 10 years and fined for each cheating charge.
Hafidz previously worked in communications at the Singapore Swimming Association and was later hired by the Schooling family in 2016 to help out with logistics.
He was hired by Swim Schooling in 2017 as an administrator before he became a manager on a part-time basis.