Ex-teacher jailed 10 weeks, fined for taking voyeuristic videos of colleagues, students and policeman
SINGAPORE — After more than a year of taking voyeuristic videos of his male colleagues and students, a secondary school teacher was finally nabbed when he filmed a police investigation officer who was in a condominium clubhouse's toilet.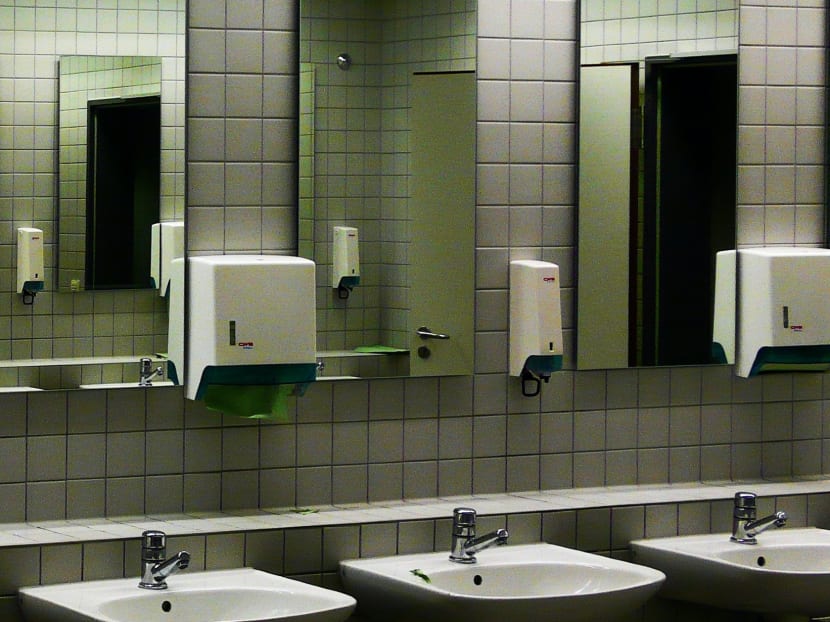 A man took more than 100 videos of unsuspecting boys and men over 14 months from 2017 to 2018
He often did this by pretending to be searching for lost items in men's toilets
He was nabbed after filming an investigation officer who was using a condominium's clubhouse toilet
SINGAPORE — After more than a year of taking voyeuristic videos of his male colleagues and students, a secondary school teacher was finally nabbed when he filmed a police investigation officer who was in a condominium clubhouse's toilet.
On Wednesday (March 23), the teacher, who has since left the education sector and no longer teaches in a school, was sentenced to 10 weeks' jail and a S$2,000 fine.
The 49-year-old Singaporean man cannot be named due to a court order to protect his victims' identities.
He pleaded guilty last month to two charges each of committing public nuisance and making an obscene film, with another six similar charges taken into consideration for sentencing.
He will begin serving his sentence on April 19. His cousin agreed to continue posting bail for him.
In her sentencing remarks, District Judge Melissa Tan said that the man's mental condition — persistent depressive disorder with anxious distress — was not so significant as to displace the sentencing principle of deterrence.
He was aware of the nature and wrongfulness of his actions, the judge noted.
The teacher's defence counsel had submitted a psychiatric report stating that he suffered from severe depression with underlying voyeuristic disorder.
However, District Judge Tan found that the psychiatrist did not state that the voyeuristic disorder had a strong contributory link to his offences. He was also found to be able to concentrate and function well in school.
Some aggravating factors that the judge considered were premeditation and an abuse of trust. There was also a "high number of non-consenting victims", the judge told the court.
WHAT HAPPENED
The court earlier heard that among his victims, he filmed fellow teachers and students at the school where he worked, as well as men at the common toilets in his condominium complex.
He recorded at least 128 voyeuristic videos between February 2017 and April 2018. Most of them were taken at urinals in toilets or in the condo's clubhouse toilet without the victims' consent.
The remaining 11 videos, which showed men masturbating or with their private parts exposed, were apparently taken with the subjects' consent.
The man would stand at the urinal next to the victim's to film them. Many of them captured the victims' faces and exposed genitals, while three clips captured an unsuspecting young boy of unknown age showering in the condo's clubhouse toilet.
At least three of these videos were of teachers at his school and at least two were of students.
The man was eventually nabbed on April 15, 2018.
A police investigation officer had been swimming at the condo and went to the clubhouse toilet to shower before going to a bench and drying himself.
The offender, going into the toilet, then pretended to look for his condo access card there, which was a common tactic he used. 
He stood on the bench in front of the victim with his mobile phone camera pointing down.
He told the victim that he was trying to see if he had left his access card on the shower ledge. After managing to capture a minute-long clip of the naked victim, he left the toilet hastily.
Feeling like he was behaving suspiciously, the victim got dressed and left the toilet but could not find the offender.
He then went to his relative's condo unit to collect his police warrant card and lanyard, before searching the compound for the man.
He eventually spotted the man, identified himself as a police officer and told him about his suspicions. The offender replied that he had not taken a video of the victim naked, but eventually handed his iPhone over.
As they walked towards the condo guardhouse, the offender repeatedly asked the other man to give him another chance.
At the guardhouse, the man unlocked his mobile phone on the victim's request and the video of the victim then popped up. A security officer from the condo proceeded to make a police report.
Those convicted of making an obscene film can be jailed for up to two years or fined up to S$40,000, or both. Those who are guilty of being a public nuisance can be fined up to S$1,000.
His offences predate the criminalisation of voyeurism in Singapore. Those convicted of this offence can be jailed for up to two years, fined, caned or given any combination of the three.