Exit of cheaper retailers a fresh blow for some households already using more electricity while working, studying at home
SINGAPORE — Before the Covid-19 pandemic, part time accounts executive Jessie Lim, 44, said that her household electricity bill would amount to about S$50 a month. Now, it is three times that.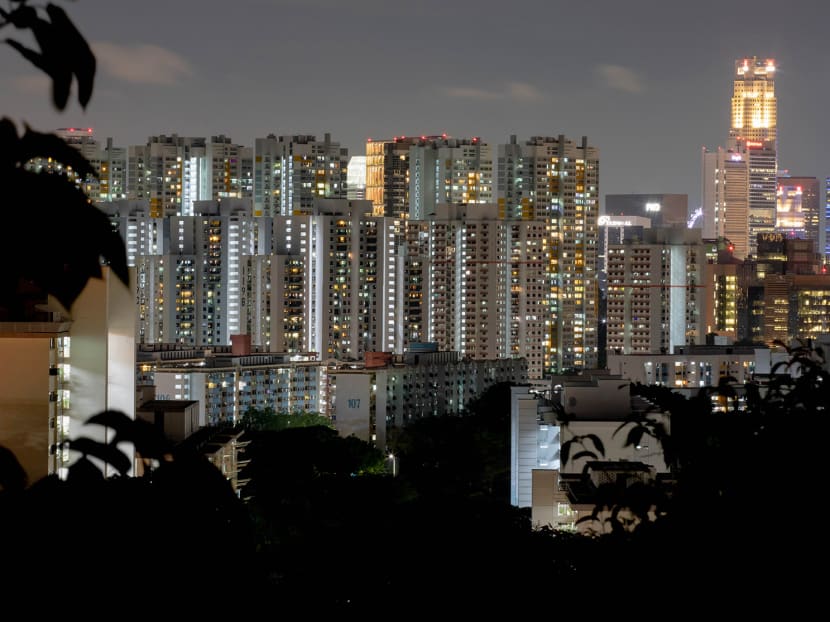 Data from SP Group shows the household electricity consumption increased in most months from February 2020 to August 2021
The periods of greatest usage tended to coincide with Covid-19 restrictions such as the circuit breaker period
Two electricity retailers are exiting the market amid a global energy crunch and record high natural gas prices
SINGAPORE — Before the Covid-19 pandemic, part time accounts executive Jessie Lim, 44, said that her household electricity bill would amount to about S$50 a month. Now, it is three times that.
Ms Lim lives in a four-room Housing and Development Board (HDB) flat with her husband and two school-aged children, 13 and eight. She has worked from home on and off through the pandemic though her husband has not.
"To separate our kids (during home-based learning), we have to put them in different rooms," Ms Lim told TODAY on Tuesday (Oct 19), outlining how the family's electricity consumption has increased.
"And with the unforgiving weather, we tend to switch on air conditioning from day to night. With the constant high usage, we have to do the servicing constantly," said Ms Lim, adding that she used to service her air conditioning units yearly, but now does it quarterly.
"Each time it costs around S$200, so that's an extra S$600 annually," she said.
Ms Lim's experience is reflected by electricity usage data showing that on average, consumption has increased across many households in Singapore, especially at times of tighter Covid-19 restrictions such as the circuit breaker period last year and the heightened alert phases.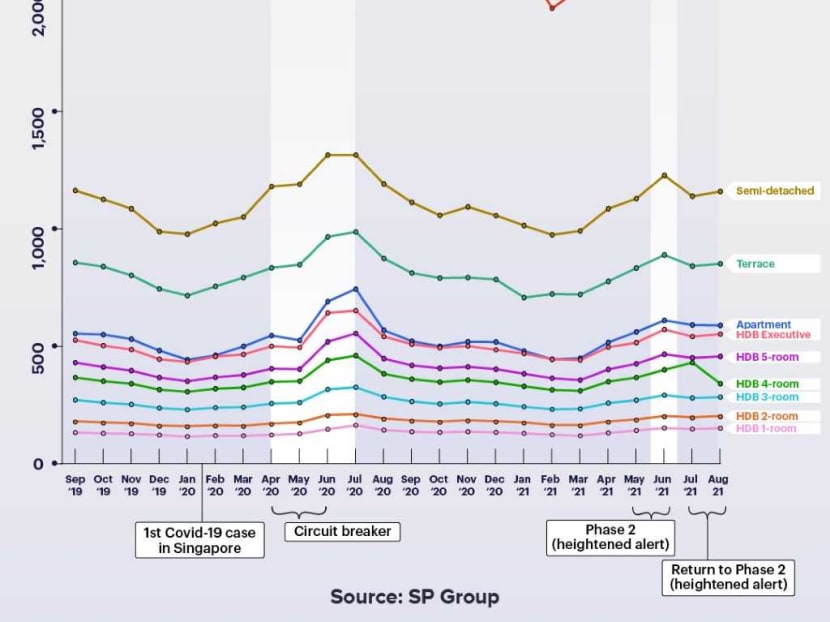 For Ms Lim and thousands of other electricity customers, matters have been made worse with announcements in the past week that two electricity providers, iSwitch and Ohm Energy would be exiting the market.
Ms Lim had been using iSwitch for two years before it announced abruptly last Wednesday that it is exiting the Singapore market due to market conditions.
"I could see the drop in bills when I switched from SP to iSwitch… I think at least a 25 per cent drop. When I heard the news about iSwitch, I was like 'Oh no!' because SP will most likely monopolise the market again," Ms Lim said, adding she would look for another provider.
The data from utilities agency SP Group shows that the average electricity consumption across 10 household types, from one-room HDB flats to bungalows, increased month-on-month in most months between February 2020, when the pandemic hit, and August 2021, which is the most recent month where data is available.
Spikes in electricity usage have tended to correlate with periods of tighter Covid-19 restrictions.
Electricity consumption rose significantly in April to July 2020, which included the circuit breaker period when most people were required to remain at home.
Consumption levels took a dip in February and March 2021 with usage in some household types even falling below pre-pandemic levels during these months.
But a return to higher levels of consumption this year have tended to coincide with restrictions such as Phase Two (heightened alert), which was in force May 16 to June 13, and reimposed on July 22.
Ms Valerie Ong, 38, told TODAY on Tuesday that her electricity consumption has increased by at least 30 per cent compared to pre-pandemic levels since the circuit breaker restrictions were imposed and working from home arrangements became the norm.
The secretary, who had been using electricity provider Ohm Energy for about two years since SP Group increased its electricity tariffs, says she now has to "cut down on using aircon for a long period".
"It's so crazy that it's like they announce today and close tomorrow kind of thing. If the company can warn us by giving ample notice so that we can take our time to compare the prices and find other (providers)... I will have to consider a more stable provider for my next one," she said.
However, she will not consider reverting back to SP Group, she said, as their tariffs are "higher than anyone else".
Ms Ong said that she will consider Sembcorp, Keppel Electric and Sunseap.
"We are asked to work from home by default but electricity has no subsidy… We are facing difficult times especially now with Covid," she said.
WHAT EXPERTS SAY
Dr David C. Broadstock, Senior Research Fellow & Lead Energy Economist at the Energy Studies Institute at the National University of Singapore (NUS), cited various likely reasons for the high levels of power usage in some months.
For example, office workers during lockdown would use air conditioning and their personal computers for around eight to 10 hours a day more than normal, as these expenses would normally be borne by the employer through office expenses, he said.
Similarly, he said that children moving to home-based learning would transfer their energy service demand from the school to the home, creating additional power demand within households.
Dr Broadstock explained that the implications of this to different households might be that small households, such as one-to-two-bedroom units would see a clear increase in electricity demand, and this pattern is generally visible in the SP data.
"Larger households may not see such clear increases in demand, as in larger households there may be unemployed persons, elder dependants, or helpers for example, that would in any case result in a base level of electricity in those households during daytime periods," he said.
He added that in such households, as employed persons shift to work from home arrangements, the relative rise in electricity demand would have been smaller, for example, compared with one-to-two-bedroom units.
This is because energy-consuming services such as cooling, cooking and lighting would already be provided for the children, elders, or helpers who stayed home for some of the day.
Assistant Professor Jimmy Chih-Hsien Peng from the NUS Department of Electrical and Computer Engineering conducted a study that focused on household electricity consumption from November 2019 to May 2020.
The paper found a "strong correlation" between the progression of that early period of the pandemic and electricity consumption.
But Asst Prof Peng told TODAY that according to SP Group's data, Singapore's electricity demand is predominantly influenced by the weather. Generally, the weather becomes warmer and humidity also increases in the months of June and July this year which probably led to the energy consumption increase.
Low temperatures and relatively dry weather generally mean low air-conditioning usage which could have been a contributing factor for the dip in February, he said.
He added that larger and more affluent households with more occupants may prioritise comfort over higher electricity bills, and may prefer to maintain their comfort in the warmer weather by using more electricity, for example by turning on air-conditioning earlier in the evening.
ELECTRICITY SAVING TIPS
According to Energy Efficient Singapore's website, households can save around S$400 a year when using the fan instead of an air conditioner as the energy of one air conditioner is equivalent to 11 fans.
Switching to a fan a short while after using an air conditioner can also help households save up to S$340 annually.
Households can also save about S$25 a year when switching off power sockets and about S$110 a year by switching off the storage water heater after use.
Buying electricity saving products, such as a 5-tick air conditioner or 3-tick refrigerator can also provide savings.