Explainer: Volcanoes are erupting around the world — what makes them so dangerous and are the eruptions related?
SINGAPORE — The Philippine province of Batangas remains in a declared "state of calamity" as Taal volcano, 70km south of Manila, has been spewing magma and kilometre-high ash plumes since Sunday (Jan 12).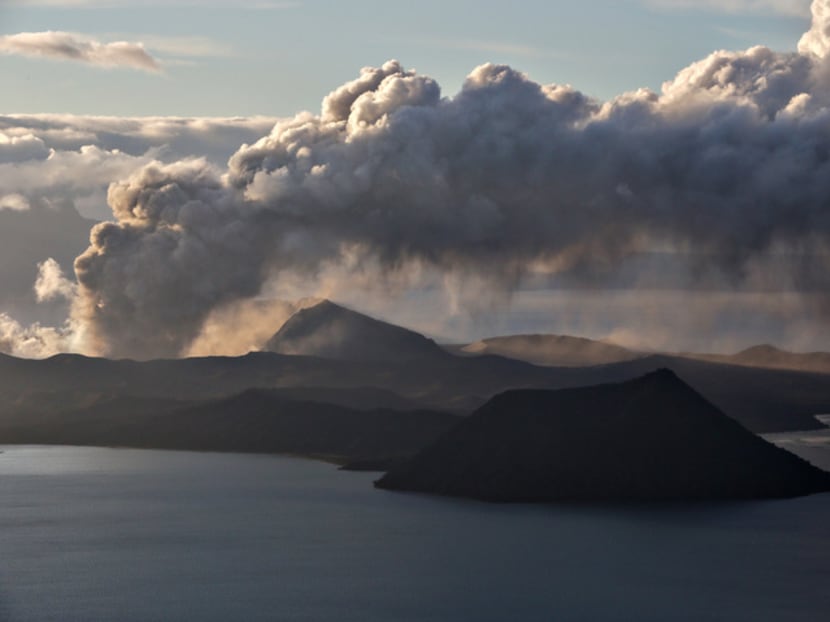 SINGAPORE — The Philippine province of Batangas remains in a declared "state of calamity" as Taal volcano, 70km south of Manila, has been spewing magma and kilometre-high ash plumes since Sunday (Jan 12).
On Saturday, Mount Shintake on Kuchinoerabu Island in Japan's south-west roared to life, launching debris as far as 300m from the volcano's crater.
Across the Pacific, Mexico's Popocatepétl volcano, about 70km south-east of Mexico City, erupted last Friday in a fountain of lava, amid blasts of ash and rock that reached up to 3km into the sky, the BBC reported.
In a span of just 72 hours, the world witnessed these three individual eruptions along the "ring of fire", a 40,000km belt of volcanoes around the Pacific Ocean that is prone to earthquakes and volcanic eruptions.
And a few weeks prior to that, a sudden deadly eruption on Dec 9 at White Island, New Zealand, engulfed 47 tourists viewing the volcano. The tragedy claimed its 18th life on Monday as an Australian succumbed to burn injuries caused by the eruption, with two more people missing and presumed dead.
Is there any connection between these eruptions? TODAY takes a closer look at the recent spate of volcanic activity.
IS THIS STRING OF ERUPTIONS REALLY JUST A COINCIDENCE?
Even though these volcanic events occurred over a short span of time, they are unrelated, said Prof Susanna Jenkins, a principal investigator with the Volcano Group at Earth Observatory of Singapore (EOS) at Nanyang Technological University.
The ring of fire is so named precisely because it is characterised by "relatively frequent volcanic activity", said Prof Jenkins, who is also an assistant professor at the Asian School of the Environment.
The 40,000km "ring of fire" around the Pacific Ocean, which is often hit by volcanic eruptions and earthquakes. Illustration: earthobservatory.sg
"In 2019, 70 volcanoes erupted — some more than once in that year, according to the Smithsonian Institution's Global Volcanism Program (GVP)," she said.
Of this total, 18 of the active volcanoes are in Southeast Asia and Oceania, while the majority of the rest are scattered throughout the Americas and Japan.
Notably, volcanic eruptions can take months, years or even decades to subside — Anak Krakatau in Indonesia has been erupting since June 2018, and continues to do so today. It was formed by the massive 1883 eruption of a volcano then known as Krakatoa, one of the most destructive in recorded history.
It is common for as many as 20 volcanoes around the world to be erupting at any one time, according to the GVP's website.
Professor Brian McAdoo, Head of Environmental Sciences at Yale-NUS College, said that although large earthquakes are sometimes believed to trigger eruptions elsewhere, the eruptions on White Island and Taal were 8,000 km apart and "almost certainly unrelated".
CAN EXPERTS PREDICT MAJOR ERUPTIONS?
Volcanologists generally detect eruptions by reading seismic activity below volcanoes, said Prof McAdoo.
However, sometimes magma can mix with underground gases and "burp" quickly, making prediction "difficult to impossible", he said.
"As we have seen with both the Taal and White Island eruptions, volcanoes can erupt anytime," he added.
Sometimes, scientists can estimate the likelihood of an eruption, said Dr Lauriane Chardot, a volcanologist at EOS.
"But forecasting the exact time of an eruption is challenging because volcanic processes are complex and not fully understood yet," she said.
Most historically active volcanoes are monitored by local institutes and observatories, such as the Philippine Institute of Volcanology and Seismology (PHIVOLCS), which keeps tabs on the Taal volcano. They do not, however, guarantee eruption forecasts.
Instead, these organisations assign alert levels to volcanoes that reflect their current state and their potential for volcanic activity. Not all bodies use the same alert systems, but they typically consist of six levels, ranging from "0" to "5" (lowest to highest activity).
When it erupted, White Island's volcano alert level was set to "2" out of "5" by New Zealand's official earthquake monitoring body GeoNet, indicating "moderate to heightened volcanic unrest".
"The White Island eruption occurred with very little warning, and tourists were unfortunately not prepared for the comparatively small eruption," said Prof McAdoo.
People fleeing the eruption on White Island in New Zealand on Dec 9 last year. Photo: Instagram/allessandrokauffmann via Reuters
In Taal's case, PHIVOLCS raised its alert level to four out of five, indicating that a second "explosive eruption" is likely to be imminent.
So far, 44,000 people have been evacuated from Taal's vicinity, but 930,000 more remain inside a danger zone within a 17km radius of the volcano.
In Indonesia — Singapore's nearest volcanic neighbour and host to the highest number of active volcanoes in the world — volcanoes are observed by the Centre for Volcanology and Geological Hazard Mitigation (CVGHM), which is based in Bandung.
JUST HOW DANGEROUS ARE VOLCANIC ERUPTIONS?
Volcanic ash is usually the likeliest hazard that nearby tourists and residents will face when an eruption occurs, Professor Joseph Michalski — director of the Earth and Planetary Science division at the University of Hong Kong — told CNN.
Dr Chardot said ash like this is composed of particles less than 2mm in diameter, and can contain volcanic glass, crystals and rock fragments that could cause serious damage to one's lungs if breathed in.
Dry ash is 10 times heavier than the density of fresh snow.
"Ashfall can damage infrastructure and, if heavy enough, can lead to a building collapse. It also affects visibility and makes roads slippery and more hazardous," said Dr Chardot.
Should Taal erupt a second time, this ash could be carried more than 100km, tainting air and water supplies used by more than 25 million people.
Towns near the simmering volcano are already blanketed in thick layers of grey ash from Taal's first eruption. Cars and animals were found completely stuck in black sludge created from a mixture of rain and ash.
Further away in Manila, spreading ash clouds forced the Philippine capital's Ninoy Aquino International Airport to shut down on Monday, along with schools and offices.
But it's a volcanic tsunami that could devastate the Taal region if the volcano erupts again.
The volcano is surrounded by a lake that is half the size of Singapore, and further tectonic activity or ejected magma from another eruption might displace the water in the lake. This would trigger a massive wave that could wipe out popular tourist spots along the lake's shores, such as the holiday town of Tagaytay.
Despite the disruptions and spectacular images, the 2020 eruptions of Taal, Mount Shintake and Popocatepétl have not caused any reported casualties so far.
COULD SINGAPOREANS BE AFFECTED BY THE ERUPTIONS?
Singaporeans might see volcanic ash in the sky if wind conditions allow, which could potentially disrupt flights to and from Singapore's airports, said Prof Jenkins.
This happened in the wake of the 1991 Mount Pinatubo eruption in the Philippines, when a tropical cyclone in the South China Sea pushed ashfall into Singapore, more than 2,000km from the volcano, said Prof McAdoo.
Singaporeans can monitor nearby volcanoes in Indonesia via the CVGHM's website.