Explainer: What happens to unvaccinated employees when stricter workplace measures for Covid-19 kick in from Jan 1?
SINGAPORE — Employees who remain unvaccinated by choice from Jan 1 will have to take daily Covid-19 tests to go to their workplace, otherwise they could be redeployed or sacked by their company as a last resort.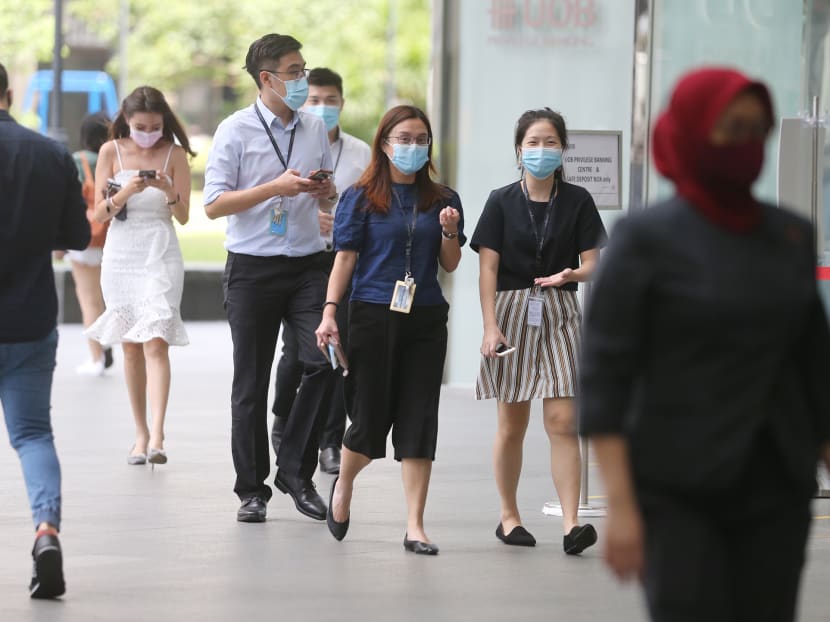 Stricter workplace access rules for unvaccinated employees will come into effect from Jan 1, 2022
Unvaccinated workers must undergo regular pre-event tests in order to return to the workplace
Working from home may be possible but it will be at the employers' discretion
Employers may redeploy, fire or put people on non-pay leave if they choose not to be vaccinated by choice
Those who are medically ineligible for vaccines should obtain a memo from registered doctors as proof to their employers
SINGAPORE — Employees who remain unvaccinated by choice from Jan 1 will have to take daily Covid-19 tests to go to their workplace, otherwise they could be redeployed or sacked by their company as a last resort.
Workers who refuse to disclose their vaccination status will be seen as unvaccinated by their employers, subjecting them to stricter workplace access rules and fewer Covid-19-related medical benefits than their vaccinated colleagues.
The new vaccination-related safety measures that will begin from next year were outlined a few days ago in an advisory by the Ministry of Manpower (MOM), Ministry of Health (MOH), National Trades Union Congress and the Singapore National Employers Federation.
The move is a departure from a previous advisory in August by the same ministries and agencies, which stated that "under no circumstances" should an employer terminate or threaten to terminate the service of an employee on the basis of vaccination status alone.
In the latest advisory, the authorities and their tripartite partners said Singapore must be prepared to take "stronger steps" to protect those who cannot receive vaccines due to medical reasons.
"Unvaccinated employees, especially those who are older, will put immense strain on our healthcare capacity in the coming months, if they contract Covid-19," they said.
"A fully vaccinated workforce will be able to operate more safely and at much lower risk to employees' lives."
In general, only those who are fully vaccinated, or have recovered from Covid-19 within 270 days (about nine months), can return to the workplace without the need for tests.
This is ultimately subject to the prevailing public health safety controls, such as whether working from home is the default.
With several conditions and exceptions to the vaccination rules at workplaces, TODAY breaks down some of the most commonly asked questions about the stricter vaccination-related policies from Jan 1.
I don't want to be vaccinated. What are the workplace rules that apply to me?
First, please reconsider getting the jab to protect yourself and others. The decision to vaccinate is a personal choice, but the chances of getting Covid-19 are much higher now than a year ago, and vaccines have drastically reduced the risk of severe illness or death from the coronavirus.
That said, those who remain unvaccinated by choice from Jan 1 will need a negative pre-event test result from an MOH-approved test provider in order to go to the workplace. The test result is valid for 24 hours.
These workers will also bear the cost of these tests, which can range between S$20 and S$30 for each test.
This "vaccinate or regular test" rule also applies to staff members hired by contractors and vendors.
The workplace vaccination rules do not apply to visitors to the workplace such as customers or clients. For these people, other vaccination-related measures will apply, such as those governing attendance at corporate events.
What can my boss do if I choose not to be vaccinated?
Your boss cannot compel you to get the jab for your protection, but upcoming rules spell out a range of workplace measures available to employers to continue doing business while protecting their workers.
Working from home may be possible if your work allows for it, but it is ultimately the employers' right to decide if you can work from home or not.
Working from home may not be the best long-term career option as well. MOM noted in its advisory that a vast majority of workers who are vaccinated will return to the workplace, and "the prolonged absence of the unvaccinated employees from the workplace may affect their individual performance as well as negatively impact team or organisational performance".
If the work cannot be performed at home, employers may:
Allow you to go to the workplace with regular testing

Redeploy you to jobs that can be done from home, though your pay might be adjusted as well

Put you on leave without pay

Fire you with notice given
Termination is a last resort — it will not be considered as a wrongful dismissal if it is because of your inability to do the contracted work at the workplace.
During hiring, employers may impose vaccination as a requirement when hiring for roles that require you to be present at workplaces.
I can't get vaccinated owing to legitimate reasons. What should I do?
If you are medically unable to be vaccinated, you will need to be able to prove this to your employer to avoid strict workplace measures for unvaccinated staff members.
Note that Sinovac, which is not a messenger ribonucleic acid (mRNA) vaccine, has now been included in Singapore's vaccination exercise and is recommended for those who are ineligible for the mRNA vaccines by Pfizer-BioNTech or Moderna.
You will need to get a memo from a registered doctor in Singapore that says that you are medically ineligible for both mRNA and non-mRNA vaccines under the national programme.
Employers should accept this memo as proof that you cannot be vaccinated and should not require you to disclose any sensitive health conditions.
By default, you are not allowed to go to the workplace without a valid negative test since you are still not vaccinated.
However, your employer may exempt you from this rule if you are needed on site. This exception can be granted only if you are medically ineligible to be vaccinated, though there is a higher risk of severe illness if you are infected with Covid-19.
Employers are encouraged to allow you to work remotely whenever possible and not count your absence from the workplace in performance appraisals.
They may also redeploy you in roles that make working from home possible, though your pay may be adjusted as well.
What about pregnant staff members who are unvaccinated?
Pregnant employees are strongly encouraged to be vaccinated as well and can consult the doctor to discuss the benefits and risks of getting the jab.
In May, the Health Sciences Authority approved the use of Pfizer-BioNTech and Moderna vaccines for pregnant and breastfeeding women.
Likewise, unvaccinated pregnant employees will have to undergo regular pre-event tests to enter the workplace and may be redeployed by employers in jobs that can be performed remotely.
In their case, however, employers are encouraged to "come to reasonable arrangements" on sharing the costs of these tests with their pregnant staff members.
Why are the authorities doing this?
It is to avoid straining healthcare resources, since there are still a number of unvaccinated workers who may fall ill from the coronavirus and its variants in the months ahead as Singapore moves to live with Covid-19.
At the same time, there are many people who are already immunised and face much lower risk to their lives if they contract Covid-19, and can return to the workplace safely.
Almost all of Singapore's workforce (96 per cent as of Oct 17) has been vaccinated, save for around 113,000 employees who are not.
But three in 10 companies still have unvaccinated employees in their midst, despite the high vaccination coverage among workers.
Of the unvaccinated workers, a small minority are medically ineligible for the jab. More importantly, around 14,000 are older than 60 and face a high risk of severe illness or death if infected with Covid-19.