Explainer: Who is Thai Princess Ubolratana, and why her candidature to become PM matters
SINGAPORE — Thai Princess Ubolratana Rajakanya Sirivadhana Barnavadi was on Friday (Feb 8) named as Thai Raksa Chart Party's sole candidate for the upcoming prime ministerial election.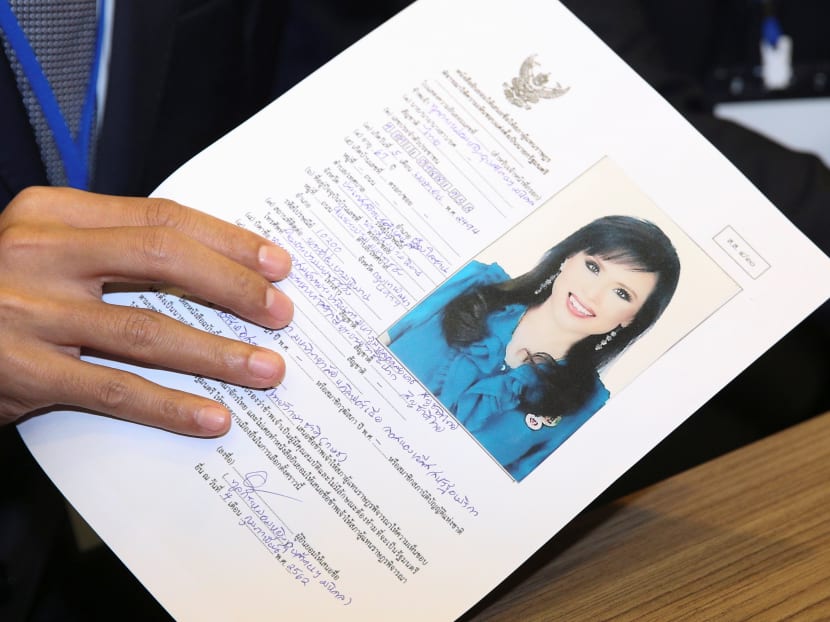 SINGAPORE — Thai Princess Ubolratana Rajakanya Sirivadhana Barnavadi was on Friday (Feb 8) named as Thai Raksa Chart Party's sole candidate for the upcoming prime ministerial election.
With the elections slightly more than a month away, here is all you need to know about the 67-year-old princess who broke a long-standing tradition of the nation's royalty staying out of politics.
PHILANTHROPIST, ACTRESS AND ROYALTY
1951: She was born in Lausanne, Switzerland, and is the first child of King Bhumibol Adulyadej and Queen Sirikit. The king was studying science at the University of Lausanne at the time of her birth. She was given the title Her Royal Highness, Chao Fa (lady of the sky) before the family moved back to Thailand in December that year.

1969: The princess set off for Boston to study nuclear physics at the Massachusetts Institute of Technology (MIT).

1972: She met and married American Peter Jensen, her classmate at MIT. In marrying a foreigner, she relinquished her royal titles.

1973: Princess Ubolratana graduated from MIT with a bachelor's degree. She later settled down in southern California, taking the name Julie Jensen. She had three children with Mr Jensen.

1975: She received a master's degree in public health at the University of California, Los Angeles.

1991: She appeared more frequently on Thai magazine covers, society parties and fashion events. She did not recover her full titles but was treated as a princess, with staff prostrating themselves at her feet.

1992: She founded the Ubolratana Foundation, which supports children orphaned by HIV-related illnesses.

1998: Princess Ubolratana and Mr Jensen divorced and she took their three children back to Thailand and resumed royal duties. The children received Thai citizenship and were treated as royals.

2001: Princess Ubolratana and her children permanently return to Thailand. She is referred to as "Tunkramom Ying", which means "Daughter to the Queen Regent".

2002: Princess Ubolratana launched "To Be Number One", an anti-drug campaign for at-risk youth and teens.

2003: She starred as a princess in a soap opera set in the Ayutthaya period, "Kasattriya".

2004: Princess Ubolratana's son, Poomi, was killed in the Indian Ocean tsunami.

2008: She made her silver screen debut with "Where the Miracle Happens", a film based on a novel she wrote in which she starred as a businesswoman who became a volunteer teacher.

2016: King Bhumibol Adulyadej died in October and her brother assumed the throne later in the year.

Feb 8, 2019. A Thaksin-linked party nominated Ubolratana as candidate for prime minister for a general election set for March 24
WHY HER NOMINATION IS SIGNIFICANT
Thailand's royal household has not sought involvement in politics in more than eight decades, which makes Friday's announcement significant.
Dr Termsak Chalermpalanupap, a researcher at the Asean Studies Centre of the ISEAS-Yusof Ishak Institute in Singapore, told TODAY keeping a distance from politics has been a "sacred tradition" for Thai royals since the 1932 Siamese revolution, which ended the absolute monarchy of King Rama VII. In its place is a constitutional monarchy.   
"National politics is the realm of politicians. The monarchy shall stay above all political frays," said the Thai citizen.
Beyond setting a precedent, Dr Termsak said Princess Ubolratana's nomination also "confirms her close ties" with former prime minister Thaksin Shinawatra, which he said has long been an open secret.
When King Bhumibol died in October 2016, Princess Ubolratana and Mr Thaksin's daughter exchanged messages of support on social media during the late king's mourning period.
In 2018, pictures appeared on social media of Princess Ubolratana, Mr Thaksin and his sister, former prime minister Yingluck Shinawatra, at the World Cup in Russia.
Reuters reported that the princess' nomination could also transform an election that had been viewed as a straightforward battle pitting Thaksin's populists and their allies against the royalist-military establishment.
"This is a profound development that will shape the contours and dynamics of Thai politics before and after the election... Thai Raksa Chart is a leading contender now," Dr Thitinan Pongsudhirak, a political analyst at Thailand's Chulalongkorn University, told Reuters.
While Princess Ubolratana may have little experience in terms of national politics, Dr Termsak said her reputation puts her in good stead.
"She is certainly well-known in Thai society. She has been active in social and charity works.  Her To Be Number One movement is very well regarded and highly popular," he said.
However, whether or not her popularity is enough to derail Prime Minister Prayuth Chan-ocha's quest to retain the premiership and return to power remains to be seen.
"The main question is how active Ms Ubolratana will be in the campaign. At least her photo can now be used by the party," said Dr Termsak.
QUESTIONS ABOUT THAILAND'S LÈSE-MAJESTÉ LAWS
Political observers are also scratching their heads over whether lèse-majesté laws will be applied to the princess.
Thailand's monarchy is protected by a strict anti-defamation law, which makes detailed discussion about the royal family within the kingdom almost impossible.
Under section 112 of Thailand's criminal code, anyone convicted of defaming, insulting or threatening the king, queen, heir or regent faces between three and 15 years in prison on each count.
As the princess relinquished her royal title when she married Mr Jensen, she is technically not covered by the law.
Yet, she is still considered part of the royal household and continues to perform her duties.
Human Rights Watch's senior Thailand researcher Sunai Phasuk told AFP that nothing in the law indicates that it can be used to "encompass other figures, including past monarchs or historical narratives connected to past reigns".
"In recent years, however, Thai authorities have interpreted the law increasingly broadly without apparent support in the text of the law," he said.
However, since Princess Ubolratana will be going up against Mr Prayuth, Dr Titipol Phakdeewanich, a political scientist at Ubon Ratchathani University, told the South China Morning Post that "we can expect to see less suppression by the (ruling junta) during the campaign period".
A BRIEF BACKGROUND ON THAI POLITICS
The election is seen as a battle between voters loyal to ousted populist prime minister Thaksin and his sister Yingluck — both deposed in military coups — and establishment-minded traditionalists who accuse the Shinawatras of corruption.
In Thailand's deeply divided politics, Mr Prayuth appeals to the royalist, military and middle-class opponents of Mr Thaksin, who is seen as a corrupt demagogue for policies that included subsidised healthcare and support for rice farmers.
Both Mr Thaksin, who was ousted in a 2006 coup, and his sister, Ms Yingluck, forced from office in 2014, live in exile. Both have been convicted of corruption, which they deny.
The Thai Raksa Chart is an off-shoot of the Pheu Thai Party, formed by Thaksin loyalists and the core leadership of the United Front for Democracy Against Dictatorship, or "red shirts" group, as a strategy to help Pheu Thai win votes.
Pundits were left guessing whether the princess' nomination was a bid to unify those divisions, with the approval of the king who assumed the throne after the death of his father in 2016, or a bold gambit by Thaksin loyalists to undercut the royalist appeal of the pro-establishment parties.
Mr Thaksin and his party have at times been accused by enemies of being opposed to the monarchy, which they have always rejected. WITH AGENCIES