Explainer: Why did MAS unexpectedly tighten Singapore's monetary policy during a pandemic?
SINGAPORE — The Monetary Authority of Singapore (MAS) surprised experts by tightening its monetary policy on Thursday (Oct 14) in response to rising inflation and the economic recovery that it expects in the coming years.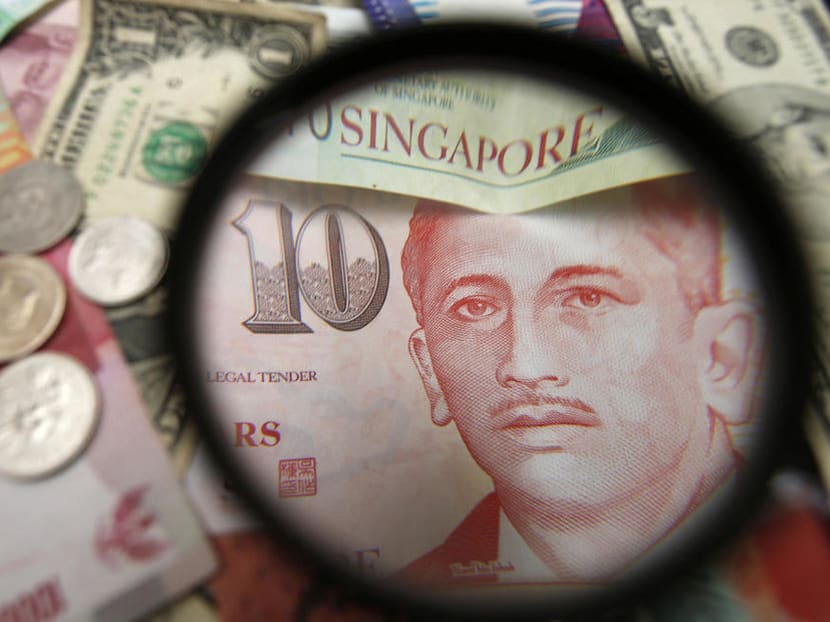 The Monetary Authority of Singapore tightened its monetary policy after 1.5 years of keeping its currency appreciation neutral
The move reflects its expectation of higher inflation and continued economic recovery in the coming months
The central bank has relied on adjusting its S$NEER policy band — which affects how the Singdollar appreciates — to control inflation
MAS said inflation is expected to rise faster in 2022 due to a confluence of factors
Experts said the move will help alleviate broad price pressures for Singapore consumers
SINGAPORE — The Monetary Authority of Singapore (MAS) surprised experts by tightening its monetary policy on Thursday (Oct 14) in response to rising inflation and the economic recovery that it expects in the coming years.
The central bank tweaks monetary policy by making small changes to the way the Singapore dollar is pegged to a basket of currencies of the country's main trading partners.
Broadly speaking, these tweaks have the effect of causing the Singdollar to appreciate in value, depreciate or stay about the same relative to that basket of currencies, all other factors being equal.
S$NEER, or the Singapore Dollar Nominal Effective Exchange Rate, is the currency exchange rate pegged to the basket of currencies and used by MAS to keep the prices of goods and services stable.
Central banks tend to act if they believe inflation — an increase in the prices of goods and services — is poised to rise above acceptable levels. A modest level of inflation is seen as economically healthy but higher inflation can spell economic problems.
MAS typically adjusts the S$NEER policy slope, width and midpoint as a means to influence inflation, whereas most other central banks — those with significantly larger domestic economies — tweak official interest rates instead.
In its announcement on Thursday, MAS said that it will slightly raise the slope of the S$NEER policy band from zero, while keeping the width of the band and the level at which it is centred unchanged.
"This appreciation path for the S$NEER policy band will ensure price stability over the medium term while recognising the risks to the economic recovery," MAS said in its twice-yearly monetary policy statement.
TODAY takes a closer look at the arcane world of monetary policy, and why MAS has made this tweak at a time few experts expected.
WHAT DOES THIS ALL MEAN?
Raising the rate of appreciation of S$NEER means that the Singdollar will be allowed to strengthen against other currencies at a faster pace.
Imported goods and services could therefore become cheaper, while Singapore's exports would also be more expensive, if all things remain equal.
This is the first time MAS has taken such a step since it last raised the rate of appreciation of S$NEER in its October 2018 monetary policy statement.
Since then, it has either reduced or maintained the rate of appreciation in the light of below potential economic growth and uncertainties in the global economy, most notably related to the global pandemic.
With Thursday's move, MAS would have maintained a zero rate stance over the course of about 1.5 years, coinciding with the start of the pandemic last year.
WHY DID THE MAS TIGHTEN ITS POLICY?
Even though there are still a number of uncertainties surrounding the pandemic and the global economy, MAS' statement described how the global and domestic economic outlook has changed since its last review in April.
The central bank gave two primary reasons for its latest move: Future economic growth and rising core inflation.
Expected recovery of the global and domestic economy
MAS said that despite the near-term uncertainties, the global economy is expected to expand at a quicker pace in the quarters ahead, thanks to the effectiveness of vaccines in limiting the severity of the dominant Covid-19 Delta variant and rising inoculation rates around the world.
Singapore's economy, too, is expected to continue recovering in line with its gradual domestic reopening, the MAS said, adding that the Republic's economic growth is expected to return to its potential by 2022.
This is provided the downside risks, such as the emergence of a vaccine-resistant virus strain or severe global economic stresses, do not materialise.
The economy grew by 6.5 per cent in the third quarter of 2021 compared with the same period last year, according to advanced estimates released by the Ministry of Trade and Industry on Thursday. This is the third consecutive quarter of economic growth.
Gross domestic product, the main measure of economic output, is expected to grow 6 to 7 per cent for the whole of 2021. MAS said it expects growth in 2022 to be slower, but still at an above-trend pace.
Consumer prices forecasted to rise faster
In terms of consumer prices of goods and services in Singapore, MAS said it expects core inflation, which excludes accommodation and private transport costs, to come in the upper range of zero to 1 per cent for the whole of 2021.
MAS expects prices to rise faster in 2022, with core inflation set to reach between 1 and 2 per cent next year.
Some factors that the MAS gave for rising inflation include:
Rising costs of imports, which are likely to persist for some time due to strengthening global demand and lingering supply constraints

Wages are expected to grow steadily, as labour market slack could dissipate in 2022

These will result in growing business costs, which could be passed on to consumers

Various service fee increases that had been put on hold due to the pandemic, such as those for transport, healthcare and education, could resume
MAS did not mention the ongoing global energy crunch in its report. In recent weeks, gas, coal and electricity prices around the world have risen to their highest levels in decades, driven by a strong rebound in energy demand as countries recover from the pandemic that outstripped supply.
WHAT ARE EXPERTS SAYING?
Before Thursday's announcement, 14 out of 15 economists polled by Bloomberg had not predicted the move and expected the tightening to occur only during MAS' next monetary policy statement in April 2022.
Economists have called MAS' surprise move a form of "policy normalisation", suggesting that there is a gradual return to the normal state of business following the adverse impact of the coronavirus health crisis on global economies.
They noted that in the past six months, the Singdollar had weakened against other regional currencies, as well as the US dollar.
HSBC economist Yun Liu and foreign exchange strategist Joey Chew said the MAS appears to be confident of Singapore's bright inflation and growth prospects as the country gradually transitions to "living with the virus".
"Despite lingering Covid-19 uncertainties, the MAS has decided to make a pre-emptive move to normalise policy as the economy emerges from the pandemic," they said.
Ms Selena Ling, OCBC bank's head of treasury research and strategy, said the confluence of supply chain problems, rising energy prices, a foreign manpower crunch due to border closures, as well as policy driven cost pressures like the expansion of the Progressive Wage Model next September have led to broader inflationary pressures.
"How much wage growth would also pick up in 2022 remains the crux for end-consumers, who are likely to face higher prices for a large swathe of goods and services going ahead. As a small and open economy dependent on many goods imports and also migrant workers, the pass-through to end-consumers (in Singapore) may be fairly immediate," she said.
Steepening the slope of S$NEER would thus help alleviate the strength of the US dollar and contain the imported inflation for goods from regional economies, added Ms Ling.
Rates strategists Eugene Leow and Philip Wee of DBS bank, which had predicted MAS' move correctly, said that another round of tightening could occur next year.
"As we transition away from the pandemic crisis and reopen travel, monetary policy should also normalise and (its) focus tilt towards managing inflation risks," Mr Leow said.
JP Morgan's economists Ong Sin Beng and Arthur Luk concurred with the possibility that there could be further tightening in 2022, given MAS' forecast of core inflation over the next six to nine months.
"We expect that there could be a further steepening of the S$NEER slope in the second quarter of 2022, especially if underlying pressures turn more persistent than we anticipate," they said.