Explainer: Youths worldwide will go on climate strike on Sept 20. Here's why
SINGAPORE — More frequent and intense heatwaves, melting glaciers, rising sea levels and, most recently, a devastating tropical cyclone in the Bahamas.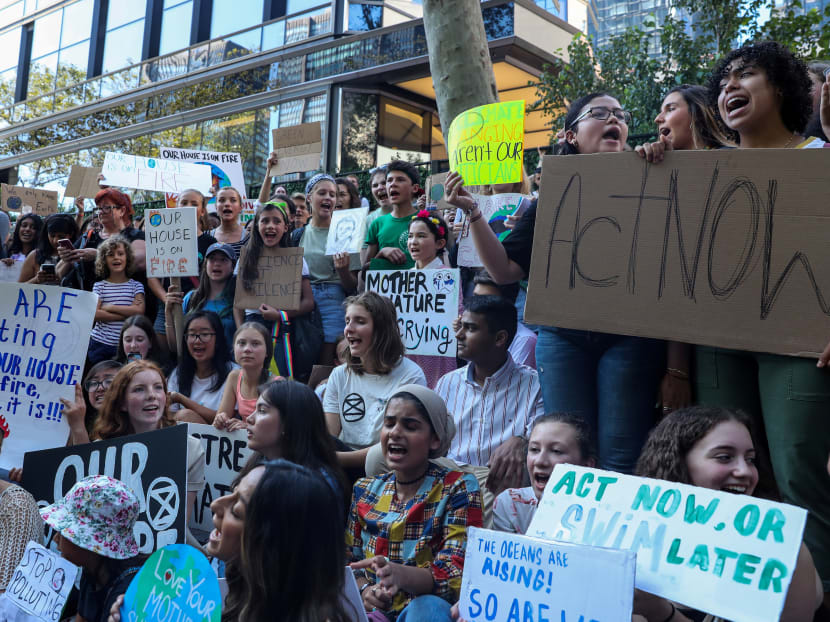 SINGAPORE — More frequent and intense heatwaves, melting glaciers, rising sea levels and, most recently, a devastating tropical cyclone in the Bahamas.
These are all signs of the dire consequences of climate change, and youths around the world said they are fed-up with what they perceive is a lack of effort from their respective governments to tackle the climate crisis.
Three days ahead of the United Nations (UN) Climate Action Summit on Sept 23, where Swedish teenager and environmental activist Greta Thunberg is expected to speak, youths from more than 120 countries — from the Philippines to Congo — will be taking part in the Global Climate Strike to make their stance known.
Here is what you need to know about the summit, and the upcoming climate strike — which Singapore will also be part of.
WHAT IS THE UN CLIMATE ACTION SUMMIT ABOUT?
The summit will be held at the intergovernmental organisation's headquarters in New York on Sept 23.
UN secretary-general António Guterres has called on world leaders to attend the summit with "concrete, realistic plans" to mitigate climate change.
Aside from leaders of government, business, finance and civil society, there will also be youths in attendance.
A separate Youth Climate Summit will be held on Sept 21 at the same venue to give them a platform to showcase their climate solutions and engage with global leaders.
One youth in particular, the teenage climate activist Greta, is scheduled to speak during the main summit.
WHO IS GRETA THUNBERG?
Greta is a 16-year-old climate activist from Stockholm, Sweden, who came into the spotlight in August last year for walking out of class on Fridays to protest in front of the Swedish parliament about her government's inaction over climate change.
Though she started alone, her Fridays for Future school strike movement has inspired others, and since spread to more than 100 countries.
To attend September's summit, Greta chose to sail for two weeks from Plymouth, England, across the Atlantic on board the emissions-free race boat Malizia II, and arrived on the shores of New York City on Aug 28.
The summit will not be Greta's first time addressing world leaders.
In July this year, she told the French parliament that it is okay to ignore her and other children's warnings about global warming, but she implored them to listen to scientists.
An Australian think-tank warned that 2050 might be the end of global civilisation due to climate change, while another scientist stressed that the Earth is getting "very, very close" to crossing its tipping point.
Last December, Greta also berated world leaders at the UN's climate conference, saying: "Since our leaders are behaving like children, we (youths) will have to take the responsibility they should have taken long ago.
"We have to understand what the older generation has dealt to us, what mess they have created that we have to clean up and live with. We have to make our voices heard."
On Sept 20, the Swede will lead strikers in New York to take part in a coordinated climate demonstration involving youths and adults that will be held around the world.
AFP reported on Sept 12 that New York authorities have given their blessings to children who wish to skip school to join the activist.
WHAT'S THE MOTIVATION FOR THE GLOBAL CLIMATE STRIKE?
Fridays for the Future said in a media statement that there will be a "record breaking" 3,459 events in total across 120 countries that include the Philippines, South Africa and even Singapore.
The statement, which was issued by international environmental organisation 350.org on Friday, said "huge demonstrations are expected across the globe with numbers surpassing the March 2019 record of 1.6 million people".
Speaking to members of the international media last Thursday via a video conference, several youth activists and experts said the Global Climate Strike is about getting governments to transition away from fossil fuels, the biggest contributor of greenhouse gases, to renewable energy.
Ms Mitzi Tan, a 21-year-old graduate from the Philippines' Quezon City, said vulnerable countries like hers should be the ones leading the climate crisis, because they are the "most affected by everything happening in the environment".
According to the World Bank, the Philippines is one of the world's most vulnerable countries to extreme weather events and sea level rise.
Despite this, Ms Tan said her compatriots do not realise how bad the situation is as they are "preoccupied with a lot of other problems like hunger and rising oil prices".
"Our demands for the government is… (to) just start talking about it… because right now, it's not even being acknowledged as a problem."
Over in the US capital of Washington, DC, Mr Jerome Foster II said the global movement is a "call to action".
"We must wake up to the climate crisis and understand that this is the most pressing issue of our time. And then we must act as such," said the 17-year-old who has been holding climate strikes outside the White House every Friday.
He added: "We need to make sure we are galvanising everyone, not just young people, but adults and people around the world to say that we need to act now."
HOW SOME SINGAPOREANS ARE TAKING PART
Some youths in Singapore have also answered the rallying cry. On Sept 21, in line with the Global Climate Strike, several young activists will be holding a climate action rally at the Speakers' Corner in Hong Lim Park.
The three-hour long event, which will start at 3pm, will feature speeches, community activities and a picnic.