Eyes in the sky and sea, as Air Force and Navy use manpower-saving technology
SINGAPORE — From drones that can suss out objects as small as a Coca-Cola can on runways, to unmanned surface vessels that scan the seabed to detect mines, the Air Force and Navy are banking on technology to reduce their reliance on manpower.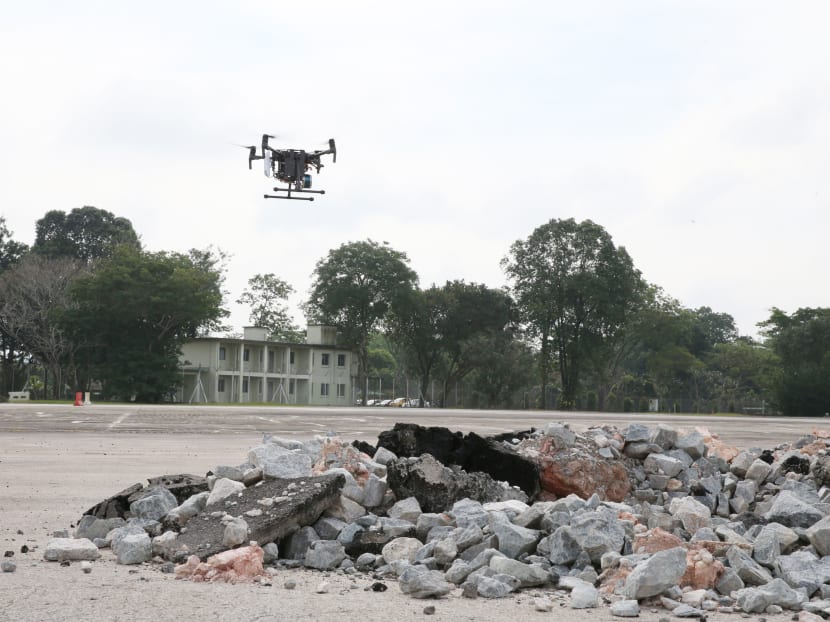 SINGAPORE — From drones that can suss out objects as small as a Coca-Cola can on runways, to unmanned surface vessels that scan the seabed to detect mines, the Air Force and Navy are banking on technology to reduce their reliance on manpower.
These were examples cited by Defence Minister Ng Eng Hen in Parliament on Friday (Mar 2), as he spoke about harnessing technology to overcome the Singapore Armed Forces' (SAF) constraints.
Tapping the power of data analytics, artificial intelligence (AI) and robotics, the Air Force is teaming up with the Defence Science and Technology Agency to develop Smart Airbases.
Self-organised drones fitted with sensors, including an electro-optical camera and a Lidar (light detection and ranging) sensor, can be flown over the airfield to detect damage. Data is transmitted to a ground station, and defects are colour-coded according to their nature, such as craters or potholes, location and diameter.
The trial began at the Tengah Airbase in January.
Such damage classification and recovery is usually labour-intensive and involves hundreds of soldiers. With the drones, damage assessment and repairs can be sped up. For instance, a drone flying at a maximum speed of 10m per second can sweep Tengah Airbase's runway in about five minutes.
Decision support systems will then prioritise runway repair work, and recommend taxiing routes to minimise disruption to aircraft activity. Unmanned ground vehicles will also be deployed to assist in repairs.
Technology can also be used to catch errant drones flown by hobbyists, with a radiofrequency jammer utilised to interrupt the signal, which causes the drone to hover at a certain spot or return to its base.  Drone catchers, which are drones mounted with a net, can also be despatched to seize intruding drones.
Other features of Smart Airbases include sensors and unmanned ground vehicles that supplement inspections of aircraft by ground crew before and after a flight. Usually, three or four crew members are needed for inspections and supervision before a jet takes flight. For example, it takes between one and three hours to prepare an F-16 fighter aircraft for flight, and more than half that time is spent on visual inspections.
With the new system, sensors can snap images of the aircraft, and tapping AI, a smart computer identifies abnormalities such as missing fasteners and scratches, and plots them onto a three-dimensional model. The Air Force is exploring how the sensors can pick up things such as hydraulic leaks in future.
The Smart Airbases will also feature a smart fleet management system, which is in development. The system will use data analytics to gain insight into aircraft performance and recommend maintenance proactively, before complex problems crop up or systems fail.
Military Expert 5 (ME5) Tommy Ong, head of airbase operability systems in the Air Force's air plans department, said manpower constraints were a key driver behind the initiatives. He said: "We are still in the midst of a trial and experimenting with these technologies. We can only quantify the savings at a much later date when we have more insights into the readiness and maturity of these technologies."
No timeline was given for the Smart Airbases, but ME5 Ong said the features would be rolled out beyond Tengah Airbase to other airbases, including Sembawang Airbase, if the trials go well.
UNMANNED VESSELS FOR SECURITY, MINE DETECTION
In order to reduce manpower and boost efficiency in maritime security, the Navy is developing three types of unmanned surface vessels that will be involved in maritime security and mine counter-measure operations.
One key feature of the new vessels is the significant cut in the number of personnel required to operate them — from 30 to just four.
The current Bedok-class Mine Countermeasure Vessels require about 30 personnel on board, conducting both mine detection and mine disposals sequentially.
For each unmanned vessel, only two people will be needed to operate it remotely for either mine detection or disposal. One will navigate the vessel, while the other will control the towed body — the sonar system or a mine disposal system.
The Towed Synthetic Aperture Sonar, which is used to scan the seabed for mines, can be launched and recovered automatically, remotely and quickly.
Right now, deploying the sonar from the Navy's mine countermeasure vessels takes about 45 minutes. With the unmanned surface vessels, this is cut to about 10 minutes.
The vessels with the sonar system are in the final stages of trials, while those with an expendable mine disposal system are in their early stages of tests. A third type of vessel, which will perform coastal patrols, is in development.
Out at sea, the vessels can travel at speeds of more than 25 knots — faster than existing manned platforms — for more than 36 hours.
Major Lim Yoong Seet, officer commanding of unmanned underwater systems at the 194 Squadron, said the unmanned surface vessels can be equipped with different payloads, which can be retrofitted depending on operational needs.
Some servicemen with the squadron have been trained to operate the system. 
Military Expert 2 (ME2) Briane Vivaeganathan, said operating the Towed Synthetic Aperture Sonar was simpler, and the transition from manual to automated platforms was "quite seamless". ME2 Briane went through a day's training to familiarise himself with the new systems.
However, he noted that with automation, "we really need to have the knowledge at our fingertips, so that if the automation reacts differently, we can react (quickly)".