A fact-checking site is born, after citizens ask how they can protect country
SINGAPORE — "Fake: European gas costs Ukraine four times more than Russian gas."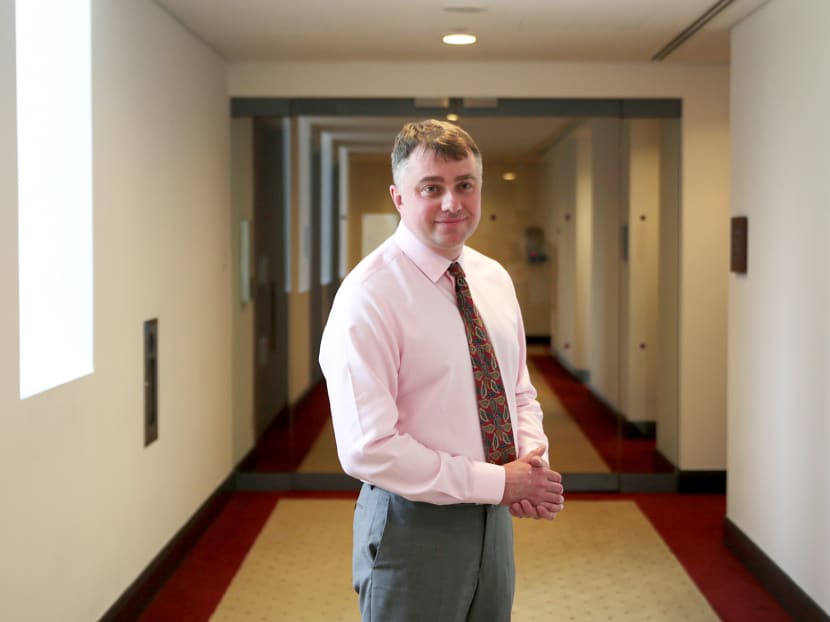 SINGAPORE — "Fake: European gas costs Ukraine four times more than Russian gas."
"Fake: Ukraine training terrorists for European and Middle East operations."
These are two of the headlines found on StopFake.org, a grassroots project in Ukraine that has vowed to set the record straight on misinformation about the country, amidst its ongoing battle with Russia.
StopFake was borne out of adversity.
The non-government outfit began with a Facebook post on March 1, 2014, by alumni of the Kyiv-Mohyla School of Journalism expressing concern about Russia's annexation of Crimea.
"The government had escaped the country at that time, so people, volunteers in different spheres started (asking), what can we do to protect our country? Our alumni posted (a call on Facebook) to get together and discuss what we can do. The very next day, the website was created," StopFake's co-founder Ruslan Deynychenko said to reporters on Thursday (March 15).
Mr Deynychenko, who is also executive director of the Kyiv-Mohyla School of Journalism, was in Singapore to testify at a public hearing held by a Select Committee studying deliberate online falsehoods.
About a week before StopFake's establishment, Ukraine's beleaguered pro-Russia president Viktor Yanukovych was ousted amidst protests against his decision not forge closer ties with the European Union.
Russian intelligence agency, the GRU, seized on the uproar to launch a covert propaganda offensive against the new government, paving the way for the Russian military action, which led to the annexation of Crimea.
Over the last four years, StopFake has debunked various instances of Russia's "purposeful dissemination of fakes and manipulations", said Mr Deynychenko.
Just on Wednesday, for instance, it published an article that sought to correct conspiracy theories that Ukrainian fighter jets had flown close to Malaysia Airlines flight MH17 shortly before it disappeared from the radar in July 2014 and crashed after being shot down.
Its reporters reached out to a Twitter user who had perpetuated these claims — later found by various investigations to be untrue — who now told StopFake he had received "very large sums" of money from Russia for the tweets.
Persuaded by extensive data collected by StopFake, the current government has banned the broadcasting of several Russian television channels in Ukraine — a move that Mr Deynychenko said dealt a "formidable blow" to Russian propaganda efforts in Ukraine.
PROTECTION FROM LIES
StopFake now has about 53,400 followers on Facebook, 28,300 on YouTube, and 25,300 on Twitter. It is run by 30 full-time and part-time employees as well as volunteers who include journalists, translators and IT specialists.
It is funded through crowdfunding and private donations, and supported by the International Renaissance Foundation, the Foreign Ministry of the Czech Republic, the British Embassy in Ukraine and the Sigrid Rausing Trust.
Apart from outreach via its website, the organisation also records weekly television programmes and radio podcasts in English, Russian and Ukrainian.
It produces a newspaper titled "Your Right to Know", which is distributed in Donbass in eastern Ukraine, bordering Russia, where more than 10,000 have died in an ongoing conflict between the Ukrainian government and anti-government Russia-backed separatists.
StopFake has encountered roadblocks in its battle against Kremlin-led propaganda, said Mr Deynychenko.
For instance, some European officials considered the ban on Russian television channels "undemocratic and labelled it as censorship", he said.
It was "not very easy" to persuade the sceptics, said Mr Deynychenko.
"We collected thousands of examples (as proof). In each article that we write for our website, we name the media organisation that disseminated this lie… It was not very easy (but) we persuaded people, we persuaded decision makers that this is not about censorship of independent media organisations. This is a protection (against) dissemination of lies and fakes," he said.
Debunking falsehoods and establishing credibility takes time, noted Mr Deynychenko.
"We don't write an article when we don't have enough evidence to prove beyond reasonable doubt that this is true. I would say that 90 per cent of the information articles that we analyse from Russian media, we do not write about them. Not because they are true, but because we do not have enough evidence to prove that they are untrue," he said. "You cannot compete with lies, it takes you five minutes to create a lie and it might take you weeks to correct that."
Choosing not to be affiliated with the government has also helped StopFake gain trust and credibility among the local population, he said.
"We do not have connection with the government and we do not have government money because we do not want to be perceived as Ukrainian propaganda against Russian propaganda. We consider ourselves as a journalistic independent project. That's why we do not depend on the government," he said.
The war against misinformation rages on as Russian propaganda is "constantly adapting" to new measures implemented by Ukraine and its allies, wrote Mr Deynychenko in his six-page written submission to the Select Committee.
For instance, Kremlin has been trying to "restore its damaged journalistic integrity" through talk shows driven by "so-called experts". Russian propaganda has also significantly increased its activity on social networks where possible, particularly though bots.
"Not only has it not disappeared, but it has become more sophisticated and professional," Mr Deynychenko wrote.
As part of its efforts to counter these new challenges, StopFake is working with schools in Ukraine to design a media literacy curriculum which is expected to be implemented by September this year.