FairPrice to offer 1% discount on selected items from Jan to June 2023 to help offset GST increase
SINGAPORE – NTUC FairPrice supermarkets will offer a 1 per cent discount on 500 essential items for six months from Jan 1 next year, to help customers offset the upcoming Goods and Services Tax (GST) increase.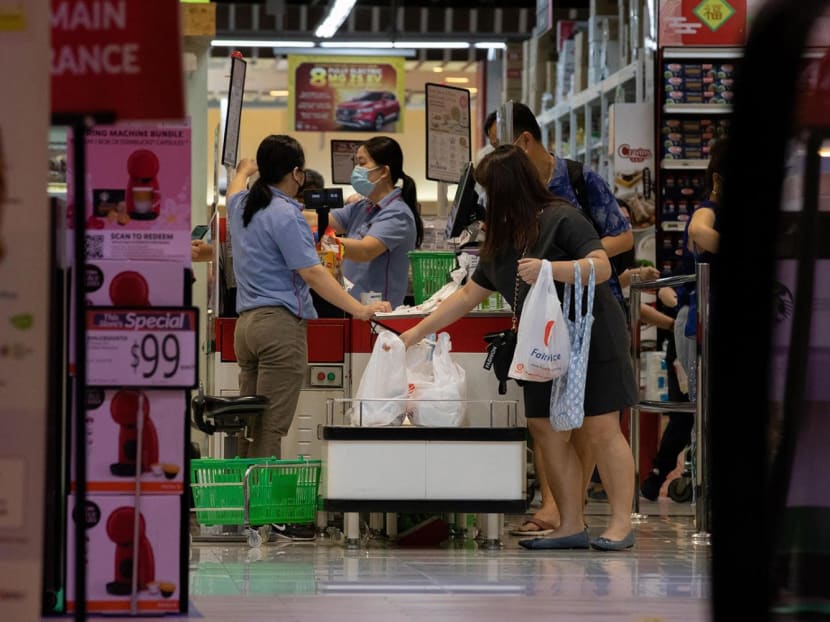 In tandem with the upcoming GST increase from January 2023, NTUC FairPrice supermarkets will offer discounted items to shoppers
There will be a 1 per cent discount on 500 essential items such as fruits and vegetables for six months from January 2023
Products selected will be from FairPrice's in-house brand and other national brands
SINGAPORE – NTUC FairPrice supermarkets will offer a 1 per cent discount on 500 essential items for six months from Jan 1 next year, to help customers offset the upcoming Goods and Services Tax (GST) increase.
At an event announcing the upcoming initiative on Friday (Nov 4), Mr Vipul Chawla, chief executive officer of FairPrice Group, said: "This is important because we are mindful that we live in a time when there's (an) unprecedented level of inflation and our customers are feeling that inflation in their daily lives."
The GST will go up from 7 per cent to 8 per cent from Jan 1 next year, and to 9 per cent from Jan 1 in 2024.
The discounted items at FairPrice supermarkets will include essential buys such as fresh fruits, vegetables, meats and household cleaners.
More details about which specific items will be discounted will be made known closer to the date.
Items chosen for this discount will include those from FairPrice's own in-house brand, as well as other national brands.
The list of 500 selected items may vary throughout the six-month discount period, because items on the list will be chosen based on what customers regularly buy.
Explaining the selection process, Mr Vipul said: "We look at the purchase baskets of our customers and… we find that there are about 500 of what are called 'key value items', which are (items that are) very frequently present in the customers' baskets or daily essentials."
The selected items will be labelled with a tag to let customers know which items are part of the roster of 500 items when shopping.
The discount will be offered across all of FairPrice's retail channels, including its online site.
Just last week, FairPrice announced that it will be giving a 15 per cent discount on three rice products popular with consumers, from Oct 27 to Nov 9 — subject to each customer buying only up to four bags during the promotional period.
It launched a "Greater Value Every Day" initiative last month as well, where there will be a series of discounts and value schemes, for instance, such as the price freezing of 50 selected items every month and weekly discounts on a range of items that vary week to week.
Earlier this year, FairPrice gave a 10 per cent discount on four popular cooking oil products to address concerns over elevated oil prices, as well as a special discount for certain fresh eggs in view of rising egg prices. 
Mr Vipul said that in the midst of ongoing uncertainties over the economic climate and rising inflation, FairPrice is doing its part to moderate the cost of living to support its customers. The discount next year is just one of various strategies that it has to ensure "the community continues to have access to affordable daily essentials".
Other strategies include diversification of sources where food is sourced from more than 100 countries around the world, in order to protect consumers from price fluctuations and to prevent over-reliance on any one source.
When asked if the 1 per cent discount may be extended beyond the six-month period, Mr Vipul said: "In the last couple of times when (GST hikes) happened, we did offer discounts for a period of six months, which we believe is the right period of time for (the GST increase) to be sufficiently absorbed.
"That said, the way in which we offer value to our customers… is something that we discuss and review all the time. So we will certainly review it."
As of now, there are no plans to do anything similar when the GST goes up further again in 2024.
FairPrice has offered discounts before to customers to help moderate costs when GST increases happened in the past.
This was when the 3 per cent GST was first introduced in 1994 and also in 2007, when it offered discounts on 400 essential items from July to December 2007 when GST rose from 5 per cent to 7 per cent.