Few using water taxis as regular mode of commute
SINGAPORE — The move to have water taxis serve as a form of daily transport could be in need of a greater push, as the two operators reported low take-up rates.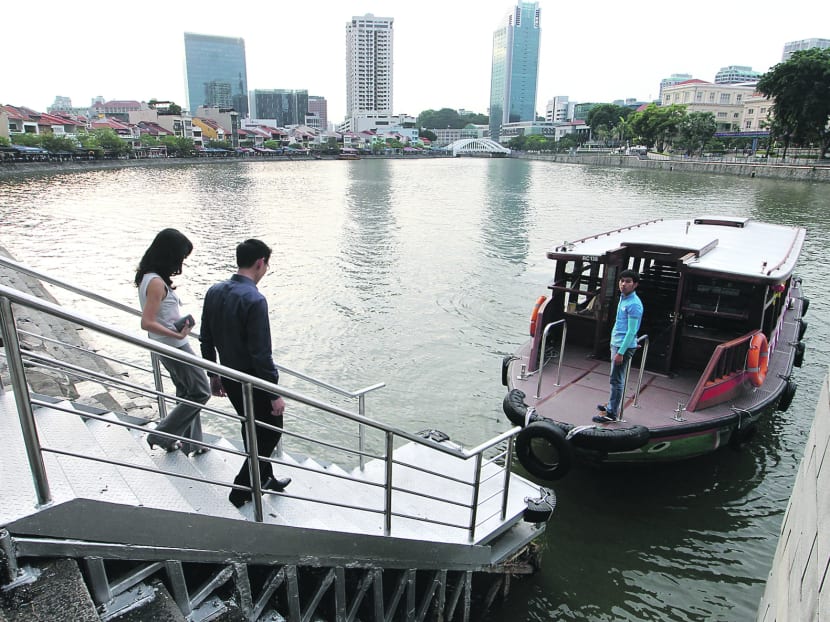 SINGAPORE — The move to have water taxis serve as a form of daily transport could be in need of a greater push, as the two operators reported low take-up rates.
Singapore River Cruise General Manager See Toh Yew Leong estimates that only about two in 10 of its customers are regulars, while the rest are tourists.
Out of every 10 passengers the Singapore River Explorer carries, three have monthly passes for unlimited water taxi rides at S$150 a month, according to Operations Director Terence Ng.
Both operators launched the service in January this year in response to an Urban Redevelopment Authority tender in December 2011 for a "reliable source of daily transport" that was both frequent and affordable.
The operators each ply separate routes that cover 16 landing points along the Singapore River and eight in Marina Bay, for a flat rate of S$3 for a one-way trip. To cater to those working in the Central Business District, water taxi services operate at 20-minute intervals every day from 7am to 10pm, and at 10-minute intervals during peak hours.
Rent-A-Manager founder Mr Martin Lerchner, who lives in the Robertson Quay area and works at One Fullerton, takes a water taxi to work twice a week but feels that the frequency and reliability of the service should be brushed up.
"It's a unique form of transportation and is quite a relaxing way to get to work, but I only use it when I'm not in a rush for time," he said.
Mr Lerchner was also unwilling to fork out S$150 a month for the level of service currently provided. "I'm very unsure of when a taxi will arrive either at the entry point or the destination, and sometimes I have to wait for about 20 minutes to be able to board one."
A banker, who works in the area but declined to be named, said that river taxis have not matched up to buses and trains in terms of speed. "The time which one boat takes to arrive is the time I need to be able to walk from one destination point to another," he said.
Besides one-way tickets, the Singapore River Explorer has rolled out S$150 monthly passes and introduced EZ-link cards as a payment mode. It is also working closely with condominiums along the riverside to increase awareness of its services.
Earlier plans for the company to start a park-and-ride package with partners have not taken off and are "still being worked through", said the Singapore River Explorer's Mr Ng.
The aim was for motorists to skip congested roads by leaving their cars in the Havelock area before taking a water taxi to their destinations.
River Place, one of the condominiums along Robertson Quay, said its management had declined to be part of the initiative, citing concerns over, among other things, security and congestion.
"We declined their request to make our car park available for public use as part of a park-and-ride scheme, because we had concerns over congestion and increased vehicular and human traffic and …. the potential abuse of and damage to common property in the condo by non-residents," said Mr Leonard Ching, Secretary of the Council of the Management Corporation at River Place.
Ten businesses along the river TODAY spoke to also felt that the water taxis did not have any discernible impact on their business.
Most also felt that locals have not warmed up to the idea of water taxis, with them being associated as a novelty for tourists. "Most of our customers still come by bus as it is still a cheaper option than S$3 for a one-way ride (on the water taxi)," said Ms Ong Jia Xin, 20, a service crew for SQ11 Deli & Cafe located along Robertson Quay.