Fines for car driver and her passenger who repeatedly kicked, punched cyclist in right-of-way dispute
SINGAPORE — A dispute between a car driver and a cyclist over who had right of way escalated into an assault with the driver and her passenger repeatedly punching and kicking the cyclist, who had swung his bicycle at the driver.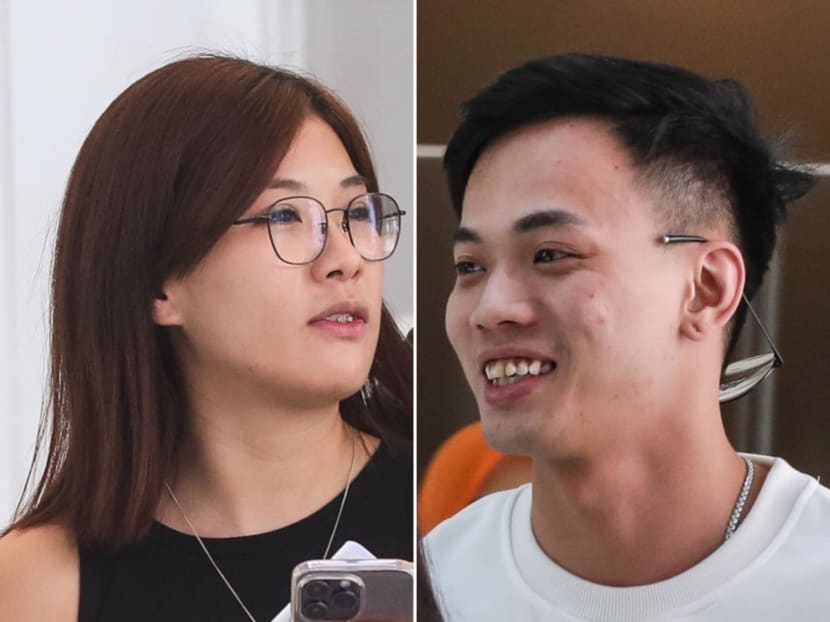 A verbal dispute between a car driver and two cyclists over who had right of way escalated into a physical assault
Ariel Fong Yi Ying, 30, and Javier Phua Xuan Yew, 28, pleaded guilty to causing hurt by punching cyclist Marin Segura Alberto's face and kicking his body
The incident occurred on Oct 4, 2021, after Fong veered her car into the lane where Mr Marin and his girlfriend were cycling 
The argument turned physical after Mr Marin swung his bicycle at Fong
Fong was fined S$4,000 and her passenger Phua was fined S$3,500
SINGAPORE — A dispute between a car driver and a cyclist over who had right of way escalated into an assault with the driver and her passenger repeatedly punching and kicking the cyclist, who had swung his bicycle at the driver.
The argument began after the driver, Ariel Fong Yi Ying, changed lanes to avoid parked cars and in doing so, moved into a lane designated for oncoming traffic that was being used by the man and his girlfriend who were cycling in the opposite direction.
On Tuesday (May 30), Fong, 30, and her 28-year-old passenger Javier Phua Xuan Yew both pleaded guilty to a single count of voluntarily causing hurt, and were fined S$4,000 and S$3,500 respectively.
Fong had another charge of a similar nature taken into consideration during sentencing.
WHAT HAPPENED
Deputy Public Prosecutor (DPP) Rimplejit Kaur told the court that at about 11pm on Oct 4, 2021, Fong was driving along Lorong K Telok Kurau near East Coast Road to drop Phua at his home when she noticed parked vehicles in her lane.
She decided to avoid the parked vehicles by veering to the adjacent lane that was meant for oncoming vehicles.
She then drove past Mr Marin Segura Alberto, now aged 38, and his girlfriend Ms Noor Farhanna Johari, now aged 29, who were riding their bicycles in that lane in the opposite direction.
As Mr Marin felt that Fong was driving very close to him, he shouted "watch out" at her and gestured at her with his hand.
Fong continued to drive forward despite seeing the victim's hand gesture but eventually stopped her car when she heard a thud at the rear of the vehicle.
Court documents did not elaborate on what caused the thud.
Fong then noticed through her rear-view mirror that the victim had dismounted from his bicycle and was continuing to gesture at her with his hand.
She stepped out of the car to approach Mr Marin who was standing at the entrance of a condominium. Phua also alighted and followed her.
A verbal argument then ensued between Fong and Mr Marin over who had the right of way. While they were arguing, Mr Marin swung his bicycle at Fong.
Surprised by this, Phua pushed Mr Marin away.
Enraged by Mr Marin's behaviour, Fong reached over to pull his mask down so that she could identify him.
As Mr Marin tried to enter the condominium with Ms Noor Farhanna after questioning Fong's actions, Fong aggressively grabbed him and pulled his shirt, DPP Kaur said.
Fong then punched Mr Marin in the face before Phua joined in the assault and punched Mr Marin's head.
Ms Noor Farhanna tried to intervene but was pulled away by Fong who kicked her and pulled her hair.
When Mr Marin noticed that his girlfriend was being assaulted, he disengaged from Phua and tried to pull Fong away.
However, Phua followed after Mr Marin to stop him.
Mr Marin eventually freed himself from Phua's hold and managed to separate Fong from Ms Noor Farhanna, who sought the help of a security guard at the guardhouse to call the police for assistance.
As Mr Marin was making his way to join his girlfriend at the guardhouse, Phua grabbed him from behind and punched his head. Fong punched his face again.
During a further scuffle, both Phua and Mr Marin fell to the ground.
While Mr Marin was still on the ground, Fong continued to punch his face and head while also kicking his body.
The court heard that Ms Noor Farhanna eventually returned to pull Mr Marin away from Fong and Phua, and led him to the guardhouse.
The assault then ended and both Fong and Phua left the location.
As a result of the assault, Mr Marin sustained multiple injuries, which included a 1cm cut to his lower lip, multiple abrasions on the back of his head, and a mildly displaced nasal bone fracture.
Since the incident, both Fong and Phua have voluntarily compensated Mr Marin for his medical expenses by paying him the full sum of S$1,066.65.
Fong and Phua both appeared in court, and were represented by their own defence lawyers, who sought a lower fine on their behalf.
In Fong's defence, lawyer Anil Singh Sandhu from Kertar & Sandhu LLC urged District Judge James Elisha Lee to consider that Fong has recognised that "she made a mistake" and that this "one-off" incident was not premeditated since it took place as a result of the victim swinging his bike.
Lawyer Ashwin Ganapathy from IRB Law LLP, representing Phua, urged the court to consider that Phua's motivation should be a "relevant mitigating factor" because he stepped forward only after the victim used his bicycle to swing at Fong.
Mr Ganapathy added that Phua has also since made compensation to the victim, which shows a "strong evidence of remorse" for his actions.
For voluntarily causing hurt, Fong and Phua could have been jailed for up to three years or fined up to S$5,000, or both. 
It is not clear if Mr Marin has faced any action for swinging his bicycle at Fong.