Fire prevention part of new SEC certification for paper companies
SINGAPORE — By the end of this year, consumers buying pulp and paper products could have another indicator to help them choose the more environmentally-responsible companies.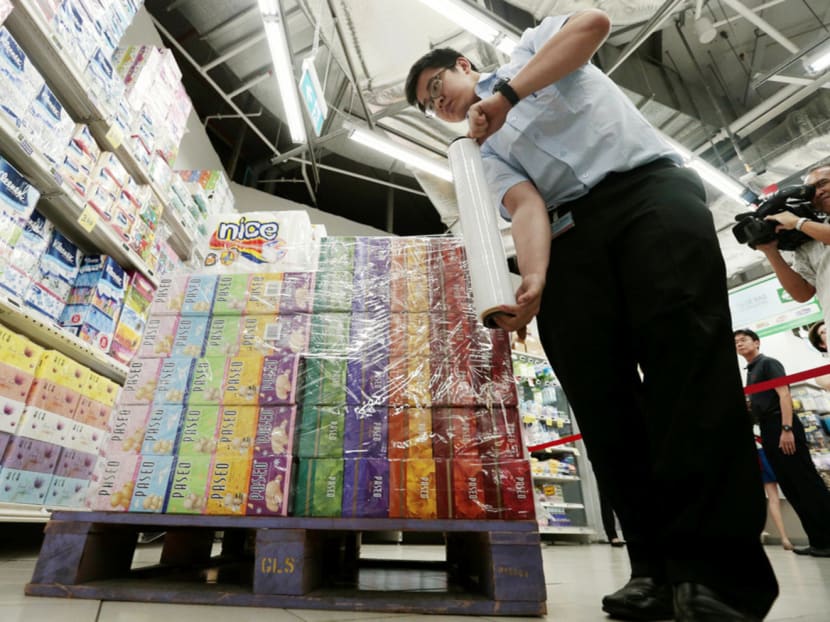 SINGAPORE — By the end of this year, consumers buying pulp and paper products could have another indicator to help them choose the more environmentally-responsible companies.
The Singapore Environment Council (SEC) is in the midst of drawing up a new category under the Singapore Green Labelling Scheme, which will look at companies' management of plantations, with an emphasis on peatland management and fire prevention.
This was revealed by Minister for the Environment and Water Resources Masagos Zulkifli, during his speech at the Singapore Dialogue on Sustainable World Resources yesterday.
Speaking to reporters on the sidelines of the dialogue, SEC chairman Isabella Loh said that they are looking to work with stakeholders such as plantation owners, mills and operators, and peatland agencies regionally, and non-governmental organisations such as Indonesian activist group Eyes on the Forest.
To get companies on board, Ms Loh said it would be crucial to reach a consensus where companies can "take on a certification of this size" without it being too costly for them.
"It has to start from the root cause to see how we can be more responsible ... There are many multi-stakeholders (to work with) ... But it's not going to be an overnight process," she said.
Further details about the certification will be announced later, said SEC.
In his speech, Mr Masagos commended the effort as a "bold initiative" that would set global standards by being the "most holistic certification standard" for pulp and paper worldwide.
It would also be a tool to "empower consumers to make a very safe non-haze pro-conservation choice".
Civil society plays a crucial role in pressuring companies to be more transparent and accountable, and in supporting sustainable businesses, he added, pointing to the ground-up efforts in last year's haze episode, the worst yet experienced by the Republic.
The SEC and the Consumers Association of Singapore (CASE) had jointly led a movement against unsustainable practices, with the SEC imposing a restriction on the use of its Singapore Green Label certification by companies allegedly linked to the haze.
This led to supermarkets such as NTUC FairPrice, Prime and Sheng Siong pulling the products of an affected company — Asia Pulp & Paper — off their shelves.
He also cited the We Breathe What We Buy campaign in increasing public awareness on the sustainability of agroforestry products, which was led by partners such as the World Wildlife Fund Singapore and People's Movement to Stop Haze.
He said: "As consumers, each one of us can influence the agroforestry industry through our purchasing decisions.
"We have choices, and we should make our choices count ...These actions demonstrate the significant power of a collective consumer voice, and an increasingly active and empowered consumer movement, led by civil society."
He also noted the importance of governmental efforts such as the Transboundary Haze Pollution Act in galvanising companies to take action, pointing out how prominent agroforestry companies had "frantically taken out advertisements and gone on talk shows to show that they are doing something".
"My message to all these companies is simply this — companies practising unsustainable production that affect us with haze must know that their actions will not lead to profitability and that they will have to face the consequences sooner or later," he added.
Organised by the Singapore Institute of International Affairs, the dialogue was attended by more than 350 stakeholders from government bodies, the agroforestry sector, banks and financial institutions, and non-governmental organisations. TOH EE MING