On first day of restricted entries at popular markets, visitors happy with thinner crowds but some concerns remain
SINGAPORE — Mr Baskaran Govindan Nayar, who visits the market at Block 20 and 21 Marsiling Lane at least once a week, says the place is so popular that he usually has to contend with lots of people crowding around him.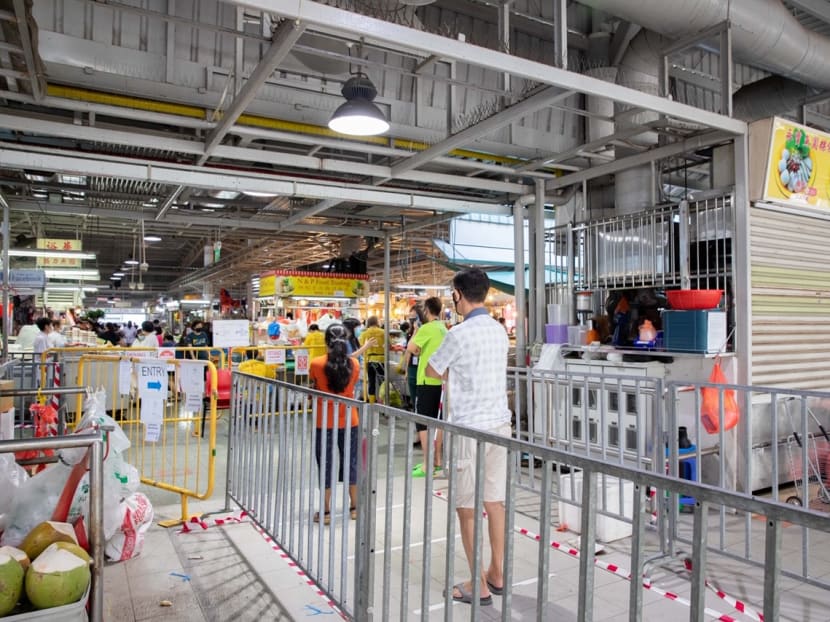 SINGAPORE — Mr Baskaran Govindan Nayar, who visits the market at Block 20 and 21 Marsiling Lane at least once a week, says the place is so popular that he usually has to contend with lots of people crowding around him.
Yet, on his latest trip to the wet market on Wednesday (April 22), the 73-year-old retiree was finally able to maintain a safe 1m distance from others when doing his grocery shopping.
"The new rule is good because there is less of a crowd than usual. People usually do not stand 1m apart, but today, with fewer people, I was able to maintain the 1m distance," said Mr Baskaran.
He was referring to a new rule announced by the National Environment Agency (NEA) on Tuesday that staggers visitor entries into four wet markets here, based on the numbers of the shoppers' National Registration Identification Card (NRIC). 
Like Mr Baskaran, most patrons whom TODAY spoke to on Wednesday were glad they no longer have to jostle with so many others at these popular markets. But some were concerned about whether they could accompany their elderly family members for grocery shopping, or if their work schedules would allow them to visit these markets on the permitted dates. 
The four markets are Geylang Serai Market, Chong Pang Market at Block 104 and 105 Yishun Ring Road, the markets at Block 20 and 21 Marsiling Lane and the market at Block 505 Jurong West Street 52.
Under the new rule, patrons whose NRIC numbers end in an even number — 0, 2, 4, 6 or 8 — may visit these markets only on even dates of the month, such as April 22 or April 24. 
Those whose last digits are odd numbers — 1, 3, 5, 7 or 9 — may visit the markets only on odd dates of the month.
The number of people who can enter the markets at any time is also limited to 150 for Chong Pang Market, 300 for Geylang Serai Market, 180 for the markets at Marsiling Lane, and 150 for the market at Block 505 Jurong West. 
The latest regulation comes as NEA noted on Tuesday that long queues have been observed at certain popular markets, especially during the weekends. In his televised address to the nation on the same day, Prime Minister Lee Hsien Loong also referred to popular wet markets as "hot spots" where Covid-19 could spread. 
On Wednesday, the first day of the new rule, officers stationed at the four affected markets still allowed patrons with odd NRIC numbers to enter as part of a one-day "grace period" granted by the authorities. TODAY observed officers from security company Certis Cisco and NEA controlling the crowds at the four wet markets and explaining the new rules to patrons. 
REGULAR SHOPPERS HAPPY WITH THINNER CROWDS 
At Geylang Serai Market, 60 people were queuing at its two entrances as of 9am. Even so, the line was brisk, with patrons telling TODAY that they had to wait in line only for less than 10 minutes before entering.
One of them was Mr Harith Kairuman, 71, who was visiting the market with his 67-year-old wife.
Mr Harith, a relief taxi driver who lives in Yishun, said he was happy that the new rules will result in shorter queues to enter the market. He said that he aborted a trip to another of the four markets, Chong Pang Market, last Sunday after seeing a "snake-like" queue outside. 
At Chong Pang Market, Mr Murugan, a 48-year-old kitchen cleaning manager, said that the market was visibly less crowded on Wednesday than a usual weekday.
Mr Murugan, who goes by one name and visits the market every weekday, said that the smaller crowds meant that he could complete his purchases faster.
Another marketgoer who was happy with the smaller crowds was 65-year-old retiree I Kesavan, who travels from Ang Mo Kio to the wet market at Marsiling once a week to do his grocery shopping. 
Mr Kesavan said that when he visited the market last week, it had been packed, with people standing too close to one another. 
"But the new rule is good," said Mr Kesavan. "At least now with 1m distance, people are safer."
He added that the rules will not affect his grocery shopping routine and he will simply visit the market on the permitted dates. 
SOME MARKETGOERS VOICE CONCERNS
There were some patrons, however, who were concerned that the new rule will affect their routines or make shopping a tad more inefficient.
For example, Mr Hairi Abas visited Geylang Serai Market on Wednesday morning with his wife and mother to prepare for Ramadan, the Muslim fasting month that is set to begin on Friday. But as he and his mother both have NRIC numbers that end in odd digits, they waited outside while his wife entered the market on her own.
As a result, the 45-year-old said his wife had to make multiple trips in and out of the market to complete the family's purchases as she was unable to carry them all at once.
Ms Nur Lin Saini, a 35-year-old nurse who was also at Geylang Serai Market with her younger sister and 62-year-old mother on Wednesday morning, was concerned that the three of them will no longer be able to visit the market together.
She and her younger sister, who is also a nurse, have even-numbered last digits on their NRICs, while their mother's NRIC number ends in an odd digit.
Ms Nur Lin added: "The market is so wet. What if (my mother) slips and she is all alone? I would then need to take time to take care of her while I also have to take care of patients at the hospital."
Asked whether she and her sister would consider visiting the market by themselves while their mother stays home, she said it would not be ideal, as her mother is savvier about what ingredients to buy and from which stalls.
Nor is the family keen to switch to supermarkets, which do not have similar entry restrictions, as they are more expensive, have less variety, and do not stock some ingredients that the household needs for their favourite Malay dishes.
In response to TODAY's query about Ms Nur Lin's predicament, NEA reiterated that patrons who need help with their marketing, such as seniors or those with disabilities, may have a member of the same household or a domestic helper accompany them to the market. At least one person between them has to meet the odd or even entry-date restriction.
Meanwhile, Ms Chia Mei Ling, who visited the market at Block 505 Jurong West on Wednesday morning, said that her work schedule might make it tough for her to visit the markets from now on.
The 50-year-old works as a cashier at an NTUC FairPrice supermarket at Taman Jurong. She said that employees usually receive their roster a month in advance and she gets only one or two days off each week.
"They should make the new rules more flexible. I cannot change my work schedule just to abide by the (permitted) dates," said Ms Chia. 
NEA did not respond to TODAY's questions on whether flexibility will be provided for those such as Ms Chia whose work schedules do not match permitted entry dates.