F1 S'pore race: Online system overwhelmed as first tranche of tickets sell out quickly; scalpers emerge on Carousell
SINGAPORE — The first wave of tickets to this year's Formula One (F1) Singapore Grand Prix (GP) sold out in six hours on Wednesday (April 13), but not without upsetting several fans who had problems with the event's online ticketing system.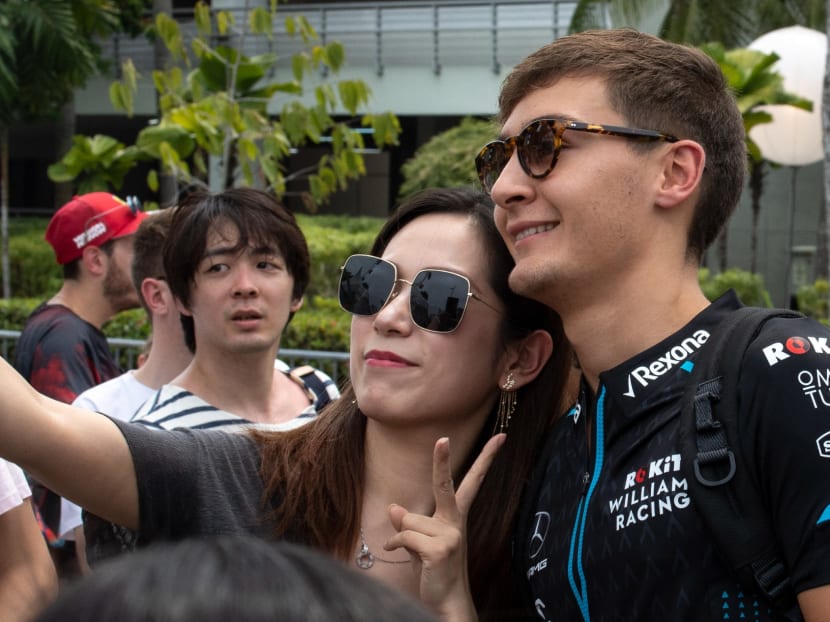 Calling it a "roaring success", organisers of this year's Formula One race in Singapore said tickets sold out in six hours
The first release of tickets for the twice-postponed night race happened on April 13
More tickets will go on sale later
Fans buying tickets on the day complained of long waiting times and a broken payment system
SINGAPORE — The first wave of tickets to this year's Formula One (F1) Singapore Grand Prix (GP) sold out in six hours on Wednesday (April 13), but not without upsetting several fans who had problems with the event's online ticketing system.
Singapore GP, the organiser, issued a statement late at night to say that it was "delighted by the incredible response" to the first F1 race in Singapore after a two-year absence due to the Covid-19 pandemic.
Mr Adam Firth, director of the Singapore GP, said: "With the enormous demand, we are very appreciative of the patience and support shown by our fans and are 100 per cent committed to delivering another spectacular edition of the Formula One Singapore Grand Prix."
Singapore is set to host the 18th stop of this season's 23-race event from Sept 30 to Oct 2, after race organisers and the Singapore Tourism Board announced in January that they signed a seven-year contract lasting from 2022 to 2028 to be one of the hosts on the yearly calendar.
On Wednesday at 10am, tickets that went on sale included three-day grandstand tickets, combination packages as well as hospitality packages that were also sold out.
Single-day tickets were available only for wheelchair-accessible areas for people in wheelchairs and their companions.
The race organiser said that single-day grandstand tickets and walkabout tickets will be released at a later date.
More three-day grandstand tickets may also be released in the future if more infection control regulations for Covid-19 in Singapore are relaxed.
It is such a great event we decided we wanted to come anyway (to Singapore), even at the higher price.

Lisa, 49, a logistics manager from Australia
Singapore GP described the ticket sales as a "roaring success" in its news release, but some fans said that it was one of the worst online ticketing experiences they have had so far with the sporting event.
A logistics manager from Australia, who wanted to be known only by her first name Lisa, said that she was put in a virtual queue for 3.5 hours before the website displayed an error notice that sales for the event had stopped. 
"It was a disaster," the 49-year-old said.
After she got the error message, she called the ticketing hotline and was told that she would be sent an online link to pay for the two tickets at the Padang grandstand. 
When she did not get the link 1.5 hours later, she rang again and was told by another agent that the organiser was not selling tickets on the phone.
In the meantime, she went back to the ticketing site and managed to successfully buy a pair of hospitality package tickets for almost S$3,500, which included meal services and access to an air-conditioned lounge.
This was more than five times what she had wanted to pay for her first-choice standard grandstand tickets at the Padang.
After she had paid for the package, the payment link for the Padang tickets finally landed but it was no use by then.
"The event in Melbourne also sold out very quickly," Lisa said, adding that the hit Netflix documentary series Formula 1: Drive to Survive, which is in its fourth season, could have stirred new interest in F1. 
"It is such a great event we decided we wanted to come anyway (to Singapore), even at the higher price."
Ms Gladys Ng, 26, said that after waiting 2.5 hours in queue online for a pair of tickets at the Bay grandstand near The Float@Marina Bay, she was brought to a web page to select her seats but none were available for the grandstand area she wanted. 
In the 10-minute window she was given to choose her seats, she figured out that she could open up a new browser window to select seats in another location and eventually managed to score tickets at the Connaught grandstand. 
Having been to every Singapore Grand Prix since it started in 2008, the business development manager said that she had never experienced such issues before because tickets were rarely sold out this quickly in the past.
She does not fault the organiser given the high demand this year and limited seats available, but thought that organisers could have informed fans of the ticket sales process so that they could prepare themselves for the long wait.
On Wednesday, scores of angry fans took to the Singapore Grand Prix's official Facebook page to complain about the long waiting times of up to six hours on the online ticketing system. 
Others said that they queued for hours only to meet with a faulty payment system or they were kicked out of the virtual queue.
An hour after ticket sales began, Facebook user Andy Nathaniel Sun said that he was given an estimated waiting time of more than five hours.
"I have never experienced something like this in my many years of buying tickets. So disappointed," he wrote.
Another Facebook user named Vivienne Tang, wrote: "Finally got in but payment failed... what is this? And now it is another five hours' queue?"
In response to TODAY's queries, Singapore GP said that given the high demand, having a queue for transactions was "not unusual for all hot-selling events like major concerts".
"Nevertheless, the ticketing system successfully transacted thousands of tickets within a few hours."
It added that such "isolated cases" may happen for different reasons, including issues with the buyer's bank processing system.
"We continually monitor our systems to ensure that transactions are carried out smoothly and render assistance when required."
The organiser did not say how many tickets have been sold so far during Wednesday's general ticket sales and an earlier priority ticket sale that was sold out within hours.
However, the night race in Singapore has historically drawn more than 250,000 spectators on average, though this year's event will be capped at a 75 per cent capacity limit to comply with Covid-19 regulations.
TICKETS RESOLD ON CAROUSELL
Just hours after tickets went on sale, some tickets began emerging on reselling platforms such as e-marketplace Carousell.
A pair of tickets to the Bay grandstand, originally priced at S$596 for two, was being listed at S$800, for instance.
A pair of combination tickets at the Padang, originally costing S$1,596, was listed at S$1,900.
There were, however, some tickets listed at their original prices. 
Others were sold as individual one-day tickets. 
One such reseller who put up tickets for the first and third day of the three-day event spoke to TODAY on the condition of anonymity.
He said that he merely wanted to watch the qualifying race on the second day with his family because his child would not be able to sit through the full race on the third day.
The organiser has said that tickets that that it identifies as being resold by unauthorised persons will be voided.
Asked if he was afraid that his tickets would be voided, the reseller said that it would be hard for the organiser to conduct identity checks at the gates with the large crowds present.
"Singapore GP didn't give us a choice to buy single-day (tickets), so I'm also stuck," he added.