Cars stalled, commuters stranded as flash floods hit eastern S'pore
SINGAPORE — It was mayhem on Monday (Jan 8) morning as road users and commuters were caught out by flash floods, and rain poured so abundantly that the amount in four hours was about half of what the island typically gets in average monthly rainfall in January.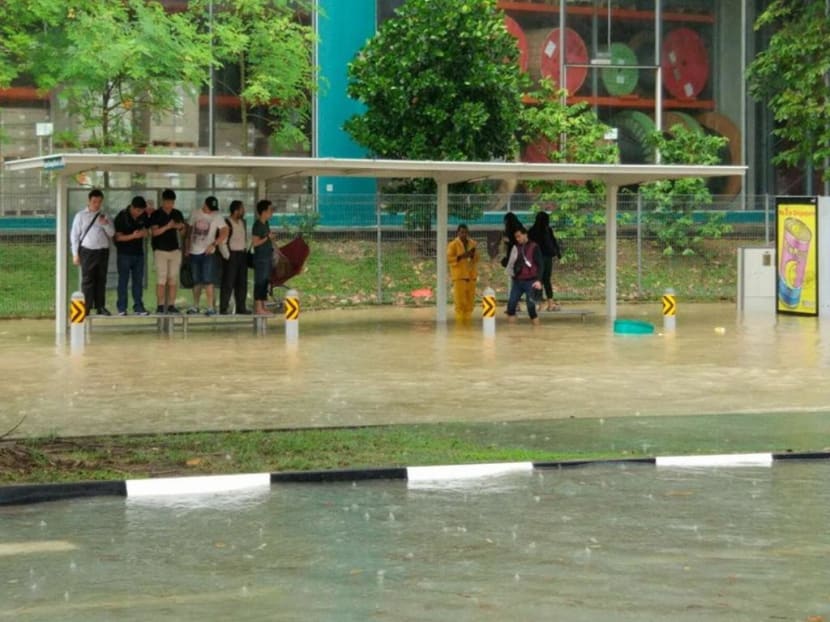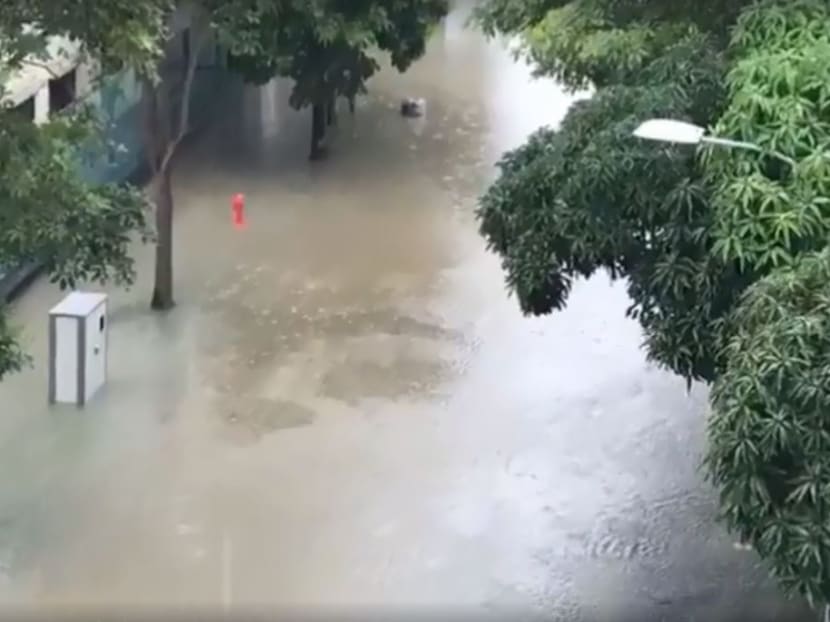 SINGAPORE — It was mayhem on Monday (Jan 8) morning as road users and commuters were caught out by flash floods, and rain poured so abundantly that the amount in four hours was about half of what the island typically gets in average monthly rainfall in January.
And it was brought on in part by an out-of-ordinary weather event that does not usually happen during the North-east Monsoon.
As rain battered down and flood waters gushed from overwhelmed drainage systems, lane markings disappeared and roads turned into waterways. Photos and videos went viral online, showing scenes of partially submerged vehicles stuck in flood waters, and people wading through waters that reached above their knees.
A woman had to abandon her Mercedes Benz after it stalled in rising flood waters, while a group of commuters balanced themselves gingerly atop the slim bench of a bus stop. A passenger in a moving bus clutched tightly to the railing, as a small pool of flood water ebbed and flowed through the bus door.
Two people were sent to hospital after a tree fell on them in Toa Payoh. And at one housing block in Tampines, rainwater cascaded like a "waterfall" in a lift.
A number of buses had to skip bus stops along the flooded roads, SBS Transit said.
At a media briefing later in the evening, national water agency PUB reported that eight out of the nine places hit by flash floods in the eastern parts of Singapore are low-lying areas where drainage improvement work is ongoing, and they are due to be completed latest by the first quarter of next year.
It cautioned the public not to "risk" their personal safety by stepping or driving into flooded areas, but to take an alternative route or wait for the water levels to subside. They should also check for updates and advance warnings on the agency's mobile application and Facebook page, or via radio broadcasts.
However, it was too little too late for those who were trapped in the morning, as they were using their mobile devices more to capture photos and videos.
The heavy downpour, which lasted between 6.20am and 10.25am, was the result of the prevailing North-east Monsoon, aggravated by an unexpected Sumatra squall — sudden thunderstorm lines that developed over the Straits of Malacca, PUB said.
CHANGE IN WIND DIRECTION
It is not so common for squalls to occur here during the North-east Monsoon season because winds are blowing from the north-east direction. Sumatra squalls usually happen during the South-west Monsoon between March and November. A change in wind direction on Monday caused the squall to move east towards Singapore, a Meteorological Service Singapore spokesperson said.
Many of the places whipped by the storm were in the eastern parts of the island, with the heaviest rainfall recorded along Kim Chuan Road near Paya Lebar.
PUB is investigating why flash floods occurred at one of the nine locations: Tampines Avenue 12.
Mr Yeo Keng Soon, director of the catchment and waterways department in PUB, said that this place was not considered to be low-lying and there is no drainage improvement work there. Preliminary checks did not show any form of obstruction in the drains as well.
Mr Choy Wai Kwong, chief engineer from the same department, said that rainwater might have gushed down quickly from an adjacent slope, which temporarily exceeded the drain's capacity.
For the other eight locations, Mr Yeo said that when drainage improvement works are done, the flash flood "situation" would improve should rainfall of similar intensity fall on these areas again. Drains would be able to discharge more water in a shorter period of time.
The areas affected by flash floods on Monday included Tampines Road, the junction of Bedok Road and New Upper Changi Road, and the junction of Upper Changi Road and Bedok North Ave 4.
These places have a history of being prone to flooding, or are subject to tidal influence, PUB said, adding that the heaviest rainfall of 118.8mm at Kim Chuan Road amounted to roughly half of Singapore's average monthly rainfall in January.
Data from the Meteorological Service Singapore showed that rain was heaviest over the northern and eastern parts of the island on Monday. Areas that recorded more than 100mm of total rainfall in the morning included Ang Mo Kio (118.0mm), Bishan (110.7mm) and Hougang (108.0mm).
Related articles
BUS CABINS 'FLOODED'
Of the buses plying the roads, 12 from SBS Transit (services 9 and 10) were affected by the flash floods.
Ms Tammy Tan, the transport operator's senior vice-president of corporate communications, said: "As water levels rose, the cabins of these buses became flooded, some with ankle-high water, as they travelled along Upper Changi Road and Paya Lebar Road. Officers from the Singapore Civil Defence Force were on hand to guide our buses to safely pass through the affected areas."
Buses also had to skip eight bus stops along the affected roads, she added. No buses were stalled and no passengers were injured, but as a precautionary measure, vehicles caught in the floods were called back for checks at workshops.
When TODAY visited Upper Changi Road and Jalan Greja off Bedok Road, which were among the worst-hit, things had returned to normal at about 5.30pm. Residents said that the flood waters were mostly confined to the streets and did not enter their homes, or entered just a small part of their driveways.
Businessman Alex Lo, 55, who lives along Jalan Greja, said that he noticed the flooding on the stretch at about 9am. When he looked out of his window on the second floor of his house, he saw a car stranded on the street.
Mr Lo, who has lived in the area for more than a decade, has "never seen flooding like this". The waters fully subsided about an hour later at 10.15am.
At the Upper Changi Road area, the owner of a gold-coloured Mercedes Benz — who did not wish to be identified — returned to retrieve her car at around 6.30pm. When it still refused to start, she had to call a tow sevice.
The driver's trying experience made its rounds earlier on social media, when she was captured pushing the stalled car through flood waters along the road there. She eventually left it at a nearby landed housing estate.
While it may seem like calls for tow services could have spiked on Monday, those contacted by TODAY said that this was not the case. A spokesperson for Island Recovery Services, one of the biggest operators here with more than 40 tow trucks, disclosed that there were "not many cases", but it did not give any figures.
At BH Auto Services, its operations director Eric Cheong said that the firm towed a car out of mud after it was stuck on a grass patch in the Dempsey Hill area due to the heavy rain.
People's Vehicle Service responded to just one case of a vehicle stalled in floodwaters along Sims Avenue. "It could move a bit and we towed back the vehicle to the workshop," its representative said.
SURGE IN FARES FOR PRIVATE-HIRE CARS
Uber driver Ivan Foo, 38, who was driving near the flood-hit areas such as Changi North, Simei and Tampines, told TODAY that demand for rides was "high" between 7am and 10am, and bookings were back-to-back.
Fares also surged due to strong demand. For instance, a booking from Bedok Court condominium near Tanah Merah MRT Station to Elias Road in Pasir Ris went up to about S$22, which is 2.5 times the usual fares, Mr Foo said.
Elsewhere, demand for private-hire cars was also high because of the heavy rain. Mr Chris Koh, 50, who is also with Uber, said that he was booked to go from Bukit Timah into the city, and fares on his UberExec mid-tier luxury sedan surged about 1.9 times the usual prices.
Several of his friends driving in eastern Singapore reported fare surges of up to three times the normal fares, Mr Koh added.
In the next few days, thundery showers are expected over many areas in the afternoon, but PUB said that it is difficult to predict if flash floods would occur again. This would depend on factors such as how fast moving the rain is.
Looking at historical data, the highest daily total rainfall ever recorded in January was 238.2mm at Pulau Ubin on Jan 30 in 2011, the Meteorological Service Singapore said.
Over the decades, flood-prone areas in Singapore have been reduced from more than 3,000 hectares in the 1970s to about 30 hectares today. ADDITIONAL REPORTING BY LOUISA TANG, SIAU MING EN, KENNETH CHENG