Flash floods seen across Singapore after heavy rain
SINGAPORE – The week got off to a wet start on Monday (Jan 23), with moderate to heavy downpours across many parts of the island.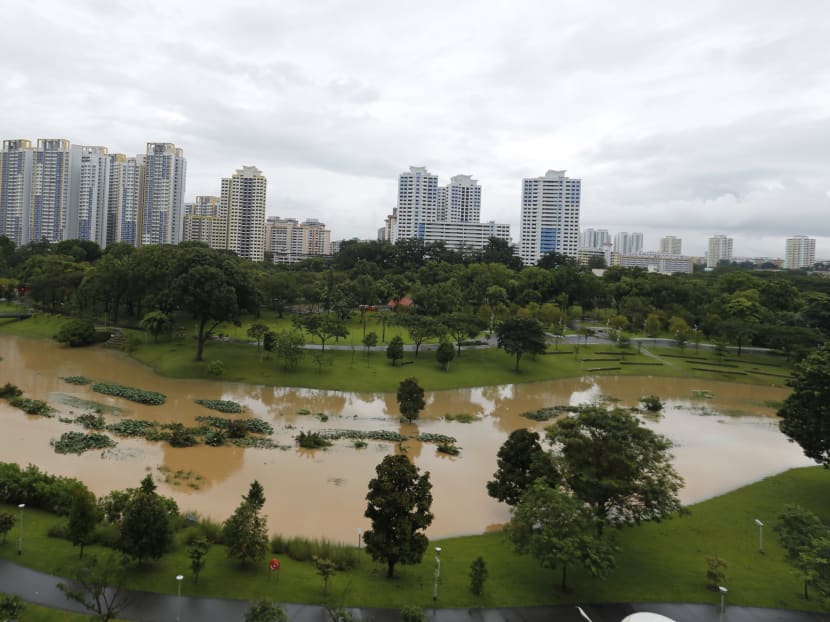 SINGAPORE — Ms Janell Chan, 30, thought that she had it all planned to handle yesterday morning's heavy downpour: She packed an extra pair of shoes and a towel, just in case. But on her way to her office at Tanjong Pagar, the strap of one of her sandals broke, so she had to change into the shoes she packed, and was "drenched from the leg down" in the end. 
The week got off to a wet start on Monday (Jan 23), with moderate to heavy downpours across many parts of the island, and Ms Chan's route to work was near one of the two flash-flood areas around Tanjong Pagar. 
The floods were reported at the junction of Craig Road and Tanjong Pagar Road, as well as at Maxwell Road (South Bridge Road). Waters subsided by around 9.45am and 10am, respectively, for the two zones. 
The waters of the Kallang River also swelled at Bishan-Ang Mo Kio Park, spilling onto its banks, as designed for.
An administrative executive, who gave her name only as Ms Loh, told TODAY she was drenched completely even with an umbrella in hand. "I didn't anticipate how heavy the rain would turn out," she said. 
Mr Joe Corey, a 45-year-old manager working near the City Hall area, said he was slightly late for work this morning because of the traffic snarl along the way to work. 
Various parts of Singapore from Tiong Bahru to Marine Parade had high flood risk due to the overnight rain since Sunday, national water agency PUB said. 
The Meteorological Service Singapore had warned last Monday that the two weeks of this month from Jan 16 was expected to be wetter than the first fortnight, even though the overall rainfall for January is forecast to be slightly below normal.
A flooded street seen at the Supreme Court Lane on Monday morning due to a heavy downpour. Photo: Ernest Chua
People using the umbrella to shelter from the heavy downpour on Monday morning. Photo: Ernest Chua
Businesses around Chinatown told TODAY that the wet weather had put a dampener on sales during the Chinese New Year season, with celebrations due to start this weekend. 
A stallholder, who wanted to be known only as Mr Lim, said that the rains had "driven some customers away" even though his shop selling souvenirs is located along Smith Street and was not hit by flash floods. "The economy isn't doing very well, too, so business has taken a hit," he said in Mandarin.