Flooding along BKE road shoulder seen in viral clip due to debris over drain grating: PUB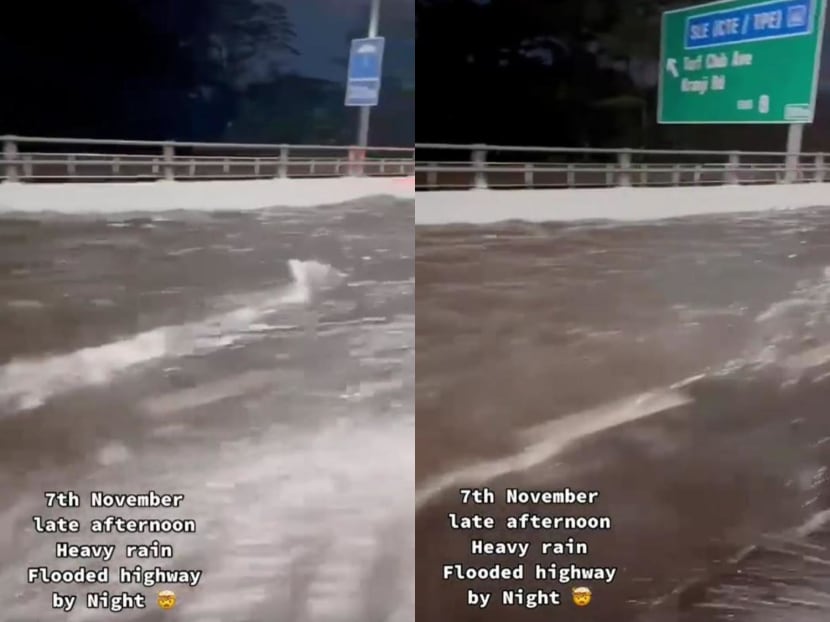 SINGAPORE — Flooding which occurred along a stretch of the Bukit Timah Expressway (BKE) road shoulder on Monday (Nov 7) evening — as seen in a viral video clip on social media platform TikTok — was caused by debris that had covered the grating of the drains.
This then prevented stormwater from being channeled through the drop-inlet chambers — which are installed beside road kerbs to channel rainwater from the road to the drainage system — causing the flooding incident to happen.
In response to TODAY's queries, PUB said on Tuesday night that it had received feedback from the Land Transport Authority (LTA) at around 7.20pm on Monday that rainwater had accumulated along a 100m stretch of the BKE road shoulder near Kranji Exit 8.
PUB noted that there was heavy rain over many parts of the island on Monday from the late afternoon to the evening.
It said that post-flood investigations found that the grating of the drop-inlet-chambers along the stretch of the expressway were covered with debris such silt and dead leaves. PUB has since worked with the National Environment Agency to clear the "chokage".
As a result, stormwater runoff could not be channelled through these inlet chambers effectively during heavy rain. This then resulted in the flooding along the road shoulder.
PUB said that during the flooding incident, traffic on other lanes of the road had "remained passable".
Both the PUB and LTA also mobilised their crew to the location to render assistance.
Some motorists had shared video clips of the incident on TikTok.
In a 17-second video that was shared by TikTok user bxw_vezel21 on Monday, a motorist plying the road filmed what appears to be a section of the BKE flooded.
Waves of water are seen rippling on the road as well as against the road shoulder.
The video has garnered close to 169,000 views and about 1,600 shares as of Tuesday night.
In another 12-second video by sgwhispers on TikTok, a green contraption is seen floating on a section of the flooded road.
Towards the end of both videos, an expressway exit sign showing Exit 8 for the Seletar Expressway as well as Turf Club Avenue and Kranji Road could be seen.