Food delivery platforms to pilot model that does not charge hawkers commission, onboarding fees
SINGAPORE — By the end of the year, customers of food delivery platforms could have access to more hawker stalls under a common acquirer model piloted by online ordering platforms.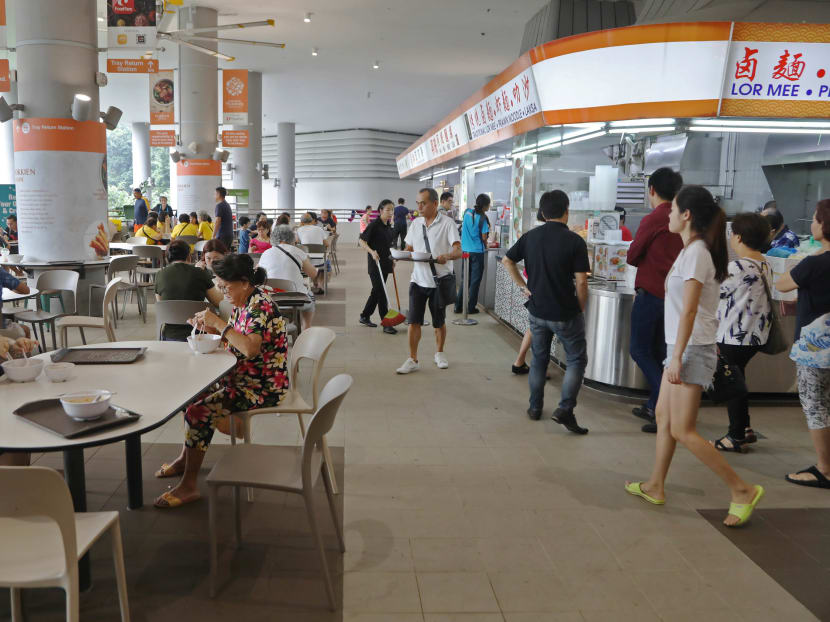 SINGAPORE — By the end of the year, customers of food delivery platforms could have access to more hawker stalls under a common acquirer model piloted by online ordering platforms.
In a joint media release, the National Environment Agency (NEA) and the Infocomm Media Development Authority (IMDA) announced on Thursday (Sept 23) that Deliveroo, FoodPanda, Grab and WhyQ will be participating in the pilot.
The pilot will cover 400 stalls across 14 hawker centres, which include ABC Brickworks Market & Food Centre, Adam Food Centre, Amoy Street Food Centre, Golden Mile Food Court and Taman Jurong Market and Food Centre.
Under this model, WhyQ — the common acquirer for hawkers — will use its existing relationships with hawker stalls to onboard them onto Deliveroo, FoodPanda and Grab, such as uploading their menus onto the platforms, said chief executive officer and co-founder of WhyQ Varun Saraf.
Hawkers will not be charged commission fees or onboarding fees.
Speaking to reporters on Thursday, Minister of State for Communications and Information as well as for National Development Tan Kiat How noted that it has been a "tough period" for hawkers.
"Our hawkers are not having an easy time. Very tough. And I think these measures are very timely in supporting our hawkers and continue to preserve and support our hawker culture," he said.
He noted three "pain points": The high cost of commissions paid to platforms, the lack of support especially for elderly and less tech-savvy hawkers to go digital and the uncertain demand from consumers, especially for hawkers selling low-priced items.
HOW WILL THE COMMON ACQUIRER MODEL WORK?
On any of the four apps, customers can place orders with any of the available stalls at the hawker centre.
All orders will be received either through a single device, or via WhyQ's on-site hawker captains at each hawker centre, who will manage the orders from the different delivery platforms. The number of hawker captains at each hawker centre would depend on the size of the hawker centre, said Mr Varun.
Once the food is ready, the captain collects food from the different hawker stalls and brings it to a centralised distribution point in the hawker centre. The captain will hand the food to the delivery riders at the distribution point.
The hawker captain will handle payments to the individual hawker stalls as well, to ensure that the hawkers receive the payments.
This model will give hawkers who are not on delivery platforms access to a "wide base" of customers, said Mr Varun, noting that this adds up to more than three million customers across the delivery platforms.
For delivery platforms, the interface remains the same, and there is flexibility for them to set their own delivery fees and radius, he added.
They also get access to more than 400 hawker stalls through WhyQ, nearly all of which are not with any of the delivery platforms, said Mr Varun.
Customers will get more options to mix and match from hawker stalls and order from all of them in one checkout, he said.
"So there's a much wider variety of hawker stalls available and hawker stalls that were previously not accessible to these customers are now accessible through this initiative," he added.
In addition, Deliveroo, FoodPanda and Grab will "further improve" their commercial offerings through tiered commissions rate options for their hawkers by the end of the year, said NEA and IMDA in the joint release.
DIGITAL SUPPORT FOR HAWKERS GROUP
NEA is developing a set of best practices that will be compiled into a step-by-step Digital Support Guide for Hawkers by the end of the year.
One recommendation is the formation of a Digital Support for Hawkers group at each hawker centre. This group will provide support to help less digitally savvy hawkers improve their online presence.
This includes creating a Facebook page for each hawker centre, facilitating community group buys through the Facebook page and organising tie-ups with organisations to make bulk meal orders.
The group will comprise "passionate individuals from the community or hawkers", said NEA and IMDA.
Meanwhile, a digital "hawker champion" in the group should be willing to lead the group to help hawkers build and sustain their digital presence on social media, subscribe to online ordering services and adopting e-payment tools.
A Singapore Digital Office digital ambassador will be assigned to each hawker centre to coordinate and launch the initiative. CNA
For more news like this, visit cna.asia.