Foreign workers being lured here for non-existent jobs a concern, say NGOs
SINGAPORE — He forked out S$13,500 to pay his employer after he arrived in Singapore last April, and was told one month into his stint at a construction firm that there was no more work.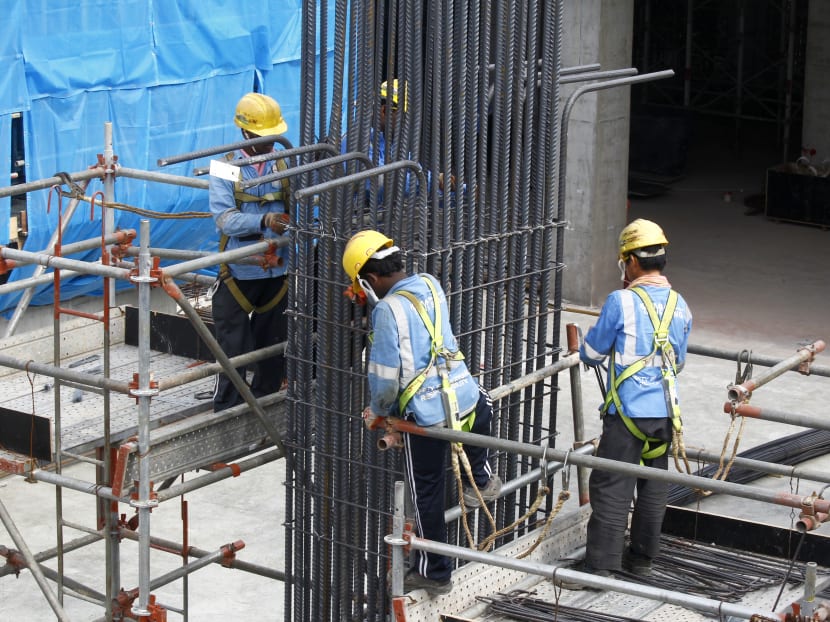 SINGAPORE — He forked out S$13,500 to pay his employer after he arrived in Singapore last April, and was told one month into his stint at a construction company that there was no more work.
Wu (not his real name) was given the go-ahead to source for work himself and the company cancelled his work permit shortly after without informing him. Only when his living quarters were inspected last August, did Wu, in his 40s, discover his status as an immigration offender. He declined to give his name because investigation into his case has not concluded.
Non-governmental organisations (NGOs) that help migrant workers have long come across workers like Wu, who find themselves out of work with their official employer soon after arriving here, but two NGOs have seen more of such cases in recent months for reasons that remain unclear.
Some of these workers are not immigration offenders, but are instead breaching manpower laws here. They pay their official employers to maintain their work permits, from salaries earned via ad-hoc jobs with other companies.
NGOs say some of these men unknowingly break the law when they seek work with unofficial employers not stated on their work permits, but there are also others who do so knowingly, because they have already forked out hefty sums to come to Singapore and want to recoup the money.
Some cases are scams between employers and agents, who share the hefty fees collected from workers and then cancel their work permits, so as to cheat by using the employers' manpower quotas to apply for new workers, the NGOs said.
HealthServe, which provides medical care and other help to migrant workers, said that workers who find themselves out of work upon arrival or shortly after that made up 24 of the 56 non-injury cases it has seen this year. Some cases involve multiple workers being let go, its spokesman said. The NGO did not have figures for such cases in previous years but has noticed an increase.
The Humanitarian Organisation for Migration Economics (HOME) has attended to five to six workers in these circumstances each month on average for the past year. Mr Luke Tan, its operations manager, said this is also an increase from before, and most cases in the last few months have been immigration cases.
Ms Debbie Fordyce, executive committee member at Transient Workers Count Too (TWC2), said that workers who are in Singapore legally but working illegally call themselves "release" workers. Although many release workers feel they have no choice but to break the law, the arrangement can benefit employers and workers in the absence of mishaps, she said.
The official employer is spared from finding jobs and housing the worker, but still gets money from him, while the unofficial employer gets access to manpower beyond its man-year entitlement. The man-year entitlement is the number of construction and process sector workers a company is allowed to hire and is allocated in the form of the number of man-years required to complete a project, where one man-year equals one year of employment under a work permit.
For the worker, he can make S$100 to $200 a day because he holds a valid work permit, more than the S$20 to $30 he might otherwise earn, she said.
TWC2 has encountered release workers for at least eight years, but does not track their numbers because they are not receiving help from the NGO, Ms Fordyce said.
HOME's Mr Tan said a contributing factor to the problem is that the worker's input is not needed during the work-pass application process. "The worker has no real knowledge of his real employer, salary, terms and conditions (of contract) while the application is in process," he said.
Despite the Manpower Ministry's pre-employment condition that employers send an In-Principle Approval (IPA) letter in the workers' native language to inform them of hiring terms before they leave for Singapore, the NGOs said the letters are generally in English. "So the agent or employer will make promises to (workers) and submit otherwise in the application" and the worker realises the truth only on arrival in Singapore, Mr Tan said.
Last year, the ministry took enforcement action against 12 companies, mostly from the construction sector, for bringing in foreign workers with no intention to employ them. It is now investigating another 23 companies for similar offences, a spokesman said.
From 2011 to 2014, it took action against an average of 22 companies each year.
Just this month, the ministry announced that the director of MNF Investments and Holdings was sentenced to 27 months' jail for obtaining work passes for 30 foreign employees "for a business that was not in operation, and releasing the workers to seek their own employment". Lim Kien Peng, 46, admitted he had stand to gain at least S$30,000 by obtaining work passes for the employees between May and November 2013.
The Manpower Ministry said that it takes a serious view of those who commit such offences and will take strong action against them. The penalty under the Employment of Foreign Manpower Act, amended in 2012, is a maximum fine of S$20,000 and/or 24 months' jail. In severe cases, offenders may be caned.
Members of the public who know of people contravening the Employment of Foreign Manpower Act should report the matter to Manpower Ministry at 6438 5122 or mom_fmmd [at] mom.gov.sg. All information will be kept confidential.