Foreign workers in quarantine take to TikTok to entertain themselves, assure family they are okay
SINGAPORE — Unable to leave the North Coast Lodge dormitory in Woodlands where he has been quarantined since April 7, Mr Ramadas Prasath, 30, took to TikTok to show his family and friends back in Tamil Nadu his "new look".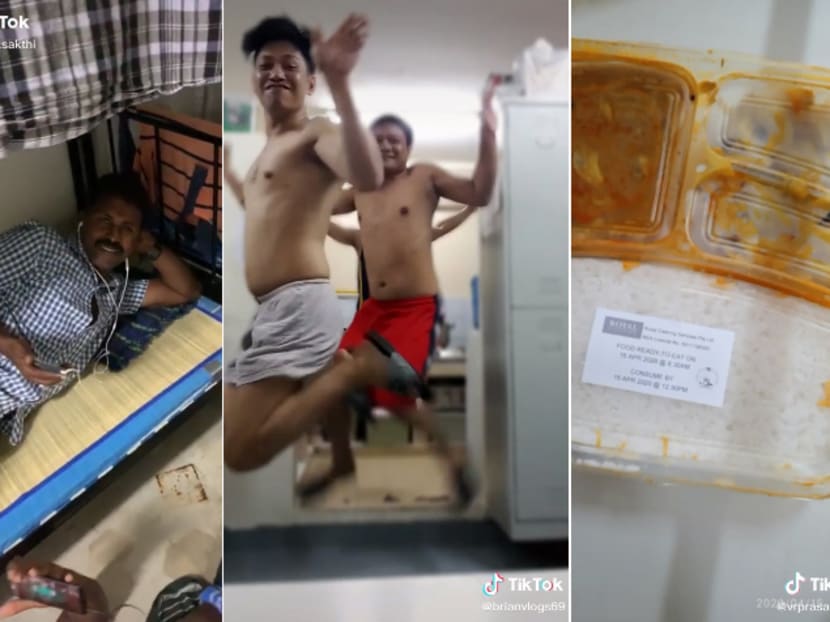 SINGAPORE — Unable to leave the North Coast Lodge dormitory in Woodlands where he has been quarantined since April 7, Mr Ramadas Prasath, 30, took to TikTok to show his family and friends back in Tamil Nadu, India, his "new look". 
His video started with an image of himself clean shaven accompanied with an upbeat pop song in the background and the caption, "Before Covid-19". 
In the next few pictures, which are titled "After Covid-19", he is smiling into the camera looking a bit more unkempt with longer hair and a full beard.
TikTok is a social video-sharing mobile application where users can shoot, edit, and share 15- to 60-second videos jazzed up with filters, music, animation and special effects. 
"I just wanted to show my friends and family back home how I look now. I usually get my haircut and a shave at a salon nearby but ever since the lockdown, I am unable to do that. It is hard for me to do basic grooming here because I am sharing the toilet with many people," the driver who works in the construction sector said. He has been working in Singapore for eight years.
In one video, Mr Prasath is seen laughing as he attempts a TikTok dance challenge. In another, he lip-syncs to a romantic Tamil song with a big grin on his face. 
He explained that he was trying to tell his followers to stay home and be loving to those around them while they are stuck in isolation.
Mr Prasath is one of thousands of foreign workers in Singapore who are under quarantine in their dormitory rooms and like a number of his peers, he is using TikTok as a way to entertain himself and to assure his family that they need not worry about him. 
"I am extremely bored but I am glad that I have friends who make TikToks with me. All we do every day is talk and share stories with each other and then watch videos and play games on our phones. We make these videos so we can laugh and be jolly," he said.
While the workers who spoke to TODAY said that they are just trying to entertain themselves, their videos inadvertently expose their harsh living conditions. 
Standing among his five friends who were seated in a circle in their room ready to play a game, Mr Sakthi Vel, 27, whipped out his phone to document the moment. 
Before //www.tiktok.com/ [at] anandh.sakthi/video/6813690613872069889" target="_blank">posting the video to his TikTok account, he decided to overlay audio of a dialogue from a Tamil movie where a screaming mother begs her children to return home and leave their jobs overseas where they live a life filled with struggles.
"I was just making fun of my friend for eating the bland food while I got to eat my homemade food. Luckily, I had stocked up on ingredients before the isolation and was allowed to cook them so that it doesn't go to waste," he said.
Mr Prasath also took to TikTok to post about how much he was missing eating his favourite dishes that he used to cook for himself, captioning the video, "Now lockdown food (is) not nice. So sad". 
American band Maroon 5's song Memories was the audio he chose to accompany the video.
Mr Prasath who shares a room with 11 other workers said: "The pictures of my food were taken over six months to document what I have cooked. They are some of my happiest memories. Ever since the lockdown, I have been unable to get my own food and alcohol. I miss it very much. The food they give us is substandard and lacks variety but we cannot do anything about it." 
Mr Gopu Govan, 26, who has 50,000 followers on his TikTok account, composed a song about the coronavirus after he spent hours in the sweltering heat clad in a thick red jumpsuit with his mask and a pair of gloves as part of a temperature-taking exercise. 
"People are dying and suffering because of you. You are the only reason, corona," sang the shipyard safety supervisor in his TikTok video. 
In another video, he posted a compilation of photographs of the shipyard where he works as well as pictures of the long queues back into his dormitory and residents at his brother's dorm queuing with buckets to collect their food. 
The safety supervisor at a shipyard captioned the video: "If we are alive, we will be back home, and if we are not, this will be a lesson for the future generation who want to go overseas."  
In his latest post, Mr Govan posted a screenshot of the Google Maps app with directions from the dormitory he is in to his hometown in Tamil Nadu. It shows that it will take him 52 days to reach there on foot. 
"Singapore to India without flight can go?", read the caption. 
He said: "I just miss my family so much. I just want to be with them again. The situation has gotten very bad here. Very difficult. I really miss my family." 
Mr Richard Rosales, 41, from Batangas in the Philippines, has been quarantined in the Jurong Penjuru Dormitory since work was suspended on April 13. 
He has been using TikTok to remain upbeat and document his days in the dorm for his wife and three children back home by posting daily videos. 
"They are worried about me here, about my condition but they feel a little bit relieved when they see my videos and I make them laugh so that's good," he said.
While 13 workers used to reside in one room, only six are left in his room, the Jurong Island construction worker said. He has been working in Singapore since 2008. 
His first ever video
captioned, "We challenge all staying in dormitory here in Singapore! Let's do this!", shows him and his roommates jumping through various parts of their room.
"I just want to make other people happy and make myself happy, too, in the process. Maybe other workers can see my videos and have fun this way as well. Because we are all very bored in our rooms, so making TikTok videos can make us laugh a little. I feel happy when I make the videos," he said.
In another video, he and his roommates act out a skit to an audio clip of Philippine President Rodrigo Duterte saying: "If there is no class, you can take a vacation just at home. I'm sure there are things you can do at home that you have not noticed yet. I know what you should do, you buy many cell phones because there is nothing else you do but play with your cell phones."
Mr Rosales said: "I hope this problem will go away because it's hard on all of us. But till then, let's just TikTok."