Former SAF regular diagnosed with paedophilia gets jail, caning for restraining and molesting 2 girls
SINGAPORE — After developing an interest in young girls, Mohamed Ardlee Iriandee Mohamed Sanip began researching primary school dismissal timings, how to muffle noises and "grabbing (people) from behind".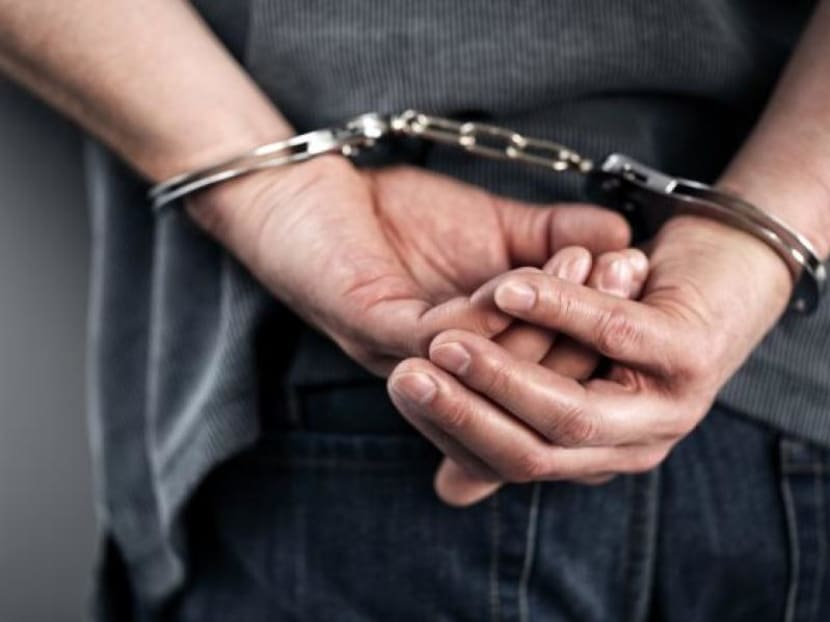 Mohamed Ardlee Iriandee Mohamed Sanip molested two girls on their way home from school 
He researched primary school dismissal timings and searched for nude photographs of young girls
He has since been diagnosed with paedophilia
 
SINGAPORE — After developing an interest in young girls, Mohamed Ardlee Iriandee Mohamed Sanip began researching primary school dismissal timings, how to muffle noises and "grabbing (people) from behind".
The then Singapore Armed Forces (SAF) regular used what he learnt online to grab a 10-year-old girl on her way home from school.  
She managed to break free and run home before he could molest her. 
A few months before this, Ardlee had already molested a younger primary schoolgirl, an eight-year-old, at a staircase of a public housing block. 
On Tuesday (Oct 27), the married man, 40, was sentenced to seven-and-a-half years' jail and six strokes of the cane.
He had pleaded guilty in March to using wrongful restraint in order to molest the older victim and was earlier found guilty of doing the same to the other girl.
At the time of his offences, he was based in the Safti Military Institute on Upper Jurong Road.
A spokesperson from the Ministry of Defence said that after Ardlee's arrest in May 2018, he was suspended from all duties at the SAF and has since been discharged from service.
"The SAF holds its servicemen to high standards of discipline and integrity, and expects them to abide by the law. Those who commit offences will be dealt with in accordance with the law." 
After the dismissal, Ardlee worked in an administrative role at a tuition centre for primary school students but has left the job.
He has since been diagnosed with paedophilia, with an Institute of Mental Health psychiatrist assessing him to have a moderate risk of reoffending.
He will begin serving his sentence on Nov 2 and remains out on bail. His young son is in the midst of school examinations, his lawyer Mohamed Muzammil Mohamed told the court.
SEARCHED FOR YOUNG GIRLS' NUDE PHOTOS
Ardlee grew interested in young girls in December 2017 after reading about paedophilic behaviour online, the court heard earlier.
He searched online for nude photos of young girls, masturbating to them occasionally.
Unable to control his urges, he followed a Primary 2 girl into a lift on Jan 22, 2018. 
He touched her chest before molesting her further. 
He then tried to pull her towards a staircase but she struggled and he eventually let her go when she shouted "stop it" several times. 
The victim testified in court that Ardlee was "laughing and smiling" when he touched her. 
On May 21, 2018, he targeted a Primary 4 student who was returning home from school around 4pm. 
She noticed Ardlee near the lift lobby of her block of flats at Chua Chu Kang when she entered the lift alone. 
When she alighted on the second floor, Ardlee was there waiting for her. He had run up the stairs after noticing her push the button for that floor.
He grabbed her and pulled her towards the staircase landing. 
She tried to break free and scream when she reached the door of her flat but he covered her mouth with his hand. 
Eventually, he released her and fled after she continued to resist.
Police cameras in the area captured Ardlee's acts.
The girl now fears walking home by herself and is always accompanied by a classmate.
OFFENCES 'INTRINSICALLY ABHORRENT AND DISTRESSING' 
When the authorities examined Ardlee's mobile phone, they found that he had searched online for:
Timings of when primary school classes start and end

School hours and gate timings

How to muffle noise and sound

How to cover mouth sound (searched eight times)

How to cover mouth with scarf

"Grabbing (people) from behind"

Voyeuristic videos from changing rooms and showers
Deputy Public Prosecutor (DPP) Sruthi Boppana sought nine years' jail and seven strokes of the cane, saying that Ardlee's offences were highly premeditated.
"Paedophilic offences are intrinsically abhorrent and distressing, and the eventual sentence fashioned ought to reflect the appropriate level of moral opprobrium from society," she said.
Mr Muzzamil argued that his client was in a "dazed or dissociative state" at the time and suffered from "stress-related anxiety and depression" that had a causal link to his offences.
The prosecution disagreed, saying that the anxiety and depression did not amount to a disorder.
In sentencing Ardlee, District Judge John Ng said that these were Ardlee's first offences but that they were "very, very serious".
"The punishment would have to be severe enough to reflect the condemnation of such acts committed against highly vulnerable victims… It is clear there was premeditation and (Ardlee) was fully aware of what he was doing in the commission of the offences," the judge added.
For using wrongful restraint to molest a minor under 14, Ardlee could have been jailed up to 10 years and caned.