Four awarded S'pore's highest accolade in science and technology
SINGAPORE — As a young boy growing up in Penang, Malaysia, Professor Ng Wun Jern spent many happy hours catching crabs at the river near his home. But over time, the crustaceans started to disappear as the waters became increasingly polluted.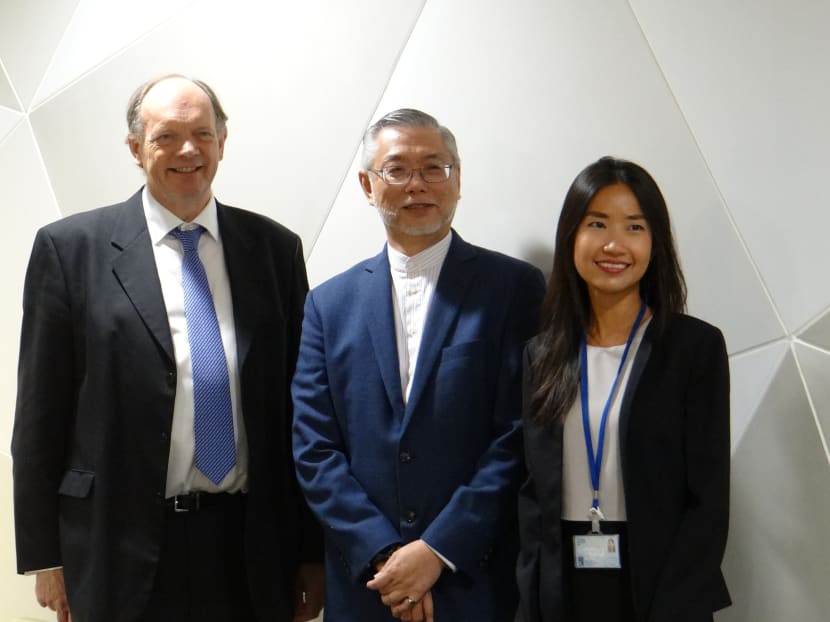 SINGAPORE — As a young boy growing up in Penang, Malaysia, Professor Ng Wun Jern spent many happy hours catching crabs at the river near his home. But over time, the crustaceans started to disappear as the waters became increasingly polluted.
"If you look at the river water, there was oil and other chemicals that were environmentally unfriendly, I always found that somewhat upsetting," said Dr Ng, a Professor at Nanyang Technological University's (NTU) School of Civil and Environmental Engineering.
This experience proved to be the start of Dr Ng's lifelong interest and passion for environmental engineering, or what he dubbed as the study of "pee and poop".
While it may seem like a distateful task to some, the 63-year-old's work, in particular on a bio-cyclic reactor which helped wastewater treatment plants reduce their land size by some fifty per cent, earned him this year's President's Technology Award (PTA) - the highest accolade given to research scientists and engineers in Singapore.
However, Dr Ng's professional foray into the field was an unplanned one. "My basic training was in structural engineering, but at that time one of the senior professors wanted to go on a sabbatical, and at the back of my head, I was always into environmental engineering. So I jumped at the opportunity," he said.
"In the early days, (studying waste) was not so simple...We didn't even call this discipline environmental engineering, it was called 'sanitary engineering'. I mean, can you imagine? (People thought) we were a bunch of folks studying toilet bowls and urinals."
After close to a decade spent studying waste and researching waste technologies in the laboratory, Dr Ng was ready to test his innovation, which was to replace multiple tanks treating waste water with just a single tank, and running processes in a timed sequence, rather than a linear, step-by-step process.
Instead of having a large tank of activated sludge and settling tank treating wastewater that constantly flowed through, Dr Ng's development of a Sequencing Batch Reactor (SBR) treated wastewater in a sequence of batches in a single, smaller tank. The SBR worked by using software and automated control, resulting in smaller plants that were half or a third smaller than conventional ones.
The core technology, known as the first generation aerobic aeSBR, has since been deployed by industry partners in Singapore, China, Malaysia, Sri Lanka and Taiwan.
Since introducing the SBR over 30 years ago, Dr Ng developed the second and third generation of technology, the anaerobic SBR and aerobic membrane SBR respectively, with the latter treating wastewater equivalent to that generated by 1.2 million people. The environmental engineer also founded a cluster of spin-off companies, such as Anaesys and Photosys, to commercialise his technologies.
Dr Ng was one of four individuals who was awarded this year's President's Science and Technology Awards (PSTA), which comprises the President's Science and Technology Medal, President's Science Award, and the PTA. The other three winners were Professor Edward Warren Holmes from the department of medicine, Yong Loo Lin School of Medicine, National University of Singapore (NUS), Professor David Philip Lane, Chief Scientist of A*STAR, and Professor Gan Wee Teck, Distinguished Professor from the NUS Faculty of Science.
They received a trophy and a prize money of S$50,000 from President Halimah Yacob during a ceremony at the Istana on Monday (Nov 13).
PSTA awardee Dr Lane was recognised for his role in the development of Singapore's biomedical sciences and contributions to cancer research. He played a significant part in the ground-breaking discovery of the p-53 cancer gene in 1979. Called the "guardian of the genome", p53 is significant because mutations in the gene are known to cause more than half of human cancers.
Dr Lane's discovery 38 years ago led to the identification of several promising targets for developing new cancer drugs, and while work and research on the p53 gene came to a "standstill" in the 1980s, recent discoveries have found mutations in the gene.
There were also three recipients for the Young Scientist Award: Dr Li Jingmei, Senior Research Scientist at the Genome Institute of Singapore, A*STAR, Dr Gao Weibo, Assistant Professor, School of Physical and Mathematical Sciences, NTU, and Dr Justin C.W. Song, Scientist at the Institute of High Performance Computing, A*STAR.
Dr Li was recognised for her work in breast cancer study, where she researched an important but often overlooked factor of breast density - which compares the amount of fat to the amount of tissue on a mammogram - when predicting a woman's risk of developing the disease.
Her research showed that women with very dense breast tissue have a four to six fold higher risk of developing breast cancer than those with little or no dense tissue. While cancer statistics show that mammography is the best method for detection of breast cancer, only about five breast cancers are detected for every 1,000 examinations. Dr Li hopes that her findings will help women identify their breast cancer risk better.
"So you've heard of smoking and lung cancer, there's a high correlation there, but nobody talks about (the correlation between) breast density and breast cancer, even though it is almost as high a correlation," said Dr Li, who is also an adjunct assistant professor, department of Surgery at the Yong Loo Lin School of Medicine, NUS.
"It's getting more and more important to tell women, not only those with cancer, that every women should be more aware of their breast cancer risk."