Free Wi-Fi offered on two public buses
SINGAPORE — Passengers on two specially-equipped public buses can now surf the web for free by connecting to public Wi-Fi service Wireless@SG during their commute.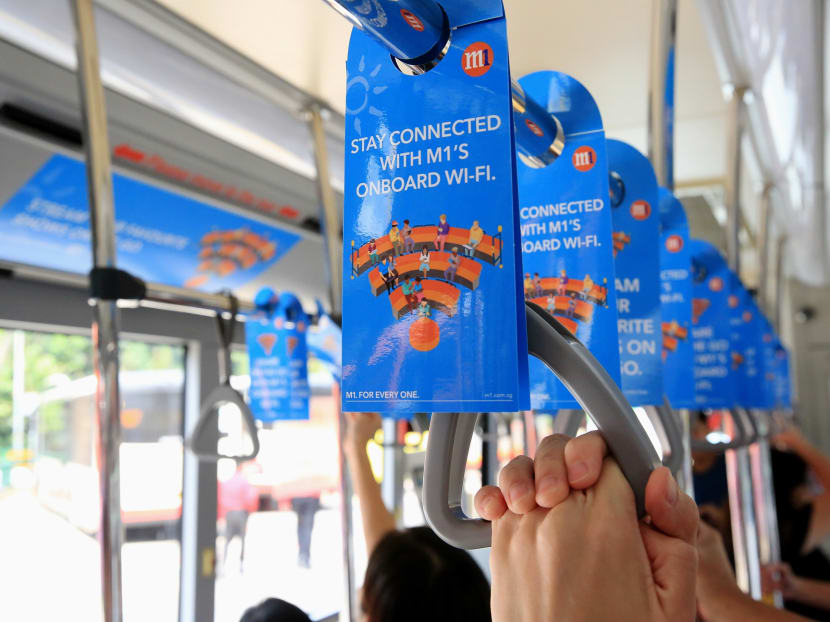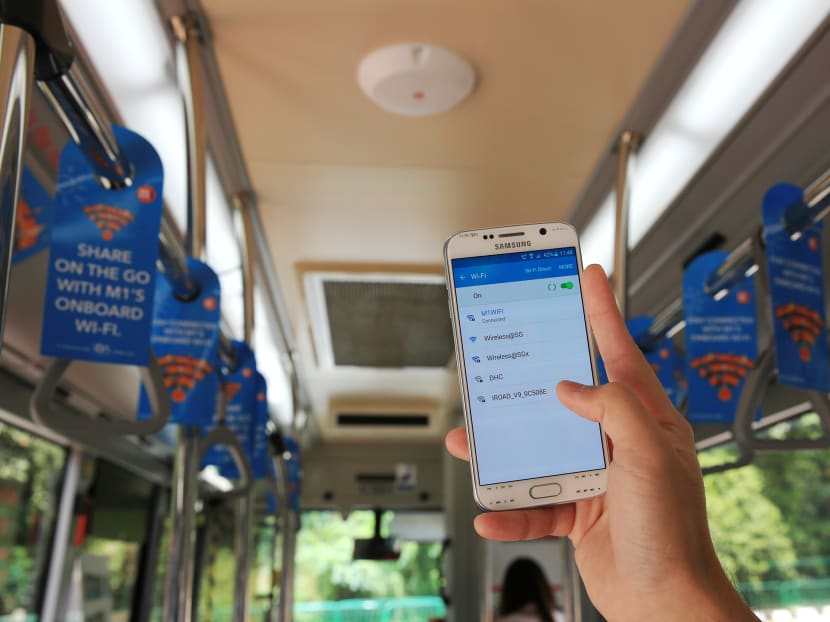 SINGAPORE — Passengers on two specially-equipped public buses can now surf the web for free by connecting to public Wi-Fi service Wireless@SG during their commute.
The two SMRT service 176 buses, which ply between Bukit Panjang and Bukit Merah, are offering the service. They can be identified by a blue livery wrapped around the exterior, along with relevant signage on-board.
In addition, while the public can connect to the Wireless@SG hotspot, M1 customers will, by the end of this month, also be able to connect to the private M1 Wi-Fi service available on the two buses to get higher download and upload speeds.
Each connected bus is linked to M1's 4G+ network through an intelligent in-vehicle unit that boosts the bandwidth available to the on-board wireless network. 
This collaboration between SMRT and M1 is part of the Heterogeneous Network (HetNet) trials by the Infocomm Development Authority (IDA), which test solutions to extend coverage, ease mobile data network congestion and improve internet connectivity on mobile devices by seamlessly switching between cellular networks and Wi-Fi hotspots.
"We are pleased to launch Singapore's first WiFi-on-the-go service on public buses... We hope that with this service, commuters will have a better Internet browsing experience while they are doing their daily commuting," said Mr Denis Seek, Chief Technical Officer at M1.
If the trial proves to be successful, SMRT Buses will be looking at the possibility of extending the WiFi-on-the-go service with M1 fleet-wide, said SMRT Buses Vice President Tan Kian Heong.
Besides providing commuters with Internet connectivity, the Wi-Fi service can further help enhance bus operators' fleet management. For instance, they can tap on the increased bandwidth available to transmit and receive richer data such as video, location and fare payment from their buses on the ground.
The trial is one of various infrastructural solutions under the HetNet trials.
Last year, a trial to address the frequent problem of dropping Internet connections in areas with limited cellular coverage and congested mobile networks — such as lifts, basement car parks, MRT stations and bus interchanges — was launched in Jurong Lake District. It was in collaboration with the major telcos and Internet service providers.
"HetNet technological innovation is expected to bring about immediate and long term benefits for citizens," said IDA's Assistant Chief Executive Khoong Hock Yun.
"Beyond the trials, we look forward to working closer with companies in the tech, engineering and R&D space to develop solutions that can meet pressing connectivity challenges," he added.
When contacted, StarHub said it has been working with several parties - including a transport operator – on expanding wireless coverage. "We will announce details soon," a spokesperson added.
Singtel, said it recently completed HetNet trials to also integrate Wi-Fi on board a bus in the Jurong area. "Combined with the fact that we have been a Wireless@SG operator, we look forward to working with private and public bus operators to provide more Wireless@SG service coverage for their customers," a spokesperson for the telco said.
Among the transport operators, Go-Ahead Singapore, which will begin operating the Loyang package of bus routes in the third quarter of this year, expressed interest.  "The Government's plan to ramp up Wireless@SG coverage around the country is a welcome step in the right direction, and we will explore how we may work with partners to extend coverage onto our buses in the future," said Go-Ahead Singapore managing director Nigel Wood.
But Tower Transit, the other new player entering Singapore's bus market to operate the Bulim package of bus routes, said it has no plans to do so, although it has Wi-Fi on a few of its buses in the UK.
Correction: An earlier version of this article said the free public Wi-Fi service on two buses would roll out at the end of this month. This is incorrect. The service is currently available. We are sorry for the error.