Fresh graduates face challenging job search ahead
SINGAPORE — They've sent 20 to 50 job applications but some graduating students are struggling to secure interviews, much less a job offer, amid the Republic's slowing economy.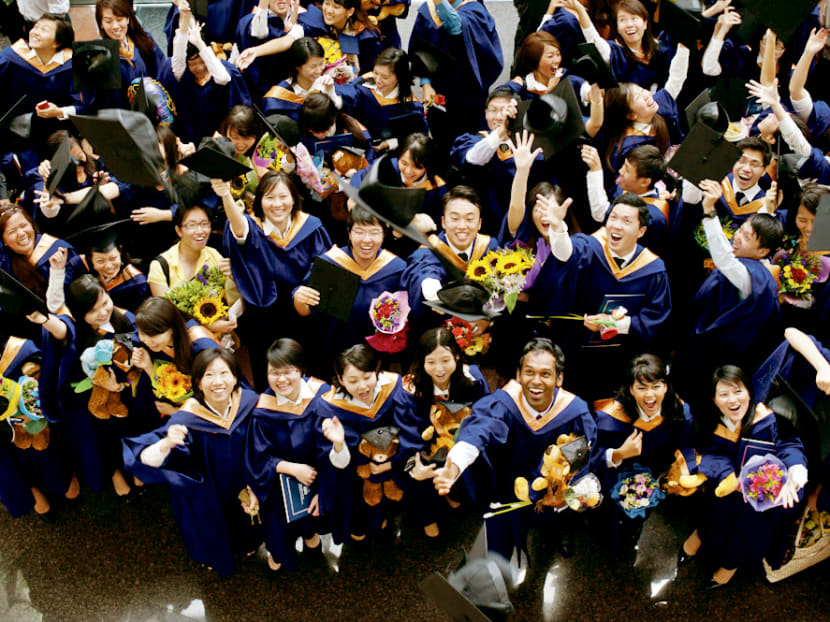 SINGAPORE — They've sent 20 to 50 job applications but some graduating students are struggling to secure interviews, much less a job offer, amid the Republic's slowing economy.
With the gross domestic product (GDP) projected to grow 1 to 3 per cent this year — last year's growth was 2.1 per cent — human resource experts said they have seen a drop of at least 10 per cent in job vacancies open to fresh graduates from last year, with graduates finding it difficult to secure their ideal jobs.
This has pushed some graduates to widen the scope of their search, even as there appears to be some bright spots amid the gloom in certain industries, such as computer engineering, software development and accountancy, as well as niche industries, such as facilities management and music.
The latest Joint Graduate Employment Survey released in March showed that last year, almost nine in 10 economically active fresh graduates landed a job within six months after completing their final exams, in line with 2014 numbers.
Good job prospects are expected to remain, but with employers more cautious about hiring, the job search may take longer for some, said analysts then.
At the Singapore Management University, its Dato' Kho Hui Meng Career Centre said in response to queries that there was a slight dip in participation from the university's corporate partners in recruitment activities this year, due to the offshoring of roles and a cautious hiring outlook from the financial services, commodities and legal sectors.
RecruitPlus Consulting's assistant director Roy Yeo said the firm has seen a decline of at least 10 per cent in job vacancies for fresh graduates, compared to last year. The decline in openings was especially evident in the shipping, retail and manufacturing industries.
A slowdown was already seen last year. Manpower Ministry figures showed that the number of job vacancies had declined for the fourth consecutive quarter to 53,700 in December 2015.
Several graduating students TODAY spoke to said they face an uphill task in trying to find a job that suits their qualifications and interest.
A National University of Singapore (NUS) economics graduating student, who wanted to be known only as Ms Tan, said she had sent out 20 job applications since January but did not receive any offers.
"I feel quite desperate about my job search, because I don't want to sit around and do nothing," said the 23-year-old, who will graduate in July.
Although Ms Tan hopes to eventually work in an economics-related area, she has settled for a three-month internship in a public relations firm for now, where she will be up for evaluation for a full-time offer. In the meantime, she will continue to apply for economics-related jobs.
A spokesperson from the NUS Centre for Future-ready Graduates said that students were more open to exploring and widening job options amid a tighter job market this year. Others students are moderating their expectations and bracing themselves for a long wait before they find employment.
Mr Stevanus Satria, a Singapore University of Technology and Design (SUTD) graduating student, is expanding the range of jobs he is applying for, after 20 unsuccessful applications with only one invitation to go for a test.
"I'm trying to be not so picky, and applying to anything related to my expertise, like maintenance engineering, even though I prefer engineering design," said Mr Stevanus, 23, who is also applying for further studies.
SIM Global Education economics graduating student Jasper Ng, 26, said he expects to take six months to find a job, and is applying for a wide range of jobs unrelated to his studies, in IT and analytics. "I'll take whatever job comes, as it's quite hard to find a job in economics if you're not one of the top students," he added.
Mr Yeo said other bright spots in employment include the media, public relations and advertising sectors are still hiring, mainly due to a growth in digital marketing and e-commerce.
Given the tight foreign employment restrictions, there is also high demand for jobs not easily outsourced such as those in science, technology, engineering and mathematics, said Mr Adrian Tan, vice-president of technology recruitment firm HackerTrail.
Among those in the right field is Mr Francisco Furtado, an SUTD computer engineering student, who said about 30 per cent of his peers had found jobs three months before graduation in September. "Computer engineering graduates are quite sought-after, so it's not so much the worry about getting a job but whether it is suitable or not," said the 26-year-old.
Ms Tan Huiping, a Nanyang Technological University accountancy graduating student, said the job search was "not that bad" for herself and her peers as the "Big Four" accounting firms were still hiring. The 22-year-old received three job offers after sending out four applications.
NUS Yong Siew Toh Conservatory of Music graduate Lai Yi Xuan, 21, said getting freelance performance or orchestra jobs depends on having contacts in the industry, and she continues to see a high demand for her violin lessons from parents.
Singapore Human Resources Institute president Erman Tan noted that the unemployment rate here still remains low at 1.9 per cent, thus giving job-seekers a reason to be "cautiously optimistic".
He added: "It would do well for them to manage their expectations in terms of pay, job fit as well as the time it could take to find a job, and they cannot afford to be choosy."
Ms Lynne Roeder, managing director of recruitment firm Hays in Singapore, said graduates with relevant internship or work experience are at a greater advantage when it comes to getting hired.
Also, graduate trainee programmes continue to be an important hiring strategy especially in the banking, finance and logistics industries, she added.