Fresh grads see higher employment rate, salaries
SINGAPORE — The job market was generally rosy last year for fresh graduates, who experienced a higher overall employment rate and better starting salaries, compared with those who graduated in 2014.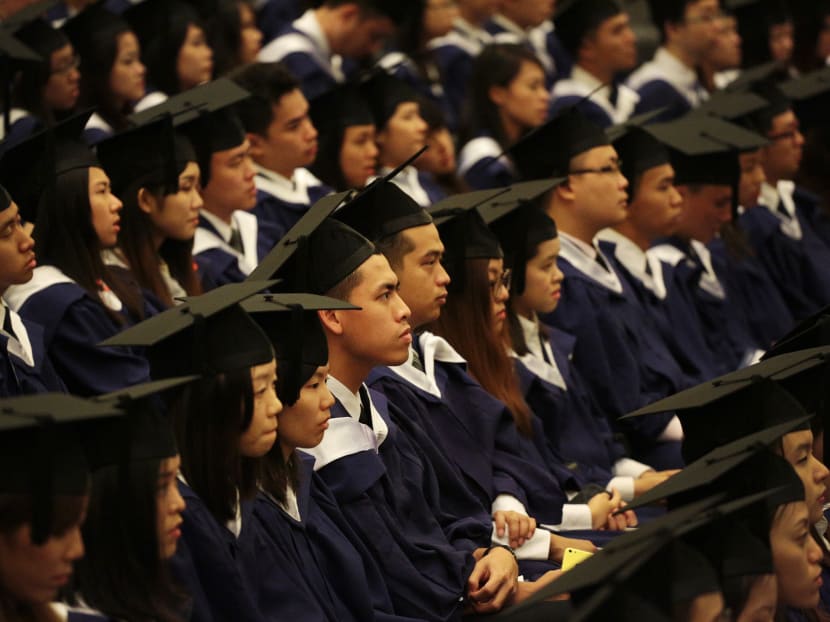 SINGAPORE — The job market was generally rosy last year for fresh graduates, who experienced a higher overall employment rate and better starting salaries, compared with those who graduated in 2014.
And despite the slowing economy, economists and human resource ­experts whom TODAY spoke to ­expect good employment prospects for the graduating cohort this year — as the labour market remains tight and Singapore continues to wean itself off foreign labour — although they might take a while longer to do so.
Based on the latest Joint Graduate Employment Survey, the median gross monthly salary for fresh graduates employed in full-time permanent employment last year was S$3,300 — up by about 3 per cent to compared to 2014 — while the mean gross monthly salary was S$$3,468.
Almost nine in 10 — or 89.5 per cent, a marginal increase compared to 2014 — economically active fresh graduates landed a job within six months after completing their final exams. Of these, 83.1 per cent secured full-time permanent employment, compared to 82.7 per cent in 2014.
Nevertheless, a closer look at the data reveals a mixed picture in terms of median gross monthly salary commanded by fresh graduates across the various disciplines: Business and Computing graduates from the Nanyang Technological University enjoyed the biggest jump (from S$3,450 to S$4,583) while Industrial Design graduates from the National University of Singapore (NUS) took home S$3,000 a month, up from S$2,565 in 2014.
At the other end of the spectrum, fresh law graduates from Singapore Management University received S$4,731 a month compared with S$5,025 in 2014. Starting pay for those who graduated from NUS law faculty also fell to S$4,700, from S$5,150. Medicine graduates from NUS also saw their starting pay dip slightly from S$5,000 to S$4,900. Meanwhile, starting pay for graduates from Science, Economics and Business Administration, for example, was flat last year compared to 2014.
Commenting on the jump in how much the NTU Business and Computing graduates were drawing, the university's Senior Associate Provost (Undergraduate Education) Kam Chan Hin said that these graduates landed jobs with "leading international companies, such as JP Morgan, Credit Suisse and Visa Worldwide", in the financial, and information and communication sectors. Prof Kam added: "More Business and Computing graduates were also hired in high-value tech-related jobs such as system analysts, IT service managers and software developers in the financial industry, compared to 2014."
Adding that "the online world (is) the market of tomorrow", HR expert Annie Yap, who is the group managing director of AYP Associates, noted that these graduates were highly sought after in the digital economy as they possess skill sets needed for big data analytics and financial engineering, for example.
The Government had previously warned of a possible oversupply of lawyers, due to a spurt in the number of Singaporeans studying to be lawyers overseas.
In 2014, Law Minister K Shanmugam asked aspiring lawyers to temper their expectations in terms of pay and job opportunities.
Career Ladder owner Adrian Tan, who is a career coach, noted that market conditions for the legal industry have changed. "Now that a lot of (these law students have graduated), they realise there may not be a lot of vacancies," he said.
Singapore is expected to see slower job growth in the coming years, amid the economic restructuring to focus on productivity improvements and become manpower-lean.
CIMB Private Banking economist Song Seng Wun said: "(The) starting pay and how long it takes to land a job will depend on underlying economic conditions. For this year, graduates may find that it takes longer to find employment because more employers are more cautious about adding headcounts."
Speaking to TODAY, undergraduates who are in their final year of study were generally optimistic of their job prospects.
Nevertheless, Ms Tifanny Goh Qi Qi, 22, a communications undergraduate at NTU, noted that the fresh graduates cannot afford to be picky and should start their job hunt early. Mr Muhammad Faruq, 24, a history major at NTU, said he would be willing to accept a lower starting pay in order to snag an opening.
Ms Yap noted that the prospects are good in growth industries, such as healthcare, life sciences and IT. "There are still a lot of opportunities In those areas," she said.
Correction: An earlier version of this report said the starting pay of NUS law faculty graduates fell to S$4,900. This is incorrect. The starting pay fell to S$4,700. We are sorry for the error