Gentle learning curve makes logistics the pick for many a mid-career switch
SINGAPORE — For the past seven years, Mr Muhamad Fahdil, 30, has plugged away on the frontlines of luxury retail, selling everything from bags to shirts. But it was the world beyond the store's confines — what transpires before goods hit the shelves — that fascinated him.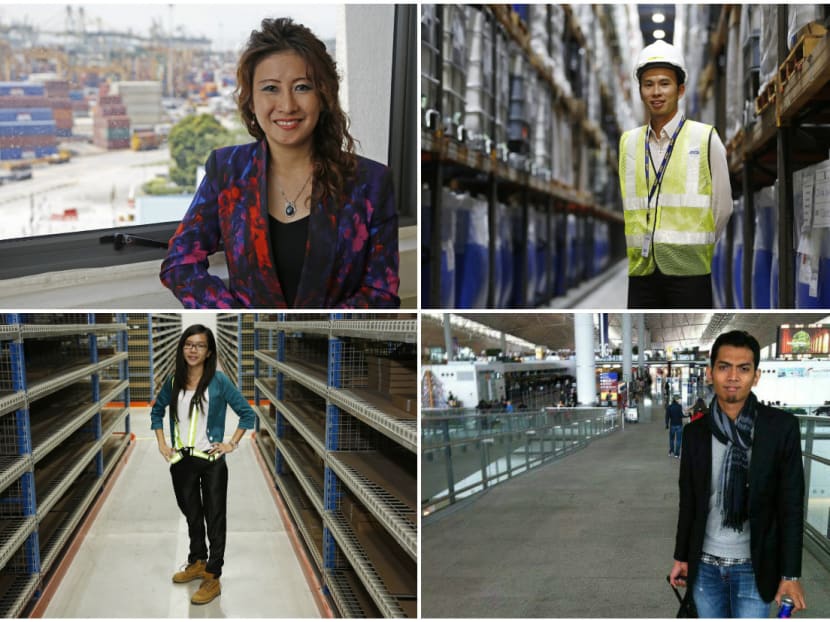 Despite slowing economic growth and a rising number of layoffs, job opportunities abound in several growth industries. From logistics and food manufacturing, to early childhood and finance, employers are seeking to fill tens of thousands of vacancies, where economic restructuring has seen new well-paying jobs created even as old ones are made redundant.
Many Singaporeans have said they are unsure of where to start looking. Here is some help: From today, we are running an eight-part series that looks at the openings available, the prospects and how workers can equip themselves with the skills for these positions.
To kick off the series, which will subsequently run every Monday, we cast the spotlight on the fast-growing logistics sector, which is quickly shedding its dull image to be at the forefront of technological advancements: Think drones, autonomous carts and smart glasses.
SINGAPORE — For the past seven years, Mr Muhamad Fahdil, 30, has plugged away on the frontlines of luxury retail, selling everything from bags to shirts. But it was the world beyond the store's confines — what transpires before goods hit the shelves — that fascinated him.
"For me to understand better how the process works, I need to see what happens before the merchandise reaches the store — a lot of factors would actually determine (it), such as price and how it would affect my customers," said the sales executive, who holds N-Level qualifications.
To satisfy his curiosity, Mr Fahdil has enrolled in a part-time diploma programme in freight and transport services at Singapore Polytechnic's Professional and Adult Continuing Education (Pace) Academy, and hopes to build a career in logistics after he finishes the year-long course next August. 
Amid the growth of the logistics sector — fuelled by technology, the rise of e-commerce and the growth of the middle class in Asia, which has boosted consumption — Mr Fahdil is among a growing number of Singaporeans looking to join the industry, which is seen as one of the sectors that are more conducive to professionals seeking a mid-career switch given the gentle learning curve and less complex skills required. 
Over the next five years, the Government estimates that 2,000 jobs will be created in the sector for professionals, managers, executives and technicians (PMETs). Emerging and niche roles at executive or senior executive levels in areas such as programme management, logistics information systems, as well as innovation and process improvements will see stronger demand, the Ministry of Trade and Industry (MTI) and Workforce Singapore (WSG) said. 
In the meantime, job positions for traditional functions abound, such as sales and customer services, warehouse management and operations, and transportation management and operations.
Months after quitting her sales and marketing job in the information technology sector, Ms Ashtiana Cho, 48, jumped at an opportunity to join 
IM Logistics Solution in September. Speaking about her mid-career switch, she felt it was not too much of a leap. "It's a matter of technique and tactic … (and) being able to embrace the product and project it," said Ms Cho, who is the company's sales and marketing director. 
While the fundamentals of sales are the same no matter what sector one is in, Ms Cho noted that for sales professionals in the logistics sector, they would need to know the industry well in order for sales strategies to bear fruit. To this end, Ms Cho is participating in WSG's Logistics Professional Conversion Programme, which helps mid-career entrants transition into the sector. The one-year programme imparts knowledge in areas such as logistics operations and the latest industry innovations.
For those who started out in the sector, it has been a worthwhile journey. More than a decade ago, Mr Khoo Ngiap Seng, 38, started out in logistics giant YCH Group as an operations executive after receiving a scholarship from the group and the National University of Singapore. 
He rose through the ranks, assuming roles from process management to project implementation. Today, he helms YCH's operations innovation and development department, a role that includes overseeing the company's Singapore operations. 
Similarly, Mr Lewis Tan, 34, joined DHL Supply Chain nine years ago, moving across the tender management, solution design, account management and business development functions before becoming the client support services director in the firm's service logistics team. The team manages critical service parts needed by clients when equipment, such as cloud servers, break down. 
"I have gone from wearing a helmet in reviewing warehouse operations to wearing a business suit for a boardroom presentation," he said. 
Even for someone who started out in the industry not too long ago, Ms Seah Pei Xuan, 25, is testament to the fact that workers can ease into different areas within the sector. The logistics and supply chain management graduate was initially apprehensive about her current role, as a transport management system specialist at DHL Supply Chain — in which she develops and implements IT solutions — because she lacked an IT background. But with the help of supportive colleagues, she has settled in quickly. "The key is (having a) can-do attitude," she said.
Read more: Where the jobs are - Logistics Industry
DULL NO MORE
From being perceived as a "boring" industry that brings to mind sweaty workers moving heavy boxes around, the logistics industry of today could not be more different. In fact, the sector is teeming with forward-looking firms unafraid of adopting new technologies, said Mr Khoo. 
For example, YCH — which employs 5,000 people globally, including a 500-strong Singapore workforce — is testing the use of drones to count the inventory at its S$200 million facility in Jurong West. The use of drones could reduce the time needed for the task from days to a matter of hours.  
DHL is also piloting autonomous picking carts which follow operators around the warehouse at its Advanced Regional Centre in the Tampines LogisPark. The operators only have to place items in the carts, and once they are full, the carts return to the packing area to drop off the orders, while the next cart arrives, obviating the need to move heavy carts. The company is also trying out smart glasses  that show employees, through augmented reality, where to place items on a trolley.
At last count, the logistics industry comprises more than 5,000 companies spanning contract logistics, freight forwarding and trucking. 
The firms range from multinationals such as DHL and TNT, major homegrown players like Poh Tiong Choon Logistics and YCH, to small and medium enterprises (SMEs) specialising in areas such as e-commerce logistics and crowd-sourced delivery. Last year, the sector made up 1.8 per cent of the Republic's gross domestic product and employed some 73,000 workers. 
The Government recently unveiled a roadmap for the sector, one of 23 under its S$4.5 billion Industry Transformation Programme to augment skills, boost productivity and innovation, and help companies spread their wings overseas.
As logistics firms keep pace with technological advancements, the face of jobs is changing. But with improved work environments, workers in essential logistics jobs can expect bigger and more exciting roles, MTI said. 
In the coming years, start-up Roadbull Logistics expects to increase its pool of software engineers, as well as process and product re-engineering managers. Chief executive Alwin Liang said such employees typically earn between S$40,000 and S$80,000 annually, depending on their experience and roles.
After software engineers gain experience, they could become software managers and possibly rise further to become the firm's chief technology officer. Process and product re-engineering managers could go on to help implement projects across borders and improve existing products. 
At SingPost, there is a growing need to staff roles in e-commerce logistics, including customer service staff, said Ms Florence Chan, its chief people and organisation development officer. Data analytics will also become more important, as customers want deeper insights from business data for forecasting, she said. 
YCH Group's Mr Khoo said the firm plans to hire "one or two" workers each in data analytics and robotics over the next two or three years. Data analytics and robotics staff, who work closely with the operations team, may have opportunities to venture into other areas, including operations, he said. Meanwhile, the company is "continuously expanding" its traditional functions including warehouse operations and sales. An operations executive at YCH, for example, earns between S$3,000 and S$4,000 a month. 
NO PRIOR EXPERIENCE? NO PROBLEM 
For those keen to join the industry, there is a plethora of training options available. Logistics programmes range from modular certificates to diplomas and degrees. Places offering the programmes include the Singapore Institute of Materials Management (SIMM), SP Pace Academy, SIM University (UniSIM) and Kaplan. 
SIMM's one-year diploma in logistics management spans topics such as e-commerce, and warehouse and international shipping management. Its e-commerce module was incorporated into the diploma as Singapore is poised to be central to e-commerce growth in the region, said Mr Roger Lee, the institute's director. 
For Mr Fahdil, the money and time invested — juggling work, night classes and a young family — is well worth the effort. "(The course) gives me insight into what happens before the merchandise reaches the store ... the modules are quite intensive because I get a lot of information," said the father of a two-year-old daughter. A fulfilling career for him awaits, if the experiences of YCH's Mr Khoo and DHL's Mr Tan are anything to go by.