Fund climate change measures from current taxes and reserves, say S'pore millennials polled
SINGAPORE — When it comes to the billion dollar question of how to pay for Singapore's efforts to mitigate the impact of climate change, the country's millennials are saying the money should be channelled from current taxes or the national reserves.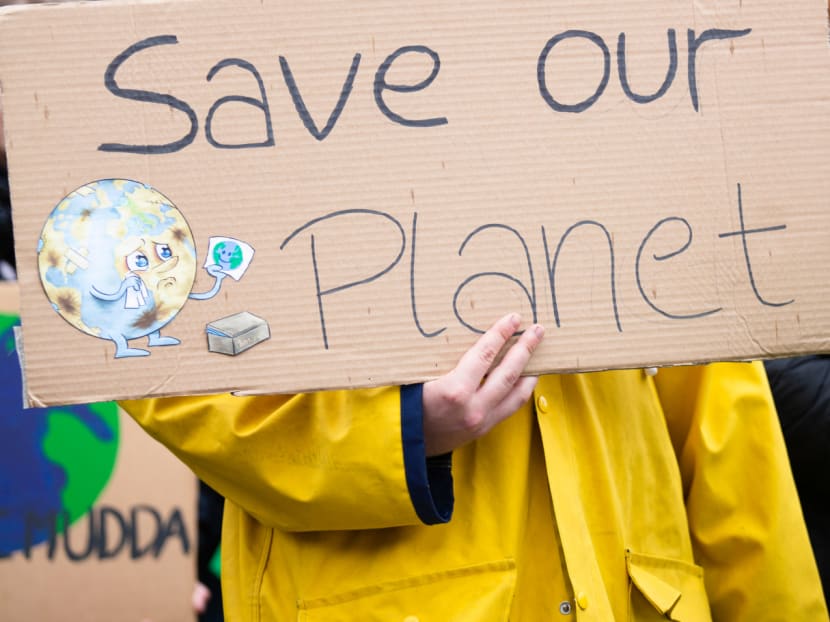 SINGAPORE — When it comes to the billion dollar question of how to pay for Singapore's efforts to mitigate the impact of climate change, the country's millennials are saying the money should be channelled from current taxes or the national reserves. 
Amid ongoing debates around the world on "intergenerational justice" with regards to funding climate change measures, an online survey conducted last month by Mediacorp has found that young Singaporeans and permanent residents here are split between getting the present generation to directly foot the bill via taxes, and tapping the reserves which have been described by government leaders and experts as Singapore's "precious nest egg". 
Conducted between July 20 and 24, the online survey polled 1,002 Singaporeans and permanent residents aged 18 and above on their views about climate change and the Government's actions on the issue.
Among other questions, the survey asked respondents to choose which source of funding should Singapore use to fund climate change measures: National reserves, current taxes or taxes on future generations.
The result? Those aged between 18 and 34 were split between "national reserves" (42 per cent) and "current taxes" (41 per cent).  About 18 per cent chose "taxes on future generations". 
In comparison, there was a clear preference among older respondents in the other age groups for "national reserves" (between 43 and 54 per cent) over "current taxes" (between 31 and 38 per cent) and "taxes on future generations" (between 10 and 20 per cent). 
Prior to the survey, Environment and Water Resources Minister Masagos Zulkifli said in a speech last month that climate change is a "pressing priority and an existential challenge".
He also announced that a new Climate Science Research Programme Office — under the auspices of the Centre for Climate Research Singapore (CCRS) — will be created to shore up capabilities in climate science here. The CCRS will set aside S$10 million in funding over the next five years for the National Sea Level Research Programme.
In this year's Budget statement in February, Finance Minister Heng Swee Keat — who is now also the Deputy Prime Minister — flagged that the Government will be investing more "to protect Singapore against climate change and rising sea levels".
Stressing the urgency for the country to plan for climate change beyond the next decade, Mr Heng said: "Together with existing infrastructure needs, our total bill for infrastructure will increase significantly." 
He added: "We will continue to do our best to look forward, develop fiscal plans well in advance, and put in place the right approach to finance such long-lived major infrastructure. Each generation should contribute a fair share." 
WHAT THE YOUNG SAY
Some millennials approached by TODAY — and who were not part of the survey — were not averse to tapping the national reserves to fund climate change mitigation measures, although experts interviewed cautioned against such a move. 
Ms Esther Lee, a 22-year-old geography undergraduate at the National University of Singapore, said she understood what the national reserves — which are accumulated by past and present generations of Singaporeans — are meant for. But she believes that it should be used as ammunition to tackle climate change, given that it is "an imminent disaster". 
It is not a question about whether it is fair or not that one generation should have to pay for another's deeds, she said.
She added: "There is no point playing the blame game. Right now, we need to move forward and implement solutions to tackle this issue." 
Ms Jolyn Seow, 19, a final-year polytechnic student, also believes that the country has to do whatever it takes, and use whatever resources it can muster.
She said: "If one (generation) does wrong, it's up to the next ones to bear the consequences. However, the younger generation can choose to make a difference and (bring about) change (for) the future generations."
Mr Andrew Wilfred, 33, a public servant, is against using the reserves to fund climate change mitigation efforts. 
While stressing that it is "everybody's job" at this point in time, he said: "I don't think the national reserves should be used to fight climate change unless there is a concerted global strategy in place to combat it."
Instead, he suggested setting aside some money from Singapore's annual budget. "This makes more sense as it's more sustainable in the long term, and leaves the country with enough money as a capital buffer against catastrophic conditions," he said. 
Mr Peter Tan, a 32-year-old insurance agent, is also against the use of the reserves. He noted that the carbon tax is another form of current tax which the Government could use.
"The taxes received can in turn be directed to investment in carbon reduction initiatives," he said.
The Government had previously said that the carbon tax is meant to encourage reductions "where it makes the most economic sense".
Senior economist Irvin Seah from DBS bank noted that the rates for the carbon tax are "quite low" now, and he does not discount the possibility that they will rise in the future.
It was previously announced that from this year to 2023, the carbon tax for large carbon-emitters that produce 25,000 tonnes or more of greenhouse gas emissions a year will initially be pegged at S$5 per tonne. 
The plan is to increase it to between S$10 and S$15 per tonne of emissions by 2030, and then there will be a review of the rate that same year.
Mr Seah noted that "the biggest polluters are the corporations, rather than individuals". "If you were to impose a tax on consumers, then only consumers bear the burden, which is not fair," he said.
With the carbon tax, he said that individuals will also pay their share, but it will be through the transfer of pricing from businesses to individuals. "So everyone does pay a bit," he said. 

INTERGENERATIONAL JUSTICE
Writing for the United Nations Children's Fund (Unicef), Dr Fabian Schuppert, a post-doctoral researcher and research associate at the University of Zurich's Centre for Ethics, noted that climate change raises certain ethical issues, such as the concept of "intergenerational justice".
This refers to the idea that present generations have certain duties towards the future generations.
Climate change also raises the question of which risks people living today are allowed to impose on future generations.
All these can affect the way policies are made, for example, in the choice of funding to be used to counter climate change.
In the Singapore context, using the national reserves for such a purpose would effectively mean that past and present generations would be funding the efforts.
To use current taxes would mean that taxpayers now would directly finance projects aimed at mitigating climate change. 
There could also be the option of recouping the money from future generations. 
Speaking to TODAY, economist Song Seng Wun from CIMB Private Banking disagreed with the notion that the older generation should be responsible for "fixing" the problems contributing to climate change.
He added: "Conceptually… the past generation had contributed to (the reserves) to be used by the present generation. Similarly, we (the present generation) will contribute to (the reserves) for the use of future generations." 
Mr Seah reiterated that the reserves "are not meant to be used as an expense item".
"It's meant to generate income in the form of the NIRC (Net Investment Returns Contribution), which is the largest source of revenue for Singapore's overall fiscal position," he pointed out. 
He added: "If we tap these reserves too easily, the temptation is to tap more going forward. This is almost like tapping your principal amount in terms of investment… (and) your returns, obviously, will fall."
Agreeing, Mr Song suggested that instead of tapping the reserves, the income generated from the national coffers could be channelled to fund projects to tackle climate change.
The reserves should be safeguarded for a rainy day, such as in the event of any emergency, he stressed. And such an emergency could very well be caused by climate change.  
He said: "If all the ice melts in Greenland (suddenly), it could add (several) metres to the sea level. Can you imagine what that would do to Singapore?"