Gastric reflux, diarrhoea, diabetes, infertility — obesity-related health problems drove them to seek a fresh start
SINGAPORE — Whenever people ask 33-year-old Matthew Samy what made him decide to undergo bariatric surgery to lose weight, he would tell them that it all started with a spicy nuggets meal.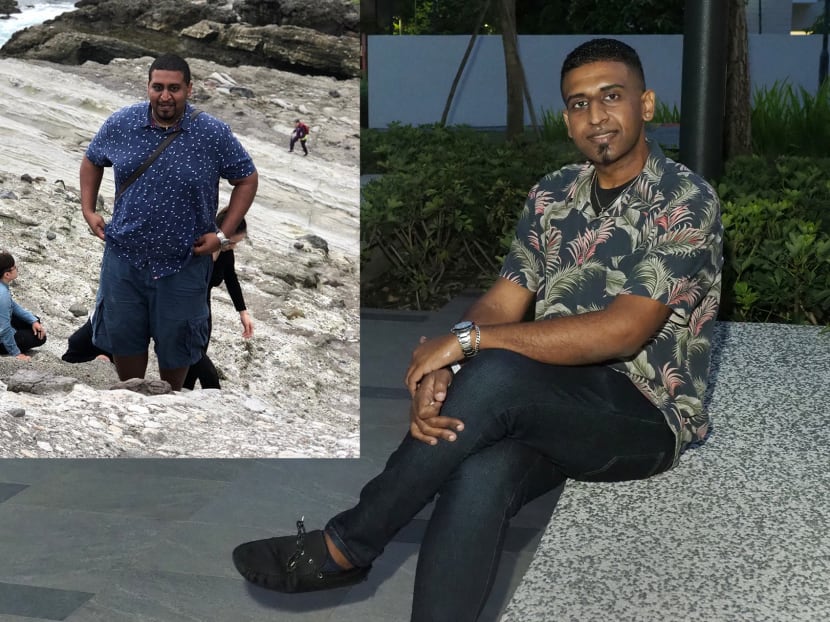 SINGAPORE — Whenever people ask 33-year-old Matthew Samy what made him decide to undergo bariatric surgery to lose weight, he would tell them that it all started with a spicy nuggets meal.
Last year, after scarfing down nine pieces of spicy chicken nuggets, Mr Matthew, a data and document specialist, started having digestion issues and diarrhoea for a week. He became severely dehydrated and was rushed to Sengkang General Hospital (SKH) where he was warded.
That episode made him rethink his health priorities. With a Body Mass Index (BMI) of around 40 at the time, he was considered morbidly obese. At his heaviest, he weighed 147kg.
A person is considered morbidly obese if his BMI exceeds 37.5, or 32.5 with an obesity-related health condition.
Mr Matthew suffered from a host of obesity-related medical conditions such as pre-diabetes, hypertension, high cholesterol and severe sleep apnoea, a sleep disorder that can cause breathing to stop during sleep.
He also had frequent gastric reflux attacks due to his weight, which he thinks might have worsened his digestive problems after the spicy meal.
During his stay at SKH, a doctor suggested bariatric surgery as a possible weight-loss option for his severe obesity and several related medical conditions.
He was sceptical at first but eventually decided to give it a go after a long discussion with the doctor. 
"At that point, I was looking for new slate in life. I felt that the surgery could give me a new start."
In January this year, he underwent a type of surgery known as laparoscopic Roux-en-Y gastric bypass, which involves altering the route in which food travels during digestion.
During the procedure, the surgeon creates a small gastric pouch from the stomach and connects the pouch to the small intestine. 
After the surgery, food eaten will go into the newly created pouch and directly into the small intestine, bypassing most of the stomach and the first part of the small intestine called the duodenum.
As the small gastric pouch holds less food than an average-sized stomach, the patient eats less and feels full sooner. Bypassing part of the intestine also reduces the amount of calories and nutrients absorbed from food.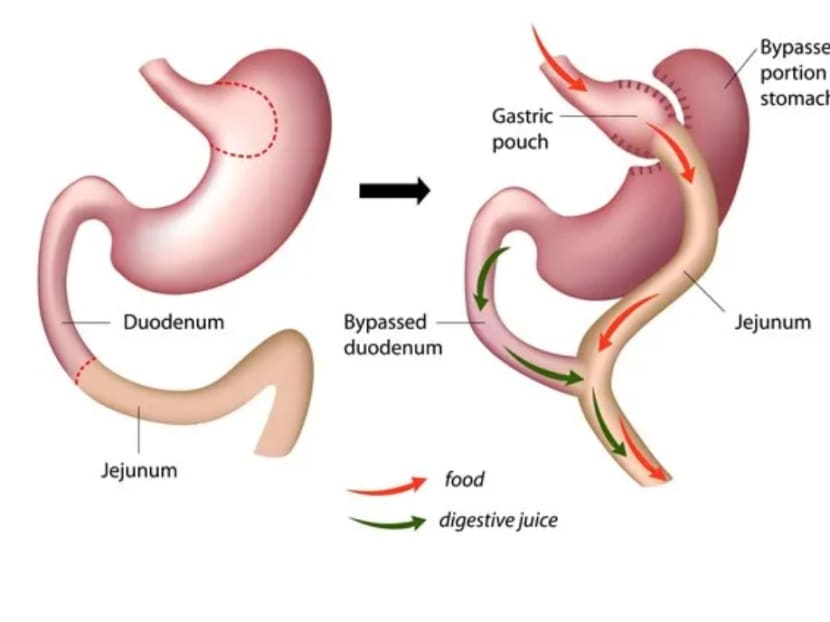 'MY SNORING WOKE ME UP'
Mr Matthew said: "I've always been the fat kid in school. Growing up, I never felt the need to lose weight. But I realised the health problems started affecting me more significantly once I hit the 130kg mark.
"For example, my sleep apnoea became so bad that my snoring would wake me up."
He previously tried taking weight-loss medications, prescribed by a general practitioner, but experienced weight rebound and weight gain each time he stopped.
He also tried a weight-loss programme at another hospital but did not complete it because he was put off by the way doctors there managed his progress.
When he was at SKH, in the weeks leading to the operation, Mr Matthew was put on a strict low-calorie diet and encouraged to do regular physical activities and stop smoking.
The surgery was a success but the recovery was challenging.
"In the initial weeks, I kept throwing up. Out of every five meals I took, I would throw up two meals," he said. Patients sometimes experience this post-surgery if they eat too much or too quickly.
Now, Mr Matthew's meal portions have gone down by more than half because it takes a lot less food to make him feel full. 
He can no longer stomach his favourite burgers and steaks, or other processed food, and now prefers taking healthier food such as mui fan (rice with gravy) or noodles with soup. 
SURGERY IS JUST A START, NOT AN END
Now weighing 84kg, he has seen vast improvements in his health. Except for hypertension, all of the obesity-related conditions he had earlier are gone.
He also feels a lot more energetic now, which makes it easier for him to lead a more active lifestyle.
While bariatric surgery has improved his quality of life, Mr Matthew advised people considering the option to "know what they are signing up for" because it is an irreversible process. 
As with any surgery, there may have potential risks as well, such as bleeding, leaks and infection.
Mr Matthew said that the operation gives people with severe obesity who cannot lose weight through conservative methods a chance to have a healthier lifestyle.
"But it is not the be-all and end-all for our weight loss journey. The real change comes after the surgery, when you make healthier changes to your lifestyle and diet."
SHE CANNOT HAVE A BABY YET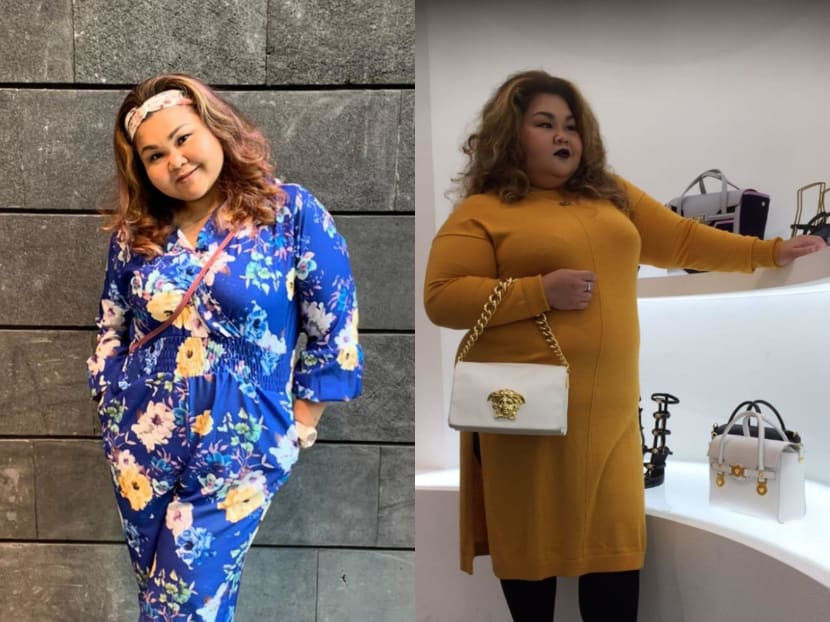 Whenever Ms Nur Alwiyah tells doctors that she likes outdoor activities such as hiking, swimming and cycling, the 29-year-old customer service officer almost always gets a sceptical look in return, followed by comments such as "maybe it's not enough" or "you need to try harder".
She also often gets disparaging remarks about her weight, many from total strangers.
"Random people have walked past me and said things like, 'Eee, gemuk (fat), ah', 'so fat'. Most of the time, I'd turn around and ask them, 'Yes, I'm fat but I'm not using your money to feed myself, so what's your problem?'
"But at times, I feel down and get affected by their words. I'm human, too, and I'm also a woman. I have emotions."
Like most of her family members, Ms Alwiyah has always been big. At her heaviest, she weighed 130kg and had a body mass index (BMI) of 49.5. 
As with most people who are obese and who have to grapple with related health problems, Ms Alwiyah suffered from diabetes, which required her to pop five pills daily since 2016.
She was also prone to developing abscesses or pus-filled boils. But it was her inability to start a family of her own that broke her heart and spurred her to shed the excess weight.
Diagnosed with polycystic ovarian syndrome, a hormonal disorder that has affected her ability to conceive, Ms Alwiyah, who is married, was told that she would have to lose weight in order to undergo in-vitro fertilisation (IVF) procedure successfully.
"People and doctors kept telling me that my health problems and inability to conceive are due to my weight and that I need to lose weight. They repeatedly tell me that," she said.
But exactly how to lose that massive amount of weight safely? Ms Alwiyah did not know.
'I GET FED UP, TOO, YOU KNOW?'
She has tried various methods, such as crash-dieting, taking small meals over the day and taking up punishing exercise regimes. Nothing worked.
Although she might shed 3kg to 4kg at first, the weight lost would eventually creep back. More often than not, she would end up becoming heavier than before.
"I get fed up with my own weight and health issues, too, you know? It's not like I haven't put in effort to lose weight," she said. 
"Was it due to my genes? I couldn't understand why. Even though I kept exercising at a constant pace, I would still gain weight."
Ms Alwiyah eventually sought professional help from the Sengkang Weight Improvement Therapy and Complete Health (Switch) Centre at SKH.
In April, she underwent a type of bariatric surgery known as laparoscopic sleeve gastrectomy to remove about two thirds of her stomach, which limits the amount of food she can eat and decreases her appetite.
Before the surgery, she weighed 115kg. She has since lost around 23 per cent of her weight, and now weighs 87.5kg. 
'SACRIFICES HAVE TO BE MADE'
No longer dependent on diabetes medications, Ms Alwiyah is now focused on maintaining her weight loss, and if possible, she hopes to lose some more to achieve an ideal BMI. 
She was told that she would have to wait at least a year after her surgery before she can attempt IVF.
"Sacrifices have to be made in order for me to (have a baby)," she said. 
Dr Yvonne Lim, a consultant at NUH's division of paediatric endocrinology, said that maternal obesity before pregnancy is one factor that increases a child's risk of obesity. 
With childhood obesity on the rise, Dr Sonali Ganguly, a senior consultant at Singapore General Hospital's department of endocrinology, said that obesity management should start as early as pre-conception, ensuring that women of childbearing age maintain a healthy weight and BMI before conceiving.
"Additionally, we need to educate parents and caregivers of young children about healthy eating habits and the importance of encouraging physical activity," she added.
Dr Yvonne Lim also said that healthy lifestyle habits for children should start as early as possible because once habits are formed, they can be difficult to change. 
For Ms Alwiyah, her efforts to lose weight would not have been possible without the support of her husband, family and friends, who have been encouraging and non-judgemental, she said.
By sharing her experience, she hopes that more people are aware that obesity is a disease that requires medical intervention; and that weight loss for people like her is not always a straightforward matter.
"Rather than demoralise and diminish people with obesity, why not help and encourage them through your actions, such as inviting them to a healthy meal or workout session?
"And don't judge people by their looks. You don't know what they have to go through."