GE2020: S'pore needs 'consistent and coherent' policies to draw investments in wake of Covid-19, says PAP's Chan Chun Sing
SINGAPORE — It is incorrect to suggest that investments will continue to come into Singapore no matter what happens in the polls, the People's Action Party second assistant secretary-general Chan Chun Sing said on the final day of campaigning for the General Election (GE).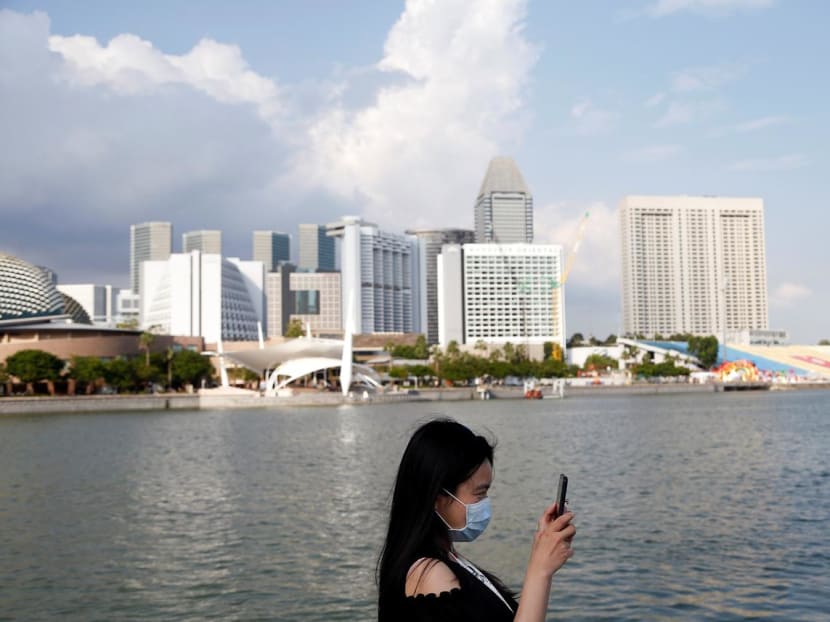 Wrong to assume investments will not be affected by what happens in Singapore, he said
To attract investments, Singapore has to demonstrate "consistency and coherence" in its manpower policies and free-trade agreement strategy, he added
FTAs are key to allow small countries like Singapore to access the global open market amid rising protectionism
Labour policies need to be consistent in order to attract others into planting their investments and sending their talents to Singapore
SINGAPORE — It is incorrect to suggest that investments will continue to come into Singapore no matter what happens in the polls, the People's Action Party second assistant secretary-general Chan Chun Sing said on the final day of campaigning for the General Election (GE).
He was responding to a question raised during a virtual press conference on Wednesday (July 8) about comments by Workers' Party chief Pritam Singh that Singapore did not collapse after the PAP lost Aljunied Group Representation Constituency (GRC) in 2011, and foreign direct investment had gone up instead.
Mr Chan said Mr Singh's assumption is wrong as investments would inevitably climb over the years. "The real question is whether this was due to (Singapore's) effort, or would we have gone on an even higher trajectory if not for the obstacles that we have faced," he said.
Mr Chan, who is leading the PAP team contesting in Tanjong Pagar GRC, noted that local businesses are facing great uncertainties amid Covid-19.
"At this point in time, the last thing we need to do is to add to the uncertainties," he added, referring to the Covid-19 crisis.
Mr Chan said that the "ultimate test" for any candidate or political party in the GE will be whether they can secure jobs, bring in investments and organise networks to help families under strain. PAP candidates' interactions with Singaporeans also show that they "very clearly" understand the challenges ahead when it comes to securing jobs, investments and essential supplies.
He highlighted the urgency of needing to demonstrate to the world over the next six to 12 months that Singapore can have "consistent and coherent" long-term manpower policies, free trade agreement (FTA) strategy, and give confidence to investors to plant their investments in Singapore as a trusted and open hub.
Said Mr Chan: "Many people (outside the country) are looking at Singapore to see whether we can provide that safe harbour, and the continuity and coherence in policies for them to make their long-term investments down here."
However, if Singapore is inconsistent in its FTA and manpower policies, it will further erode confidence in Singapore as well as its attractiveness as a destination for investments, describing this as a serious issue for Singapore to grapple with in the coming months.
Some opposition parties, such as the Progress Singapore Party, have called for the Comprehensive Economic Cooperation Agreement (Ceca) between Singapore and India to be reviewed in their GE2020 manifestos.
Ceca reduces tariffs and allows for the movement of certain types of business people between Singapore and India. Red Dot United, for example, argued that FTAs such as Ceca should be examined to see how Singaporeans have benefited compared with Indian professionals.
The PAP has said that the Opposition's call to review FTAs such as Ceca failed to consider the trade-offs for renegotiations.
Mr Chan said that over the past two to three weeks, he has been hearing feedback from people and businesses about a major challenge in continuing to secure good investments, which would translate to opportunities for businesses and workers.
"Investors' confidence globally is down. Consumer confidence globally is also down," he added.
"What we need to do is to make sure that we have a conducive environment to inspire confidence in the investors to plant their investments in Singapore to create good jobs."
He noted that the job vacancies to unemployment ratio has fallen from 0.84 in the fourth quarter of 2019 to 0.71 in the first quarter of 2020, which means that there are fewer job vacancies for every unemployed person.
"This number may continue to worsen in the coming months, unless we are able to inject confidence into the business community for them to plant their investments here, and this includes both the local and the foreign investments."
As global geopolitical forces and protectionism potentially hurt Singapore's abilities to access the overseas market, Mr Chan stressed the need to continue to uphold FTAs with other countries around the world, which is not easy.
He pointed out how Singapore's ability to secure essential items and supplies had come under strain, as Covid-19 has created "policy-induced disruptions" in countries that are anxious about meeting their internal demand, as well as the impact of geopolitical developments globally.
Mr Chan said the Republic must continue to ensure that some of its capabilities are localised. "But this will not replace our need to continue to diversify because we will ultimately need raw materials and intermediate products from other countries."
However, he said global forces still threaten to bifurcate global trading and technological relationships, referring to the ongoing geopolitical tensions between the United States and China that precede Covid-19.
"We are now moving into a world where money alone cannot buy us all the things that we need. At certain junctures, people want to be able to exchange with us, things that they need," he said.
As a small country, Singapore must continue to make sure it can produce the critical capabilities that the rest of the world needs, such as in biopharmaceuticals, ICT, semiconductors, petrochemicals, as well as banking and finance services.
Singapore will also need to continue striking FTAs that would allow the Republic to access the open market amid growing protectionism.
"All our agencies, the Ministry of Trade and Industry and the Ministry of Foreign Affairs, will have to work very hard to make sure that we can mobilise like-minded partners to come together to uphold the global trading system, in order for our companies to access the market opportunities elsewhere."
He said the Republic is working towards the signing of the Regional Comprehensive Economic Partnership (RCEP) agreement before the end of 2020, as well as several digital economy partnership agreements with other countries.
In addition to having coherence in its FTA strategy, Mr Chan said that Singapore needs to show that its manpower policies are consistent in order to draw investors to Singapore, adding that with Covid-19 affecting the world, there is also an opportunity for Singapore to "distinguish ourselves if we can provide that safe harbour for technology and talent to be planted here".
The task to secure Singapore's lifelines, and trying to maintain the confidence of local and foreign investors in Singapore, as well as working with the rest in the ministerial team tackling Covid-19's impact on jobs, has been a "tremendous challenge" that is not easily overcome, said Mr Chan, who is also Trade and Industry Minister.
"We know that it will not be so easy going forward, and that is why we asked for Singaporeans to unite, to come together, affirm the government if the government has done well so that we can move forward as one united people together," he said.
"This is what the election is all about."
.embed-container { position: relative; padding-bottom: 56.25%; height: 0; overflow: hidden; max-width: 100%; } .embed-container iframe, .embed-container object, .embed-container embed { position: absolute; top: 0; left: 0; width: 100%; height: 100%; }