Getting up close and personal with wildlife, without them realising it
SINGAPORE — Slowly and carefully, the Malayan Colugo leapt up the trunk of a tree as it foraged for food, seemingly unaware of the pairs of eyes on it.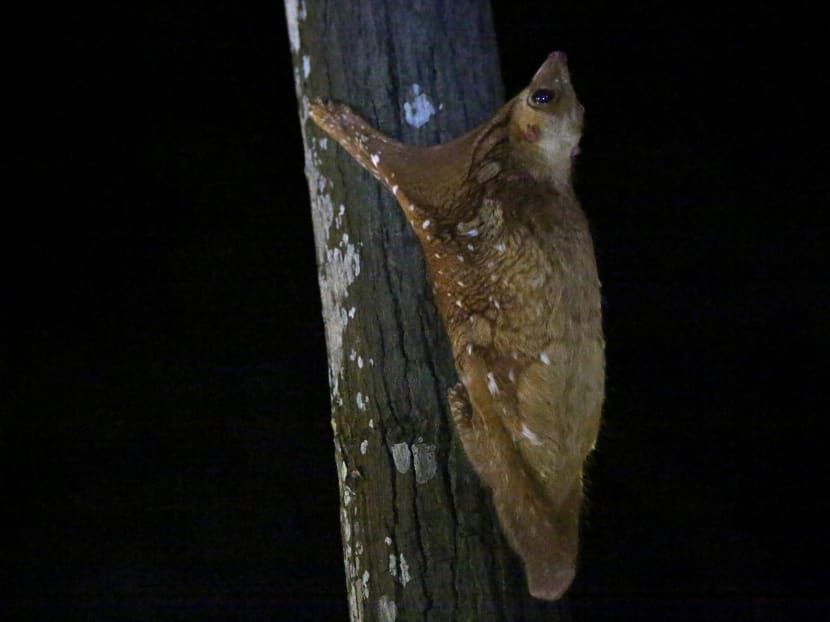 SINGAPORE — Slowly and carefully, the Malayan Colugo leapt up the trunk of a tree as it foraged for food, seemingly unaware of the pairs of eyes on it.
As the nocturnal mammal perched itself on a branch, it came to a standstill momentarily. Then, it took off.
With its "wings" outstretched, the flying lemur glided over my head, as I watched in awe through the lens of my night vision goggles.
During a media tour conducted by the National Parks (NParks) on Tuesday night (May 21), TODAY caught a rare glimpse of how researchers survey nocturnal animals in Singapore using new technology.
Armed with night vision goggles and a red-filtered torchlight, we trudged into the dark wilderness to spot these nocturnal creatures.
Showing up as bright white figures, the goggles show a visual contrast in heat signatures between warm-blooded mammals and their cool surroundings.
Yet, some inanimate objects like signs showed up brightly on the goggles as well, fooling our untrained eyes.
It is just a matter of "getting used to", quipped National Biodiversity Centre manager Li Tianjiao, who led the tour.
"Night vision equipment allows us to observe the animals in absolutely no-light conditions without altering their natural behaviour."
Before these night vision equipment was introduced in October last year, NParks used red-filtered lights or red bulbs with a reduced intensity to observe animals in the dark.
NParks said that the researchers have spotted two to three times more animals with the new equipment. Previously, they spot an average of five species a night.
Other new technology that NParks will implement includes acoustic sensors that remotely monitor and distinguish calls from different species, said Social and Family Development Minister Desmond Lee at the launch of Festival of Biodiversity on Saturday (May 25).
Minister Lee added that NParks is also working to compile databases so that minute traces of DNA in the environment can be used to detect plant and animal species remotely without coming into contact with them.                  
Around 200 species new to Bukit Timah Nature Reserve were listed in a recent comprehensive survey, announced NParks on Saturday.
At least 30 species of spiders and 10 species of beetles are potentially new to Singapore, with some that may even be new to science, added NParks.   
Singapore is home to a wide variety of animal and plant species, recording more than 400 species of birds and at least 2,100 native vascular plants.
The island also has 65 species of mammals, with more than three-quarters that are nocturnal, said NParks.
MINIMISING DISTURBANCE
NParks said that the public should adhere to the opening hours of nature parks and reserves, as excessive human disturbance could "alter the natural behaviour" of the animals.
An NParks volunteer was fined S$4,700 recently after leading a photography group into Windsor Nature Park after hours.
TODAY understands that most nature parks and reserves in Singapore are not open to the public after dark.
"(Animals) could maybe stop foraging for food or try not to cross an area where people are generally found," said Ms Li.
She added that artificial lights reportedly disrupt nocturnal activity, which can interfere with the animals' reproduction cycles.
NPark limits its night surveys to about twice a week, and keeps the surveying team to a maximum of four people each time to minimise disturbance to the animals.
"By doing this, we hope that we can protect their population sizes. If we know what food they eat, we can try to plant more of their food sources," said Ms Li.