Getting serious about child's play
There'll be plenty of buzz about the Bee-Bot at the Tech Saturday exhibition at Suntec Singapore on May 21.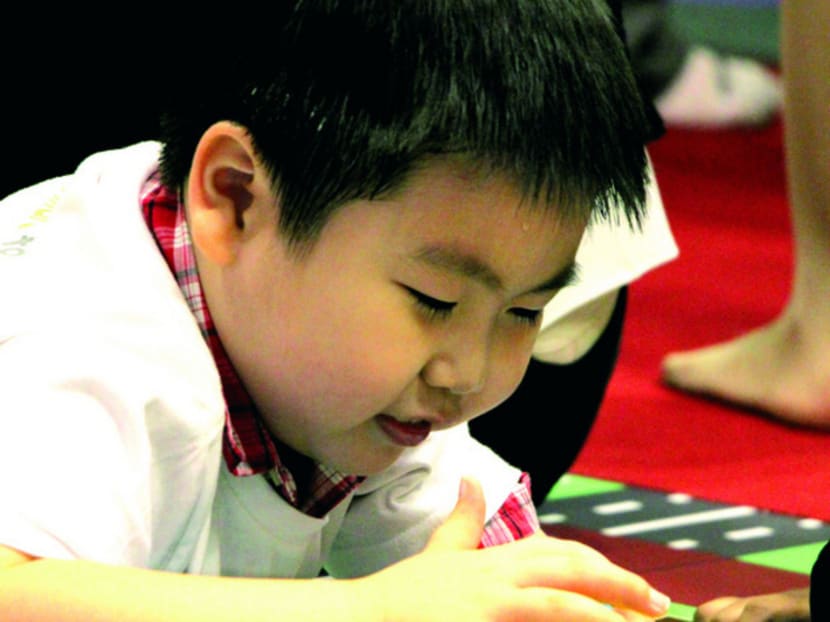 There'll be plenty of buzz about the Bee-Bot at the Tech Saturday exhibition at Suntec Singapore on May 21.
Bee-Bot is a colourful, user-friendly robot that is helping preschoolers learn about sequencing, estimation, problem-solving and planning skills through play.
The tiny robot is part of a range of new toys introduced under the Infocomm Development Authority of Singapore's (IDA) PlayMaker Programme. The toys used in the programme address one of parents' and educators' key concerns about the use of technology — too little social interaction and learning through physical activities and too much screen time.
The IDA PlayMaker Programme aims to offer an enriched learning experience through the use of technology and is a key foundational tool as the country advances towards being a fully-fledged Smart Nation. The programme was launched last year to 160 preschool centres and the IDA invested S$1.5 million in the programme, including technical support and training for educators.
IDEAS, IMAGINATION, INNOVATION
While toys like Bee-Bot are a fun way to introduce children to IT (information technology), they're just the first part of a wider goal of encouraging people to adopt, create and innovate with technology.
Speaking at the launch of the PlayMaker Programme last year, Mr Steve Leonard, IDA executive deputy chairman, said: "As Singapore becomes a Smart Nation, our children will need to be comfortable creating with technology. Our PlayMaker Programme gives children the tools not only to have fun, but also to experiment and problem-solve together, building up their confidence and creativity."
The programme also uses KIBO, a robot kit that allows children to programme the robot by scanning special wooden blocks to tell the robot what to do. Children also play with Circuit Stickers, which are like peel-and-stick electronics kits that can be used to create circuits. LED stickers and sensor stickers then make it possible to create interactive projects that respond to external stimuli.
Beyond helping preschoolers adopt and adapt to technology, these toys help fuel their curiosity and creativity. In the long run, the ability to harness one's imagination to innovate will be an essential facet of our journey to becoming a Smart Nation.
SMART NATION, GLOBAL ASPIRATIONS
Some of the solutions on display at Tech Saturday address issues that many growing cities face. Smart Nation-derived innovations may even help address global issues of urbanisation and help the Singapore economy evolve into a global solutions provider.
The BASH (Build Amazing Startups Here) initiative by Infocomm Investments Pte Ltd, the investment arm of the IDA, is one such example of how this could be achieved.
Targeting tech startups, BASH is Singapore's largest integrated working space for the tech community. It has hosted some 30,000 visitors, including 28 international government organisations as well as 50 commercial and multinational companies. BASH's structured three-month programme saw accelerators help startups create and validate their business models, then build prototypes that could be pitched to potential investors.
While the typical startup incubation success rate ranges from two to eight per cent, the IDA says that BASH's success rate — a startup's ability to raise sufficient funds to move to its next stage of development — was over 50 per cent.
While these are just initial steps, embracing an innovation-driven economy is an essential component of our economic evolution.
USING DATA TO MAKE A DIFFERENCE
A key factor in this evolution is using the voluminous amount of data that will be available effectively.
Speaking at the Tableau Conference on Tour in Singapore last month, Mr Leonard highlighted the tendency of some organisations to collect as much data as they could and then search for solutions. The good news is that in an interconnected society like Singapore's, it will be relatively easy to gather plenty of data.
However, organisations need to identify the problems they need to solve and the questions they want to answer, Mr Leonard said.
This would then help them determine if they had the data to help them make a difference.
He said: "At the end of the day, [it isn't about] having lots of data that doesn't go on to help you do something or change people's lives. Our goal is to be the leaders in the engineering and imagination of [solutions to societal challenges], and to provide the infrastructure needed [to facilitate these]."
According to Mr Leonard, the Government had analysed some 90 million data points to identify bottlenecks and processes that needed to be improved. Such data can help address a variety of challenges ranging from unpredictable bus arrivals to coping with an ageing population.
With the correct infrastructure and technology, for instance, public transportation could move underground, while autonomous vehicles or personal-mobility devices could occupy another dedicated space.
Key to meeting these long-term goals however, will be adapting mindsets to the wider range of opportunities afforded by a data-driven but people-oriented Smart Nation.
TECH SATURDAY (Free admission)
Date: May 21, 2016 (Saturday)
Time: 11am-7pm
Location: Suntec Singapore Convention & Exhibition Centre, Level 4
Learn how technology can change your life. Highlights include:
• Try out the latest consumer tech
• Sign up for free tech workshops
• Play with cool gadgets like sensors and microcontrollers
• Test fly a drone
• Learn about government apps
• Win attractive tech prizes hourly
Tech Saturday is a part of Smart Nation Innovations week, which will see Singapore host a total of four events and over 15,000 guests as they exchange ideas and learn about disruptive technology.
Visit www.techsaturday2016.sg to find out more.