Girl, 6, drowned in Sentosa hotel pool because no adult was watching her: Coroner
SINGAPORE – The drowning of a six-year-old girl at Festive Hotel in Sentosa last year was due to a lack of adult supervision, the state coroner said on Monday (April 15).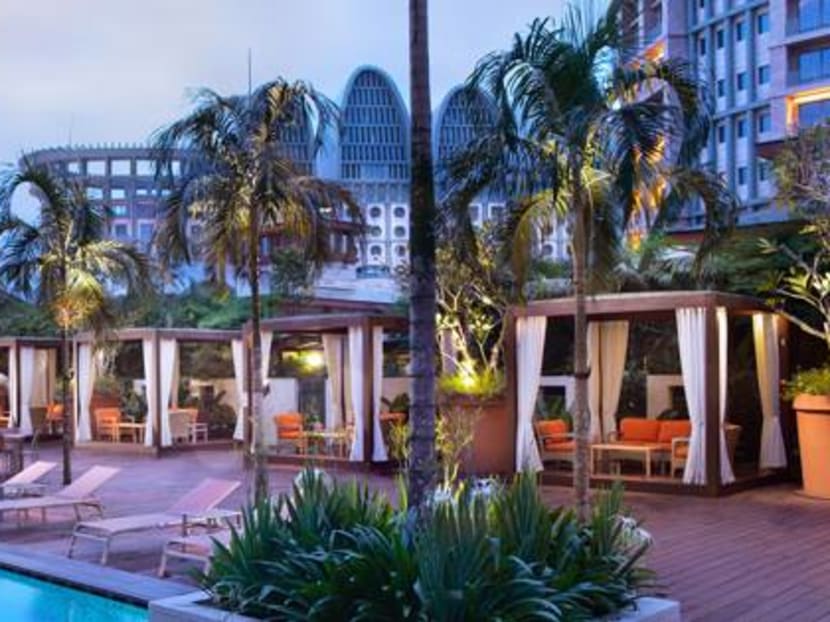 SINGAPORE –  The drowning of a six-year-old girl at Festive Hotel in Sentosa last year was due to a lack of adult supervision, the state coroner said on Monday (April 15).
Ms Kamala Ponnampalam said in her findings that an inquiry into the incident found no shortcomings in the design and maintenance of the hotel's swimming pool.
Guests at the pool were sufficiently warned of the absence of lifeguards through prominently placed signages, she added.
Ms Kamala also noted that the paramedics from the Singapore Civil Defence Force were prompt, arriving within nine minutes of receiving the call for help, and that medical efforts to revive her were "unrelenting".
But, she added: "What was singularly lacking was adult supervision."
She noted that the girl, Andrea Hailey Tan, who stood at 1.18 metres and was unable to swim, was left unattended in the adult swimming pool with a depth of 1.2 metres.
This is the second drowning incident in recent weeks to make headlines.
Earlier this month, the state coroner issued its findings on the drowning of another six-year-old girl. She had drowned at Kallang Basin Swimming Complex during a swimming lesson in January last year, when her coach had his back turned to her.
LEFT HER ALONE IN THE ADULT POOL
In the latest case, the court heard that Andrea was staying at the hotel at Resorts World Sentosa (RWS) with her grandmother, granduncle and his three-year-old son from Oct 6 to 8 last year.
Andrea's father, Mr Tan Jui Yong, did not accompany them, after having dropped Andrea off at his mother's house on Oct 5.
Before checking into the hotel, Andrea's grandmother, Mdm Ong Kim Tee, had bought her granddaughter a swimming float.
At around 10am on Oct 7, Mr Ong Cheng Chye, Andrea's granduncle, brought the children down to the kids' swimming pool at the hotel.
The children were both equipped with their swimming floats around their torsos as they played in both the 0.5 metre-deep pool and the water play area, where the water went up to Andrea's ankle.
Throughout this time, Andrea's grandmother was at a shelter nearby.
At some point, Andrea's granduncle decided to bring both children to the adults' pool after ensuring they still had their swimming floats on.
The court heard that this was not the first time that Andrea had played in an adult pool. Andrea's father said she had previously been accompanied by her granduncle at the adult swimming pool at Hotel Michael — another hotel at RWS. 
As the Festive Hotel pool was crowded, Mr Ong said he kept the children by the corner of the adult pool, which was next to a staircase.
After some time, Mr Ong decided to push his son across the length of the pool and brought him to a hot tub. He did not inform Andrea that they would be leaving her alone.
FLOAT NO SUBSTITUTE FOR ADULT SUPERVISION
Mdm Ong said she did not know that the Mr Ong had brought the children to the adult pool. Neither did he inform her that he would be leaving Andrea unattended.
During the investigation, Andrea's granduncle said that he left her alone as he believed that she was able to swim without the assistance of a float.
He said that when they first began playing in the adult pool, he saw Andrea "floating above the floor of the pool" and immersing her face into the water to blow bubbles.
Mr Ong only realised something was wrong when he noticed Andrea's grandmother standing by the side of the pool and shouting frantically for her to get out.
After running over, he found Andrea lying prone at the bottom of the pool. Her float had slipped off and drifted away.
Mr Ong immediately jumped in and brought her out, but her lips had already turned purple.
A bystander came forward to perform cardiopulmonary resuscitation (CPR) on Andrea,while another guest retrieved the in-house Automated External Defibrillator from the towel booth.
The assistant front office manager at the hotel also administered CPR on Andrea until paramedics arrived and took her to Singapore General Hospital.
She was later transferred to KK Women's and Children's Hospital, but died 10 days later on Oct 17.
A doctor certified the cause of death as brain damage and pneumonia following near-drowning.
Ms Kamala said Andrea's granduncle "held the mistaken belief" that she knew how to swim, and placed faith in the swimming float to keep her safe.
"A floatation device like a swimming float is not a substitute for constant, vigilant, adult supervision. The float may come dislodged and float away, leaving the child stranded," she said.
She stressed that even if a child can swim, he or she must always be accompanied by an adult and "kept within arm's reach and in line of sight" as the risk of drowning is not completely removed.