Govt to introduce further measures to fight haze problem
SINGAPORE — To prevent a recurrence of the haze which blighted Singapore's skyline just weeks ago, a raft of measures, including the possibility of extraterritorial legal action, will be deployed by the Government.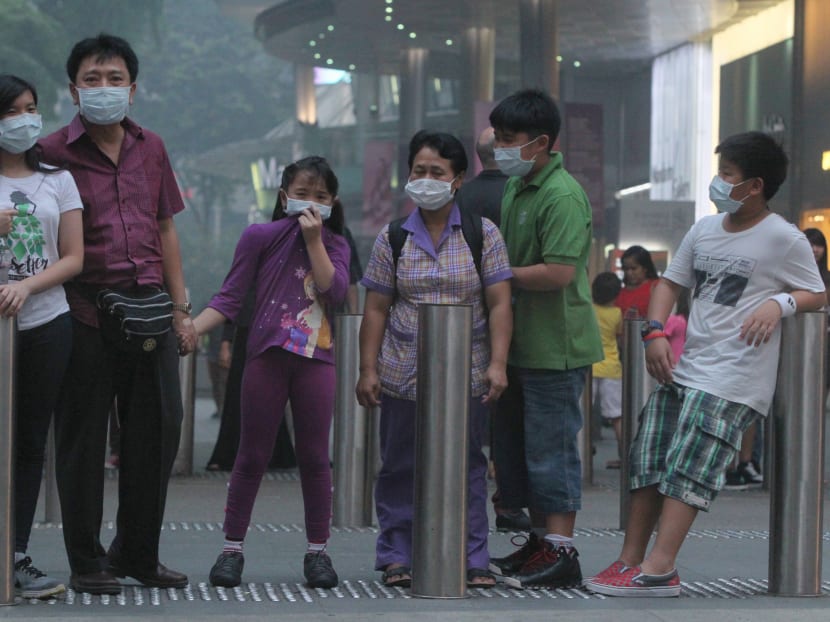 SINGAPORE — To prevent a recurrence of the haze which blighted Singapore's skyline just weeks ago, a raft of measures, including the possibility of extraterritorial legal action, will be deployed by the Government.
These measures were laid out yesterday in a Parliament session dominated by questions on the haze issue, which hogged headlines late last month when the Pollutant Standards Index (PSI) reading hit a record high of 401.
As one Member of Parliament after another rose to ask about Singapore's readiness to tackle the haze and what more could be done to mitigate the clearing of land by burning in Indonesia that led to it, the Government detailed further efforts to fight the problem.
For a start, Singapore will seek an answer on its offer to renew its collaboration with Jambi in Sumatra and work with other provinces to enhance fire prevention, suppression and alternative livelihoods. This is one of four outcomes Minister for the Environment and Water Resources Vivian Balakrishnan will seek at next week's meeting of the Sub-Regional Ministerial Steering Committee on Transboundary Haze Pollution in Kuala Lumpur.
Singapore will also ask the other participating countries — Brunei, Indonesia, Malaysia and Thailand — to provide detailed concession maps and agree on a date to publicly launch a monitoring platform that enables errant companies to be identified, said Dr Balakrishnan.
This will help governments track down those responsible for the fires, he said, although he acknowledged that this would be a challenging task.
Law and Foreign Affairs Minister K Shanmugam also told the House that Singapore is considering the introduction of laws against parties whose overseas business activities negatively impact the Republic's environment or economy. He has tasked the Attorney-General to "study the possibility of introducing legislation", and to "consider what legal options are available, if credible and usable evidence is received that Singapore-linked companies are involved".
In recent months, environmental groups have produced data showing hot spots in Sumatra which fall within the concession areas of palm oil or pulp companies, some with a presence here. Singapore is also awaiting Indonesia's response on any evidence of wrongdoing by Singapore-linked companies. Both ministers, however, stressed that there were limits to what the Republic could do.
Mr Shanmugam said the "primary responsibility" for taking action against errant companies lies with Indonesia. When asked if Indonesia is likely to ratify the ASEAN Agreement on Transboundary Haze Pollution, signed 10 years ago, he said Jakarta would submit it to its House of Representatives soon.
But Dr Balakrishnan sounded a cautious note: While ratifying the treaty will signal high-level political commitment by Indonesia, "it may not be sufficient to prevent the haze if the measures taken on the ground remain weak".
The ministers also cautioned that diplomacy was an important part of the process.
Mr Shanmugam stressed that international relations must be handled delicately. Referring to an agreement made at the last ASEAN ministerial meeting to detail steps to be taken to deal with the haze, he said: "That is quite an important requirement, because it requires every country to come forward and say what they have done and what they have not done."
Singapore has worked out options on where, when and how it will raise its interests and whether to involve issues of international law, he added. "But I don't think it's very fruitful to come out and talk about them in great detail. It will create more tension."
As an example, he cited the pressure faced by Indonesian President Susilo Bambang Yudhoyono after he made a "very statesman-like gesture" and apologised to Singapore for the haze. "What we want to avoid is creating a situation where, for political reasons, parties or people within Indonesia then take a position to say Singapore is threatening us and therefore, we must react and therefore, we must not do what they ask. We can very quickly get into those sorts of dynamics," said Mr Shanmugam.
Yesterday, MPs were also told about how ministers began drawing up plans to tackle the haze about a week before it hit, and were taken through the considerations taken by the Government in giving out PSI readings, which had come under some criticism as the haze began enveloping the country.
Dr Balakrishnan took pains to point out how the readings were obtained, and stressed that they were accurate. He also announced that the haze early warning capability would be boosted soon, and that the Meteorological Service would release details soon.
Parliament will sit again today.