Haze in 2015 disrupted S'pore's wildlife: Study
SINGAPORE — Just as human lives were affected by the record levels of transboundary haze in 2015, birds and other animals here faced upheaval, a new study has found.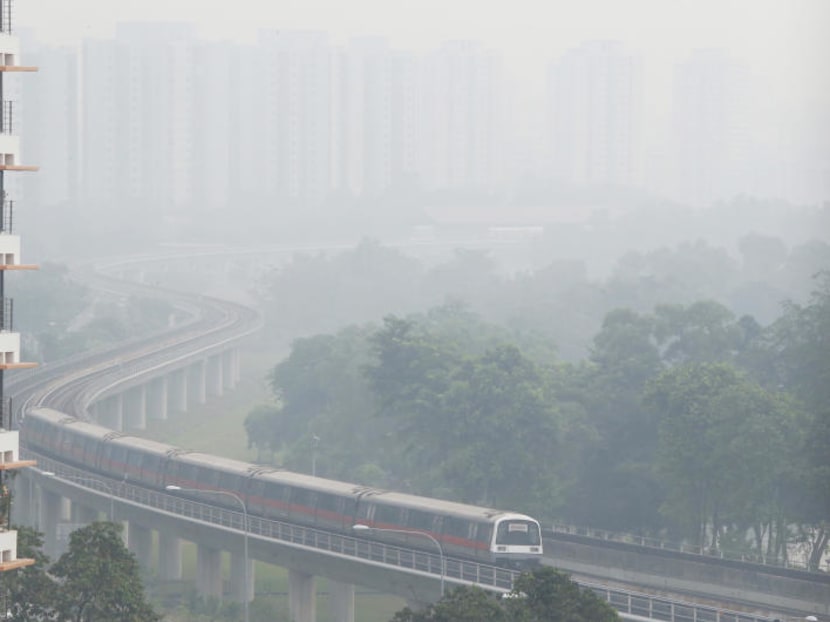 SINGAPORE — Just as human lives were affected by the record levels of transboundary haze in 2015, birds and other animals here faced upheaval, a new study has found.
Measuring sounds made by wildlife (mainly birds) at the Ecolink over the Bukit Timah Expressway over 16 months, researchers found their acoustic activity dropped "dramatically" during the haze episode from September to October 2015 — by up to 37.5 per cent, on average.
Soundscapes are an indicator of the abundance and diversity of wildlife and the study accounted for sounds generated by human activity.
Sixteen weeks after the haze had passed, only a partial recovery to pre-haze levels was made, reported Dr Benjamin Lee, Dr Zoe Davies and Dr Matthew Struebig of the University of Kent in the United Kingdom.
Their study, Smoke pollution disrupted biodiversity during the 2015 El Nino fires in Southeast Asia, was published on Wednesday in the Environmental Research Letters journal. Dr Lee is director of Singapore's National Parks Board's (NParks) Centre for Urban Greenery and Ecology Research, and the study was part of his doctorate thesis.
The trends uncovered could have "far reaching implications for biodiversity if realised across pollution-stricken Asia", and the authors called for further research into the effects of air pollution on tropical biodiversity. The disruption to wildlife is likely to have been greater closer to the source of fires, they said. Pollutant levels in some parts of Borneo were 15 times higher than Singapore during the 2015 haze.
The researchers recorded the "dawn chorus" of wildlife on 78 mornings between January 2015 and March last year. The greatest acoustic activity was pre-haze, and levels "were particularly low when air pollution reached levels deemed unhealthy for humans".
Bird abundance was "substantially impacted" by the haze episode but recovered within four months. However, the diversity of species – going by an index that quantifies the number of unique sounds at unique frequencies – showed "little sign of recovery".
Several reasons could explain the findings, said the authors. Ecological activity such as singing – many bird species establish territories during the dawn chorus – could have temporarily halted during the episode. The haze could have killed some birds directly as well as indirectly, by reducing their fitness or success in finding food. It could also have reduced the abundance of their prey.
At least 55 bird species have been identified at the Ecolink, where camera traps have also captured macaques and small mammals. The acoustic data collection was part of a monitoring programme on the wildlife overpass, which links the Bukit Timah Nature Reserve and Central Catchment nature Reserve.
The study is also novel in using acoustic indices to investigate the impacts of air pollution on biodiversity; previous studies have focused more on responses of particular species to air pollution.
Speaking to TODAY, bird expert David Tan said the study is important because quantifying the effects of haze is "notoriously difficult in vertebrates, especially in wild animals that aren't often observed all the time". Mr Tan leads forest walks for the public in the nature reserves and finds that birds are less active on hazy mornings. "But most of our observations are largely anecdotal and so it's good to see that (the study) has quantified this," he said.
Mr Tan suggested that the researchers could run control experiments during the same period in haze-free years, as the annual variation in dawn chorus activity here is not well established. "While most birds will call in the morning to establish territory, it's not entirely clear whether this varies depending on the presence of (migratory birds)," he said. September and October are months with the highest volume of migratory birds.
While the dynamics of dawn choruses are complex, some scientists believe reduced bio-acoustic activity could affect birds' ability to establish large territories. This may result in them having to forage in a smaller effective territory or outside of it, increasing exposure to aggression by other birds, said Mr Tan.
Conservationist Yong Ding Li of Birdlife International said he noticed a diminished dawn chorus during the 1997 haze episode, but was not aware of any study on what causes birds to call less.
Birds are visual foragers so scientists believe that if visibility is low, they may call less to conserve energy. Species regularly found at the Ecolink include the Little spiderhunter, Pinstriped tit-babbler, the Crimson sunbird and Olive-winged bulbul, said Dr Yong.
The 2015 haze, caused by extensive plantation and forest fires, affected tens of millions of people and cost Indonesia up to 475 trillion rupiah and Singapore, about S$700 million. The Pollutant Standards Index levels breached 2,000 in Central Kalimantan while in Singapore, the PSI crept to hazardous levels (above 300).
The study was supported by the Wildlife Reserves Singapore Conservation Fund and NParks.