HDB looking to install more solar panels islandwide
SINGAPORE — The Housing and Development Board (HDB) has called a second tender to consolidate nine government agencies' demand for solar panels. Solar photovoltaic systems will be installed at 636 HDB blocks and 31 government sites island-wide, including schools and hawker centres.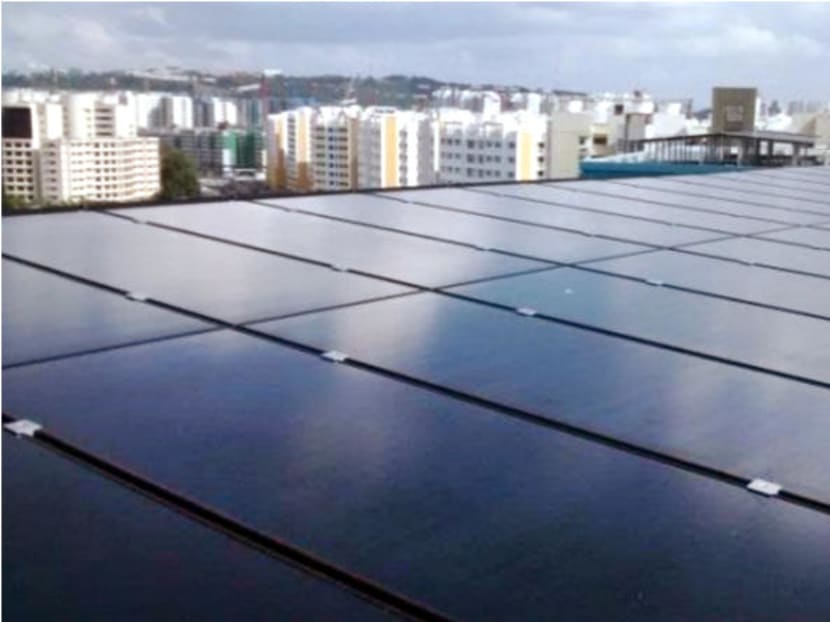 SINGAPORE — The Republic's solar energy industry looks set to grow — and so too the adoption of solar power — with a second tender called for photovoltaic (PV) panels to be installed across 636 public apartment blocks and 31 government sites island-wide.
The Housing and Development Board (HDB) blocks chosen are in areas managed by Ang Mo Kio and Marsiling-Yew Tee town councils, and the government sites include schools and hawker centres.
Unlike the first combined tender called by government agencies in June last year, bidders this round are allowed to form consortiums.
The move is aimed at lowering barriers so that the Government can "tap a larger pool of expertise in the solar industry", said the HDB, which called the tender last Monday.
And this second bulk tender for solar panels sees the largest number of public organisations involved to date.
There are six first-time participants: The Ministry of Finance, the Ministry of Education, the Ministry of Communications and Information, Ngee Ann Polytechnic, the State Courts and the National Environment Agency.
Besides the HDB, the Ministry of Home Affairs and national water agency PUB are participating a second time.
Calling a bulk tender means solar energy can be harnessed at a lower cost owing to economies of scale, which will also accelerate solar adoption.
And industry players whom TODAY spoke to said the latest tender can benefit smaller firms and attract new players into the market.
"(The) contract value of this tender is about S$100 million. Not many companies have the resources or risk appetite to take on this project alone," said Mr Shawn Tan, senior manager of Sunseap, which won the first tender to power multiple public sector premises. "It is not uncommon for companies to form consortiums to participate in large tenders."
He added that Sunseap is on track to complete installing its PV panels by end of next year, covering 831 HDB blocks as well as eight MHA and PUB sites.
The current tender, which is for a total capacity of 40 megawatt-peak (MWp), will close on Dec 30. Installation is expected to be completed in the first quarter of 2019. This takes the number of HDB blocks ready to harness solar energy — to drive common services such as lifts, lighting in common areas and pumps — to 2,500, which will help town councils to mitigate rising energy costs.
Sunseap and solar panel producer REC told TODAY they are thinking of bidding for the tender. REC said it has seen an "increase in overseas investors" who are keen to explore the market here.
The tender comes under the government-led programme SolarNova, which aims to spur the growth of Singapore's solar industry by encouraging government agencies to use solar power.
SolarNova aims to have solar power contribute 350 MWp to Singapore's energy supply by 2020, and more tenders under the programme will be called over the next four to five years.
Currently, 123 MWp has been procured and committed for installation on HDB blocks, of which the HDB committed 69 MWp under the first tender, which saw a total of 14 bids from nine bidders. By year end, about 900 HDB blocks will have solar panels, with a capacity of about 40 MWp, equivalent to electricity for around 10,000 four-room flats.
Last year, there were 400 blocks with solar panels, and the target is 5,500 by 2020, or clean energy for 55,000 four-room flats annually.
Mr Tan said the SolarNova programme gives private companies "confidence" to adopt solar power in Singapore. "(The) rate of solar energy adoption in Singapore has always been led by government bodies," he said. "The companies always look up to the Government when it comes to solar energy adoption."