Tengah town to be built using smart, sustainable tech
SINGAPORE — The new Tengah town in the west will not just be a forest town, but will also be built using smart and sustainable technology.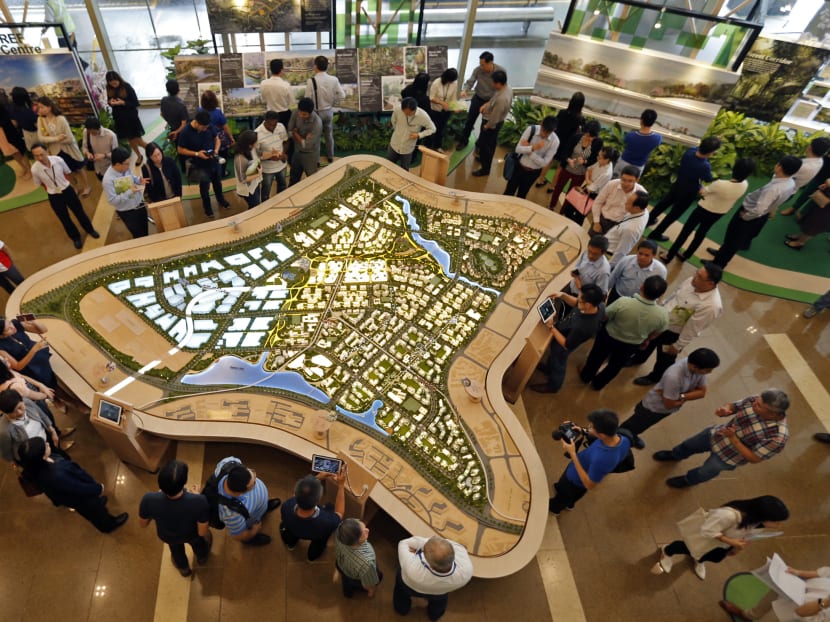 SINGAPORE — The new Tengah town in the west will not just be a forest town, but will also be built using smart and sustainable technology. 
The Housing and Development Board (HDB), which had planned Tengah to be a smart town from the start, used a simulation software to test how shifts in wind channels, solar heat and temperature will affect 3D models of the town, so that layouts of the buildings and open spaces can be optimised. 
Apart from the standard suite of eco-friendly features incorporated into all new HDB projects since 2014, such as smart lighting in common areas and centralised chutes for recyclables, public housing in Tengah will also include an automated waste collection system, like the ones used in Yuhua and Punggol Northshore. 
Several members of the public who visited the Tengah exhibition at HDB Hub in Toa Payoh on Friday (Sept 9) told TODAY they were interested in the upcoming town's novel features, especially its green environment and car-free town centre. 
Mr James Tan, 71, who came with his son, said he was highly interested in the town after hearing Prime Minister Lee Hsien Loong talk about the plans for Tengah during his National Day Rally last month.
Apart from being attracted to Tengah's abundant greenery, Mr Tan, a semi-retiree who works in the health industry, said its car-free town centre — the first in Singapore — will allow his grandchildren to roam about the area without the risk of being hit by a car.
While Mr Tan Lye Wah, 52, is interested in the concept of Tengah as a "forest town", he said the HDB cannot expect people to be packing their bags to move to newer towns all the time. 
"Especially for older people who stay in mature estates, more can be done to improve the surroundings of those towns to match what is being promised in these newer towns," said Mr Tan, who works in the manufacturing sector.
Environmental groups told TODAY that they appreciated the effort and thought put in by the town planners in setting up the forest corridor in Tengah that will link the Western Catchment Area and the Central Catchment Nature Reserve.
"I was very pleased to hear that there will be a buffer zone for the animals to (return to) nature if they do go out of the catchment areas," said Mr Ben Lee, founder of Nature Trekker, a nature conservation organisation. 
However, he hopes that the forest or green corridor can be widened beyond 100m to give more space and security to the wildlife, especially since the Western Catchment Area, which houses rare local wildlife such as the pangolin and the leopard cat, is more vulnerable to human interference.
Mr Subaraj Rajathurai, director of Strix Wildlife Consultancy, said he is glad that surveys of Tengah are currently being carried out to study the flora and fauna before development work on the town starts.
"While we create a new settlement that can retain a large number of people, animals must also be able to continue to forage and roost in their own habitats," he added.
Dr Ho Hua Chew, vice-chair of the conservation committee at Nature Society (Singapore), said the green corridor is a huge step forward in the Government's land-use planning. However, he added, what needs to be addressed is the lack of a natural core area for displaced wildlife to seek shelter and survive, before eventually dispersing to other areas through the corridor.
Dr Ho noted that Tengah's forest town is being largely created by planting trees along roads, which is not attractive to forest wildlife, and the proposed Central Park seems to be mainly for human recreation.
"They (the forest wildlife) are also living beings who need a home or a place in the sun," he said.