Health Promotion Board's FAQ on sexuality draws positive response online
SINGAPORE — An FAQ section on sexuality posted by the Health Promotion Board (HPB) on its website recently has gone viral, after its answers to topics such as homosexuality raised some eyebrows.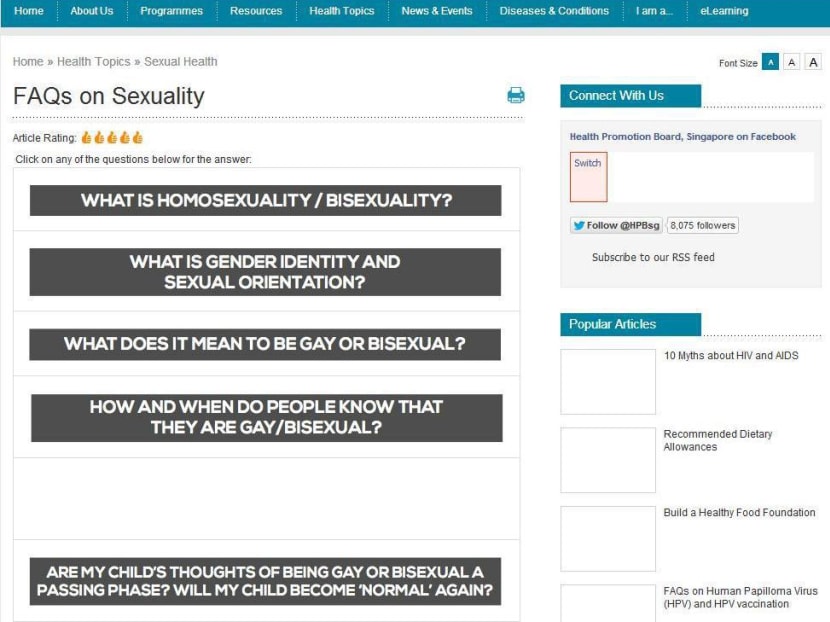 SINGAPORE — An FAQ section on sexuality posted by the Health Promotion Board (HPB) on its website recently has gone viral, after its answers to topics such as homosexuality raised some eyebrows.
The answers provided by the statutory board to questions such as "Is being gay or bisexual a mental illness?", and "Are homosexual and bisexual men more likely to get STIs/HIV?", among others, were received positively by many.
For instance, its answer to the question "How different is a same-sex relationship from a heterosexual relationship?" noted that same-sex relationships, as with heterosexual ones, "take the commitment of two people ... (and are) also a connection of two families, cultures and sometimes racial backgrounds and values".
The HPB also said, in response to another question, that homosexuals can have long-lasting relationships that are "based on values like trust, love, commitment and support".
In response to TODAY's queries, the HPB said the information was developed with input from professional counsellors and was one of its initiatives to "educate youths on sexually-transmitted diseases".
"It serves as a one-stop resource to provide factual information on sexuality and STI/HIV prevention from a public health perspective," it said, adding that visitors have generally found the information "useful and educational".
But the HPB also reiterated that "the family remains the basic building block of our society".
"This means encouraging heterosexual married couples to have healthy relationships and to build stable nuclear and extended family units. The Government has been consistent in this line with the HPB taking reference from it in our health promotion activities."
The positive comments to the HPB's FAQ section on sexuality stand in contrast to the findings from a recent survey that showed widely-held negative views towards homosexuality.
The Institute of Policy Studies survey on race, language and religion — conducted between December 2012 and April last year — involving more than 4,000 Singapore residents found 72.9 per cent of respondents saying it was "always wrong" or "almost always wrong", when asked how they felt about gay marriages. The survey results were released on Jan 28.
As for same-sex sexual relations between two adults and child-adoption by a gay couple, 78.2 per cent and 61.1 per cent, respectively, expressed disapproval.
The board's FAQ section on sexuality started making its rounds online last weekend, with lesbian, gay, bisexual and transgender (LGBT) advocacy and support groups that TODAY spoke to welcoming it.
LGBT movement Pink Dot SG's spokesperson Paerin Choa said it found the information to be objective and aligned with globally accepted scientific standards.
Adding that it was "commendable" of the board to publish the "comprehensive" article, he added: "LGBT individuals are often marginalised in society, with misinformation and prejudice perpetuating the stigma of being LGBT in Singapore."
Mr Bryan Choong, who is Executive Director of LGBT counselling service Oogachaga, added that young people can get appropriate information about sexuality from the article.
Youths involved in focus group discussions and online surveys in recent years have said the sexuality education they receive insufficiently addresses their needs, especially when they were either questioning or exploring their sexual orientation and gender identity.
Ms Jean Chong, who co-founded women gay rights group Sayoni, also noted that family and friends of LGBT individuals may also prefer to turn to information on such issues provided by government agencies or statutory boards such as the HPB, because of their perception that LGBT groups may be biased.
But an individual who goes by the name "Aaron" has started an online petition against the HPB article, describing the information provided by the statutory board as "one-sided" and "pro-homosexuality".
He urged the Health Minister to conduct a "thorough, non-biased, comprehensive review" of the information. The petition has garnered more than 750 signatures so far.