Healthy gut, healthy body? The latest on supplements promoting digestive health
SINGAPORE — Seeing an increasing demand for digestion-friendly food and online orders, Ms Lee Li Ping followed her gut and expanded her frozen yogurt business, Sogurt, beyond her froyo stores.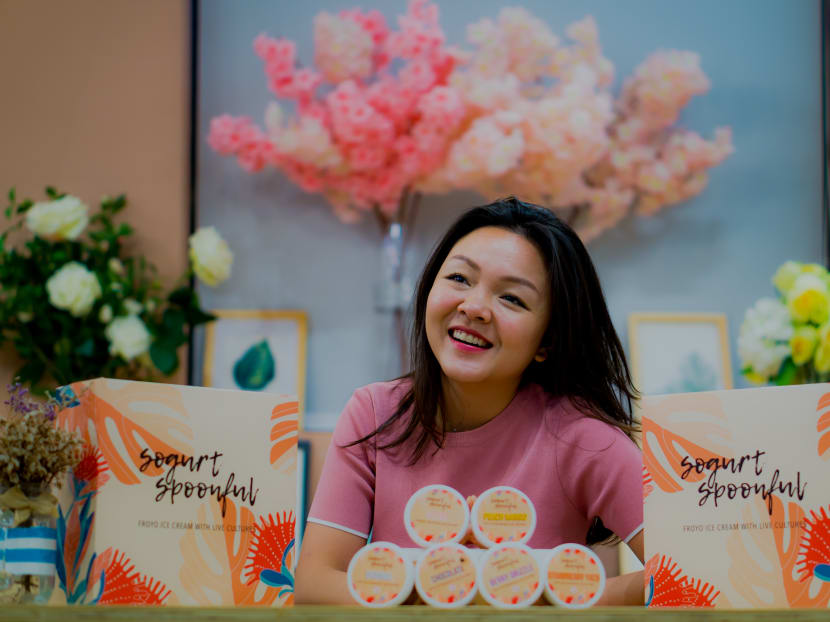 SINGAPORE — Seeing an increasing demand for digestion-friendly food and online orders, Ms Lee Li Ping followed her gut and expanded her frozen yogurt business, Sogurt, beyond her froyo stores.
Last year, she launched a hard-serve frozen yogurt ice-cream with live active bacterial cultures and prebiotics in prepacked form.
It was developed with funding support from government agency Enterprise Singapore's Capability Development Grant, said Ms Lee, who started Sogurt – Singapore's first self-serve froyo cafe – in 2010.
"Due to its manufacturing process, the live bacterial cultures in hard-serve frozen yogurt are actually more 'stable' than in soft-serve form. The probiotics are added at the last stage of the process, and held at an optimal fermenting temperature to encourage bloom," said Ms Lee, 32, who worked with a local food tech company to develop the product.
A firm believer that digestive health plays a big role in overall health and wellbeing, Ms Lee consumes her yogurt products and a probiotic supplement daily.
"While grocery shopping at the supermarket, I look out for natural foods containing gut-friendly nutrients. Through my research, I learnt that good digestive health is not a matter of just popping a supplement – a balanced healthy lifestyle and diet, as well as reducing stress, is important," said Ms Lee.
FOUND IN FOOD AND SUPPLEMENTS
Growing interest in digestive health has fueled demand for food and supplements said to support gut health. Besides probiotics, prebiotics are another gut-friendly nutrient that have become increasingly popular among the health-conscious.
Probiotics are commonly known as "good" bacteria that can aid gut health, while prebiotics support the growth of good bacteria in the gut, said nutrition consultant Louisa Zhang.
When combined, they are known as synbiotics.
Last year, health store brand GNC introduced a standalone prebiotic supplement after customers expressed interest. All its probiotic supplements are formulated to include prebiotics, said Ms Cynthia Poa, group chief executive officer of ONI Global Group, which is the sole franchisee of GNC in Singapore.
GNC has seen an estimated 30 per cent increase in demand for gut-friendly supplements in the last two to three years, said Ms Poa.
To meet the demand, it expanded its range of probiotic supplements from six types to over 20 in the last three years. Demand is expected to grow as consumers become more aware of their role in maintaining and improving digestive health, said Ms Poa .
Dr Niranjan Nagarajan, associate director of Computational and Systems Biology at the Genome Institute of Singapore, said the concept of prebiotics came from nutrients that need be provided along with probiotic bacteria to ensure they grow well when consumed.
"The most commonly used prebiotics are non-digestible fibres that are then fermented by gut bacteria. Most are plant-derived," said Dr Nagarajan.
Prebiotics are not only found in supplements. "A lot of food could have a prebiotic function in that it alters the composition of the gut microbiome to benefit host health," said Dr Nagarajan.
For instance, food like garlic and bran contain prebiotics, said Dr Wang Yu Tien, senior consultant at the Singapore General Hospital's (SGH) department of gastroenterology and hepatology.
GUT IMBALANCES LINKED TO MENTAL HEALTH
According to Dr Wang, there is a two-way relationship between gut microbiota and human body function.
New research has shown that the microbial communities living in the human gut can impact health and disease, said Ms Zhang.
Anything that changes the composition of microorganisms within the gut can cause an imbalance, said Dr Wang. For instance, acute disturbances such as an infection can result in symptoms like pain, bloating or diarrhoea.
Prolonged changes have been linked to chronic inflammation, obesity and may even disturb the mood and mental health, said Dr Wang.
Factors such as a diet high in fructose, excessive saturated fatty acids and consuming too much protein have been shown to affect and alter microbiota, said Dr Wang.  Certain medications such as antibiotics, acid suppressant medication and anti-inflammatory drugs can also upset the balance, he added.
TOO EARLY TO CLAIM GENERAL HEALTH BENEFITS FOR EVERYONE
However, there is currently not enough data to confirm that consuming products containing probiotics and prebiotics can treat or prevent certain diseases.
While specific probiotics have shown to be beneficial for a small number of conditions, Dr Nagarajan said "the science is not there yet" to claim general health benefits for everyone.
"Consuming probiotics may alter the gut microflora but it does not necessarily translate to a healthy gut," said Dr Wang.
The same goes for prebiotics and synbiotics.  "Currently, we just don't know enough about this field and what the 'safe' levels are," said Dr Nagarajan.
A generic one-pill-fits-all approach may also not work when it comes to gut health.
"Increasing evidence shows that the gut microbiota is highly individualised. Future research is likely to head towards personalised therapy," said Dr Wang.
For healthy individuals, however, a trial of probiotic therapy can be considered after acute episodes of infection or the presence of persistent abdominal symptoms after appropriate investigations, said Dr Wang.
Ms Zhang said people with irritable bowel syndrome, those recovering from a course of antibiotics and the elderly with poor bowel habits may also benefit from a probiotic and prebiotic supplement.
A sensible diet is needed to maintain good gut health, she added.
"In general, a healthy, high-fibre and polyphenol-rich diet is believed to be important for gut health," said Dr Nagarajan. Polyphenols are micronutrients that can be found in certain plant-based foods with antioxidant properties – such as dried spices, tea, vegetables and fruit.
A study published in the peer-reviewed journal PLOS ONE in 2011 suggests that people who consume a balanced diet generally have lower rates of mental health issues.
In another study published in the journal Gut in 2015, researchers concluded that a Mediterranean diet is best for gut health.
The diet emphasises fiber-rich fruits, vegetables and legumes, olive oil, grains and moderate amounts of fish and poultry. It is low in trans fat and processed food. Those who follow the diet were found to have higher levels of health-promoting short-chain fatty acids in their gut.