Why is there low usage of hearing aids in Singapore and what's preventing people from getting them?
SINGAPORE — If you need to get a hearing aid in Singapore, the process of buying one and getting it fitted is not as straightforward as it is in, say, the United States, where you may just buy them at pharmacies, for instance.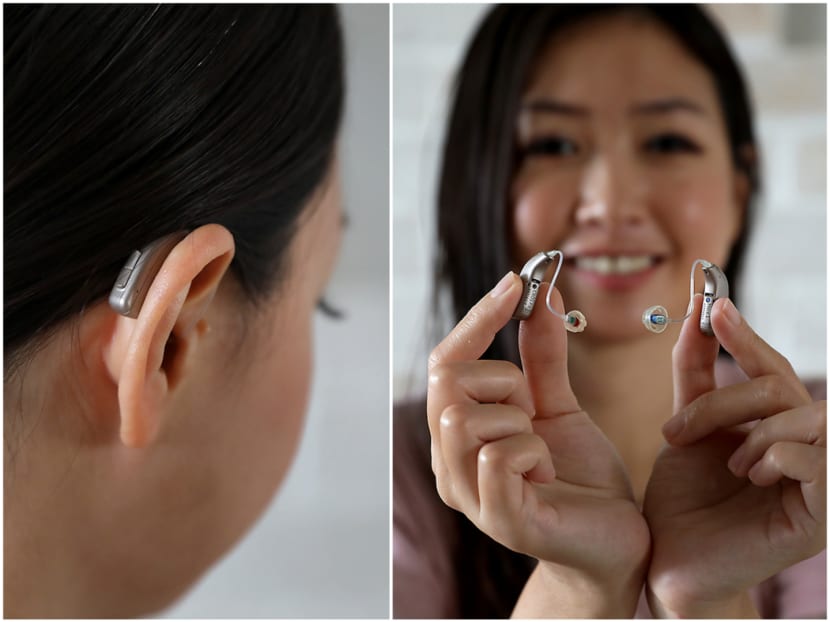 Hearing aids sold in Singapore are regulated medical devices
People with hearing loss are advised to consult healthcare professionals to have them fitted
Some people have turned to buying self-fitting hearing aids from unknown or e-commerce sites, and health experts are advising against it
Untreated hearing loss can lead to dementia and other health issues, but the use of hearing aids is very low in Singapore
A 36-year-old told of why she started using a hearing aid 25 years after being diagnosed with severe hearing loss in one ear
SINGAPORE — If you need to get a hearing aid in Singapore, the process of buying one and getting it fitted is not as straightforward as it is in, say, the United States, where you may just buy them at pharmacies, for instance.
It was just last year that the US Food and Drug Administration approved the sale of over-the-counter hearing aids to make them more affordable and accessible to people who need them.
With the ruling, consumers aged 18 or older there can buy a hearing aid off the shelves at pharmacies. This can be done without a prescription, medical evaluation, fitting by a professional or the need for a licensed seller.
In Singapore, hearing aids sold here are regulated medical devices and must be registered with the Health Sciences Authority (HSA).
This is to ensure that they meet appropriate standards of safety, quality and efficacy before they are sold or supplied to Singapore, the authority said.
In addition, manufacturers, importers and wholesalers of hearing aids must also be licensed by HSA. 
Responding to queries from TODAY, HSA said: "Hearing aids are intended to be prescribed and used under the supervision of a hearing care professional, for example, an audiologist.
"Hence, consumers should consult healthcare professionals to evaluate their hearing status and get their hearing aids fitted by hearing care professionals."  
Before buying a hearing aid, a person suspected to have hearing loss typically undergoes a thorough evaluation. This includes the use of hearing and listening tests and an examination by a trained professional.
Patients fitted with hearing aids are also advised to undergo counselling and follow-up sessions. 
IS IT A GOOD IDEA TO BUY HEARING AIDS ONLINE?
With so many steps involved, some people have turned to e-retailers to buy hearing aids.
Dr Ho Eu Chin, an ear, nose and throat (ENT) surgeon and senior consultant at The ENT Clinic in Gleneagles Hospital and Mount Elizabeth Novena Hospital, said that there are no HSA-approved over-the-counter hearing aids in Singapore.
However, there is little to stop end-users here from buying over-the-counter hearing aids, either directly when they visit the US or via the internet.
Online checks by TODAY revealed that for as little as around S$35, it is possible to pay for a "medical grade" hearing aid from e-retailers and have it delivered right to one's doorstep in just one or two days. No hearing test is needed.
By comparison, a professionally fitted custom hearing aid may cost as much as a few thousand dollars, depending on its features.
Patients universally complain that the hearing aids are noisy once they leave their homes. Last but not least, they also complain of the lack of servicing and warranty.

Ear, nose and throat surgeon Ho Eu Chin on the feedback from patients who buy hearing aids from online retailers
Around 10 to 20 per cent of patients who see Dr Ho with hearing loss have tried using hearing aids that they bought online.
Overall, feedback on their online purchases is poor, he said.
"At best, these hearing aids help them hear better in one-to-one, face-to-face conversations in very quiet places. However, this conducive communication environment is not so easy to come by in the real world.
"Patients universally complain that the hearing aids are noisy once they leave their homes.
"Last but not least, they also complain of the lack of servicing and warranty," Dr Ho added.
HSA said that consumers are advised not to buy their hearing aids from unknown websites or from unknown sellers on e-commerce sites, discussion forums or social media channels.
"Wearing ill-fitting hearing aids can lead to discomfort and irritation, poor sound quality, and in serious cases, cause further damage to the ear.
"Besides the lack of quality controls and product information, consumers may not be able to claim for damages or get any refund should there be any problems with the product," HSA added.
WHY GET PROFESSIONALLY FITTED HEARING AIDS?
Senior clinical audiologist Jennifer Lee said that even though hearing aids make sounds clearer and louder for the user, it is "not as simple as picking up sounds, amplifying them and then channelling it to the person".
Ms Lee, who practises at Hearing Partners SG, a private healthcare service provider, said that there are differences between professionally fitted hearing aids and the over-the-counter, self-fitting versions sold online.
She observed that most people who source for over-the-counter hearing aids are generally older adults who may want to save on costs.
"Adult children may also get such hearing aids to let their older parents try to see how well they can adapt to wearing hearing aids before investing in the real thing. But that's like comparing apples and oranges," she said.
We spend a lot of time on counselling (patients) because of the expectations and adaptation that come with wearing a hearing aid. It's not as simple as putting on a pair of glasses.

Senior clinical audiologist Jennifer Lee
Ms Lee explained that unlike the versions sold by online retailers, hearing aids that are professionally fitted in Singapore undergo research and clinical trials before they are rolled out for consumer use.
"For example, a lot of research is done to find out the best fitting methodology for different types of hearing levels, and the best sound processing technology to differentiate between speech and (background) noise, for example,"  she added.
Dr Ho the ENT surgeon said that hearing loss can only be considered to be successfully treated when people with hearing loss are successful long-term and regular users of hearing aids or other hearing devices.
Measures needed to achieve this include a proper evaluation, education and counselling before having a hearing aid fitted. Follow-ups are also important.
At Hearing Partners, for example, patients are usually asked to return for follow-ups at least four times in the first year, Ms Lee said.
"We spend a lot of time on counselling (patients) because of the expectations and adaptation that come with wearing a hearing aid. It's not as simple as putting on a pair of glasses.
"It takes a lot of adjustment for the brain to get used to the sounds again."
HOW HEARING AIDS WORK
A hearing aid is made up of three key components, the microphone, amplifier and speaker.
The microphone receives sound waves and converts them into electrical signals.
The amplifier increases the strength of the electrical signals before transporting them to the ears using the speaker, which then produces the amplified sound into the ear.
Senior clinical audiologist Jennifer Lee said that there are three main types of hearing aids:
1. Behind-the-ear: Traditionally worn behind the ear together with an earpiece that is worn inside the ear canal
2. In-the-ear: This is worn inside the ear, much like earbuds used for listening to music
3. Receiver-in-canal: The most popular style. The speaker sits in the ear canal, and it is connected to a casing that sits behind the ear. It is less visible than a behind-the-ear hearing aid and provides the most natural sounds because there is more ventilation or venting compared to the other two styles
THE REAL PROBLEM: LOW USAGE
Dr Ho said that the fitting of a hearing aid is only the first step to treating hearing loss.
"Unfortunately, many patients fail to use their hearing aids for a variety of reasons," he said.
Worldwide, hearing aid usage is low.
The World Health Organization (WHO) instituted a World Hearing Day that is on March 3 each year, to raise awareness on how to prevent hearing loss and promote ear and hearing care across the world.
WHO estimated that close to 466 million people now have some form of disabling hearing loss.
Yet, a study published in the International Journal of Audiology in 2021 found that only around 10 per cent have hearing aids.
In Singapore, studies pointed to an even more dismal take-up rate.
Citing data from the 2011 Singapore National Health Survey, Dr Ho said that for people with moderate or disabling hearing loss, at most 3.3 per cent wear a hearing aid.
With moderate hearing loss, it may be difficult to hear and interpret speech. This severely impacts social interactions.
That is not all. Dr Ho pointed to research that linked hearing loss to multiple health conditions.
For example, a 2020 Lancet Commission into dementia found that hearing loss was the single most important modifiable risk factor for dementia. The study reviewed all the best available evidence to produce recommendations on how best to manage and prevent dementia.
The Singapore Longitudinal Ageing Study in 2017 found that people with hearing loss were 2.3 times more likely to develop dementia or mild cognitive impairment.
The same study also found that those already with dementia were 3.6 times more likely to have hearing impairment.
Other health issues linked to hearing loss are increased risk of frailty, accidental injuries, negative physical health status and depression.
WHAT IS PREVENTING HEARING AID USE?
If hearing loss is such a big problem, why are more people not using hearing aids?
Studies carried out by Dr Ho and other research team members uncovered many barriers.
One, discomfort due to improper fitting and amplified noise that had led to previous unpleasant experiences of wearing a hearing aid.
Elders may also find it challenging to use the devices independently, Dr Ho added.
Cost is another barrier, especially for younger patients who are not eligible for the Seniors' Mobility and Enabling Fund by the Agency for Integrated Care, he said. The financial scheme extends subsidies to needy Singaporeans aged 60 \ and older.
Other barriers included psychological barriers and poor awareness of importance of treating hearing loss.
Those were among the reasons why Ms Daphne Neo's hearing loss went untreated for more than two decades. Now 36, she works as a financial consultant.
Despite learning of severe hearing loss in her right ear at the age of seven, she got round to wearing a hearing aid only when she was 32.
The very long time lag came at a cost. Over the years, hearing in her left ear also deteriorated. She now experiences mild to moderate hearing loss in her left ear.
Having severe hearing loss in one ear had also placed her in danger. At 13, she was hit by a car while crossing the road.
"The car came from my right side and I couldn't hear it coming," she said.
Even though hearing issues did not severely affect Ms Neo's learning and speech development while growing up, it affected her social interactions.
Group conversations left her feeling bewildered, misunderstood and frustrated.
Ms Neo said: "I couldn't hear clearly so I would respond to questions wrongly or weirdly — I could tell from the other person's expression.
"Some people made fun of me and associate my name with 'deaf' (since it sounded like 'Daphne'). It affected my self-confidence a lot."
THE DIFFICULT QUESTION
Rather than mull over whether Singapore should take the cue from the US on over-the-counter hearing aids, perhaps consider what can be done for people with hearing loss to become successful long-term hearing aid users.
Dr Ho said the difficult question that needs to be addressed should be: How can hearing services in Singapore be developed to effectively and successfully treat individuals with hearing loss, so that all negative effects of untreated hearing loss is mitigated?
"Non-usage or poor usage of hearing aid a real problem, even in developed countries like Singapore.
"There are probably more hearing aids sitting in drawers rather than in patients' ears," Dr Ho said, adding that every hearing aid that remains in a drawer represents an ear with hearing loss that remains untreated.
Given that cost is one of the barriers, Ms Lee suggested allowing the use of the Central Provident Fund's MediSave for the purchase of hearing aids and subsidising costs — even at the private sector level — to improve access to hearing aids.
There is also a need to raise awareness on hearing health and normalise hearing aid use in Singapore, she said.
"Some people find it embarrassing to wear hearing aids but what about the embarrassment they get when they have to ask someone repeat themselves 10 times?" she asked. 
For Ms Neo, wearing a hearing aid opened up a new world of sounds although there are limitations.
She now uses a Bluetooth-enabled hearing aid that picks up and wirelessly sends sound waves from her right ear (which has severe hearing loss) to her left ear.  It cost her around S$5,000.
Ms Neo can now hear her children, aged 10 and nine, when they are in the next room, and responds faster during conversations.
"It definitely boosted my confidence. The first time I wore a hearing aid, I could hear my colleagues who were whispering on my right side so clearly, and they were shocked," she recalled.
EARLY WARNING SIGNS OF HEARING LOSS
Having to ask people to repeat themselves
Being the last one to laugh when someone else tells a joke (since they are always missing out on the punchline)
Having more arguments from misunderstandings, especially with loved ones
Talking loudly and being oblivious about it
Perception of tinnitus (often described as a high-pitched ringing in the ears)
Having "transactional" conversations with family members, rather than heart-to-heart ones discussing important matters. For example, when conversations are reduced to, "Have you eaten yet?", followed by single word or single line answers by the person with hearing loss
Source: Ear, nose and throat surgeon Ho Eu Chin