In a hectic fortnight, newly elected MP Yip Hon Weng learns what it takes to serve, speak up for residents
SINGAPORE — In the two weeks since he became a Member of Parliament (MP), former civil servant Yip Hon Weng has been getting a wide-ranging look at what it means to be an elected representative.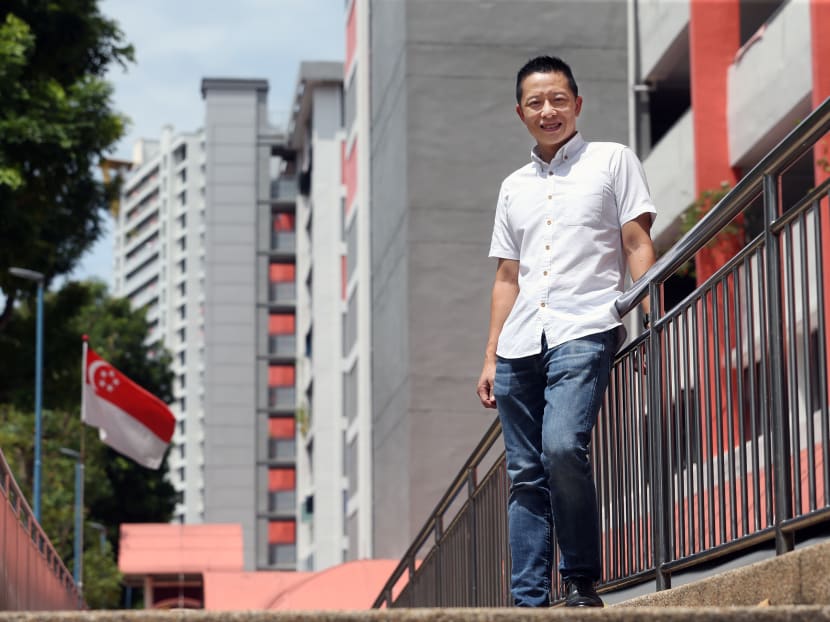 In the two weeks since being elected MP, Mr Yip Hon Weng has been busier than ever
The former "average student" said that he entered politics to better serve Singaporeans
Two issues weighing on his mind are the ageing population and jobs
SINGAPORE — In the two weeks since he became a Member of Parliament (MP), former civil servant Yip Hon Weng has been getting a wide-ranging look at what it means to be an elected representative.
For example, a resident in his constituency of Yio Chu Kang recently asked him if he would speak up in Parliament about the case involving National University of Singapore dentistry student Yin Zi Qin, who was convicted of assaulting his ex-girlfriend and whose sentence had triggered a public outcry and even a government review of the penalty framework for violent cases. 
He said that he is now studying the circumstances surrounding the case to assess how he can contribute.
Another resident sought Mr Yip's help to lengthen the grace period given to drivers making drop-offs at a car park near his child's childcare centre, even though the car park is not within the boundaries of his ward.
"I find it quite interesting that people actually write to me for such things because it is not within Yio Chu Kang. But if it affects the resident, I thought why not (help them)," the 43-year-old said in an interview with TODAY on Thursday (July 23).
And so Mr Yip wrote to the organisation in charge of the car park, and was happy to learn that it obliged him, as he received a note of thanks from his resident just a few days later, indicating that the matter had been resolved.
And then there are those requests that are more common and to be expected, given the current economic situation, such as residents seeking help to find jobs.
In short, Mr Yip's days are getting fuller and he foresees having to make certain adjustments to his routine of waking up as early as 4am for a 4km to 5km run and heading to bed by 9pm or 10pm.
It is a challenge he plans to tackle head on.
"I am prepared to make adjustments to my schedule to serve Yio Chu Kang residents better," he said.
One of the new candidates with the ruling People's Action Party (PAP) in the recent General Election, Mr Yip handily won his contest in Yio Chu Kang with 61 per cent of the votes. 
He came to politics with a sterling resume. He is the person who established the Ministry of National Development's Municipal Services Office (MSO), which works with key government agencies, town councils and community partners to improve feedback management and customer service for municipal services.
Mr Yip has taken up so many different postings across various ministries that he has "lost count".
He last served as group chief of the Silver Generation Office under the Ministry of Health's (MOH's) Agency for Integrated Care.
Now, the issues that weigh most heavily on his mind are the ageing population and jobs — and he is spending a lot of time thinking about how best to speak about these in Parliament.
ENGAGING CITIZENS TO BUILD BETTER ESTATES
"When we grow old, generally people don't want to live in an institution," he said. "Most, if not all, Singaporeans prefer to age gracefully and independently at home or in the environment they are familiar with."
Rather than build more eldercare institutions or hospitals to cater to the ageing population, he wants homes and housing estates to be designed in elder-friendly ways.
He is considering engaging seniors in Yio Chu Kang who use mobility aids, such as wheelchairs and walking sticks, to walk around their neighbourhood and give him feedback. 
"When they walk the route, they will discover things... This ramp is too slippery. The gradient is too high. This ramp does not have an accompanying railing. If I am in a wheelchair and if I go, I am in trouble because I have nothing to hold on to." 
His experience at the MSO will come in useful in implementing infrastructural improvements across the town, he said, adding that not all things are under the town council's purview and issues often crop up at boundaries between areas overseen by different agencies.
"I am a new candidate. Yes, that's true. But I am not new to this area of work simply because I know the systems, the processes, the protocols, how the Government works. I know the issues. Because of that, I can bring my experiences to serve residents better," he added.
As an individual, Mr Yip describes himself as "very outcome-driven". 
"I believe what makes us successful as a country is that we are able to produce results. What makes Singapore successful is that we are able to get things done."
He also cares about ensuring that policies are as "citizen-centric" as possible, a principle he held dearly to in his public administrative career that spanned about 15 years.
"From the government lens, we tend to say, 'This is my policy. This is my scheme. This is my programme.' But the resident doesn't care… Rather than ask the resident to go to different agencies for different things, can I wrap the services around the resident?" he said.
AN AVERAGE STUDENT MADE GOOD
Looking back on his career and seeing where he is today, Mr Yip said that he is as surprised as anyone, because he was an "average student" in his alma maters of St Joseph Institution and National Junior College.
Still, he managed to clinch a Public Service Commission Overseas Specialist Award — somewhat equivalent to a Ministry of Education scholarship today — to study physical education, sports science and mathematics at Loughborough University in Britain.
He then picked up a postgraduate certificate in education at the University of Exeter in England and headed to Harvard University in the United States to get his first masters' degree in education before teaching for a short while at Kent Ridge Secondary School back here and then entering public service.
When he was director of the Ageing Planning Office and the Smart Regulation Division at MOH, he was offered the Singapore Administrative Service postgraduate scholarship to study business administration at the Massachusetts Institute of Technology (MIT) in the US.
Upon his return, he was asked to set up the MSO from scratch.
While there are striking similarities between his "very operational and ground" work at MSO and the work of an MP, he never saw himself becoming a politician until he was approached "not too long ago" by PAP to consider running as a candidate, he said.
Mr Yip was surprised with the offer, but accepted it as he saw it as an opportunity to serve people "in a much broader capacity than as a public servant". 
His wife, a civil servant who became a full-time housewife after giving birth to their first child, is supportive of his decision. They have five children aged two, four, six, eight and 10.
His involvement in politics has its trade-offs — he has to sacrifice time with family and some privacy.
But regardless of how much busier life will get from now on, Mr Yip expects one thing will remain the same: His morning run.
"I take it as discipline in a way. The first thing I do when I wake up. You do it. You get disciplined, and that's how you deal with life."