Heng Swee Keat promoted to deputy prime minister
SINGAPORE — Finance Minister Heng Swee Keat will be promoted to deputy prime minister (DPM) from May 1, the Prime Minister's Office announced on Tuesday (April 23).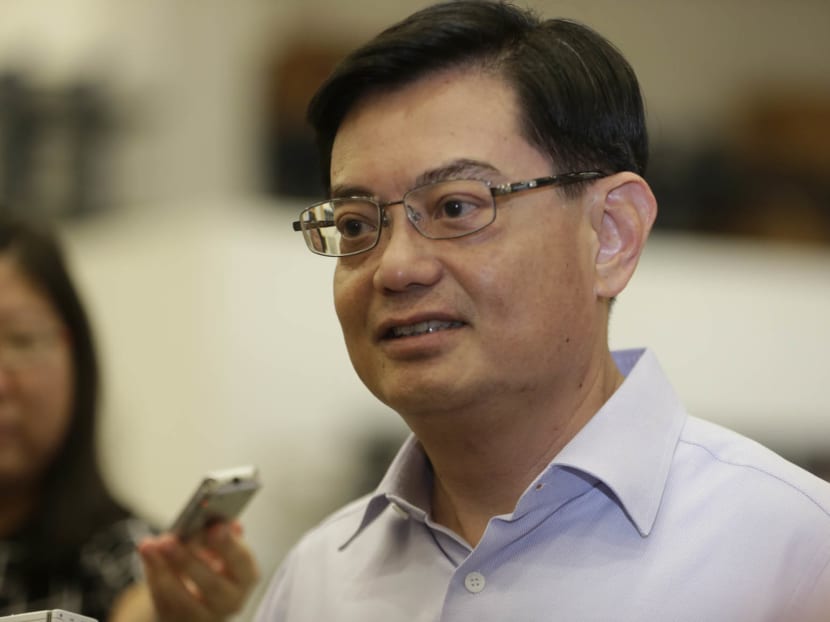 SINGAPORE — Finance Minister Heng Swee Keat will be promoted to deputy prime minister (DPM) from May 1, the Prime Minister's Office announced on Tuesday (April 23).
Mr Heng, 57, who is seen as the successor to Prime Minister Lee Hsien Loong, will remain as finance minister and continue chairing the Future Economy Council and National Research Foundation. He will also be appointed acting prime minister in the absence of Mr Lee.
The two incumbent DPMs, Mr Teo Chee Hean, 64, and Mr Tharman Shanmugaratnam, 62, will relinquish the posts but remain in the Cabinet as Senior Ministers. Mr Teo will continue as Coordinating Minister for National Security while Mr Tharman — who is the Coordinating Minister for Economic and Social Policies — will be redesignated as Coordinating Minister for Social Policies.
Mr Tharman will also be appointed deputy chairman of Singapore's sovereign wealth fund GIC, and continue to advise Mr Lee on economic policies. 
Writing on Facebook, Mr Lee, 67, described the changes as "part of the ongoing leadership renewal".
"The next generation leadership is taking shape, and progressively taking over from me and my older colleagues. The team is working closely together, building up public trust and confidence in their leadership. I ask all Singaporeans to support them, and work together to secure a bright future for Singapore," said Mr Lee, who had previously indicated that he planned to step down as prime minister before he turns 70. 
Mr Heng said that he was "deeply honoured" by the prime minister and his colleagues' trust and confidence in him. "I have benefitted tremendously from the wise counsel and advice of PM Lee, DPMs Teo and Tharman, as well as my other Cabinet colleagues." 
He reiterated that he and his colleagues are "united in our purpose to serve Singaporeans to the best of our abilities".
"Together with our fellow Members of Parliament and the public service, we will seek to build strong relationships with fellow Singaporeans, work together with all to take Singapore forward, and build a better future for our people."
Writing on Facebook, Mr Tharman described Mr Heng as "the best person to move up to become DPM and take over as PM during the next term of government".
"He has exceptional ability, mettle and the confidence of the 4G (fourth-generation) team," he said.
He noted that the Cabinet has "avoided sudden change". "It may be unexciting and predictable, but it works for Singapore," he added.
Stressing the need for renewal, "not just with a new generation of leaders but with the changing times", Mr Tharman said that Mr Heng and the 4G team "must carve their own way as leaders, individually and as a team, and progressively leave their own imprint".
In a separate statement, Mr Teo, who was appointed DPM on April 1, 2009, thanked Mr Lee and his colleagues for their support over the decade. "I would like to congratulate Mr Heng Swee Keat as he assumes duties as DPM and wish him all the very best. This is another important step in our leadership renewal," Mr Teo said. 
He will "continue in Cabinet to support PM Lee and DPM Heng in whatever way I can, and work together with them, Mr Chan Chun Sing and other younger leaders for the security, safety and success of our country". 
He added: "This is the Singapore way of ensuring smooth leadership transition, continuity and stability. Senior leaders make way in good time for the next generation, share their experience and help the next generation of leaders to succeed."
Before the latest announcement, the previous round of Cabinet changes in April last year saw movements at all but one government ministry, with nearly two-thirds of the ministries helmed by a 4G leader and a third woman full minister being named.
In November last year, the ruling People's Action Party (PAP) announced the office-bearers of its new Central Executive Committee (CEC), with Mr Heng and Trade and Industry Minister Chan Chun Sing, 49, taking up the first and second assistant secretary-general positions respectively. This prompted talk that the one, or both, of the pair will be appointed DPMs in the subsequent Cabinet changes. 
In the latest round of changes, Mr Chan will continue as Minister for Trade and Industry. Likewise, there are no changes to the other ministers' portfolios.
While political analysts were not expecting a major Cabinet reshuffle, they had previously predicted that there would be more changes, apart from the possible appointment of new DPMs. 
Following the PAP CEC elections, the analysts interviewed then said that the Cabinet changes this year would likely be more "substantive and strategic", compared with the previous round in April last year.
This was partly because this set of Cabinet changes was expected to be the last one before the next General Election (GE) is called. The next GE is due by early 2021 but there has been talk that it could be held as early as end of this year.