With her East-meets-West designs, Lisa Von Tang hopes to put Singapore on world fashion map
SINGAPORE — Ms Lisa Von Tang, 32, remembers a time when she would return home in the wee hours of the night, exhausted from a full day's work, and vomit into a toilet bowl. Completely spent, she would sit in her bathroom silently, her only companion a pet dog curled at her feet.
SINGAPORE — Ms Lisa Von Tang, 32, remembers a time when she would return home in the wee hours of the night, exhausted from a full day's work, and vomit into a toilet bowl. Completely spent, she would sit in her bathroom silently, her only companion a pet dog curled at her feet.
Such is the price of being the founder of a budding street luxe fashion label that has caught the attention of some of the biggest names in the entertainment world.
In the four years since she started her clothing line, Ms Von Tang has seen the likes of rockstar Mick Jagger, supermodel Adriana Lima and actress Cara Delevigne clad in her designs.
Her flagship store sits among the likes of Gucci and Louis Vuitton in The Shoppes at Marina Bay Sands, and has been profitable since it opened in October 2017.
She is now gearing up for her first big push into the United States.
Yet Ms Von Tang still struggles to fully comprehend how she managed to rise to where she is today. Her brand Lisa Von Tang, also known as LVT, has not spent a single cent on influencer marketing, but somehow word of her little label gets around.
For example, Hollywood actor and Crazy Rich Asians star Henry Golding has donned LVT to three different public events, after his wife heard of the brand through her best friend.
And when Ms Von Tang obtained backstage tickets to a Rae Sremmurd performance at MARQUEE in July 2019, she spontaneously asked Slim Jxmmi, one half of the American hip hop duo, if he would go onstage wearing a jacket of her design. The rapper heartily agreed.
"He was like: 'Oh this jacket is so cool!'. I was actually wearing it at the time and I had nothing on underneath it, so I had to run somewhere and change in 20 seconds. And he just put the jacket on and performed in front of the audience. It was crazy," Ms Von Tang told TODAY.
EAST MEETS WEST
"Crazy" also describes her working hours; the Canadian fashionista and Singapore permanent resident said that she used to work nearly non-stop.
"It got to a point where my doctor told me that I had to take a break for three months to avoid potential burnout. But I can't do that. We're not a big company that has all these resources," said Ms Von Tang.
"I can't just tell my team: 'Bye! I'm off to the Bahamas or Bali for three months, do everything yourselves!'" she added.
Though Ms Von Tang has since given herself rules to ensure she gets ample sleep and exercise, LVT can never afford to stall in its tracks and neither can she, she told TODAY.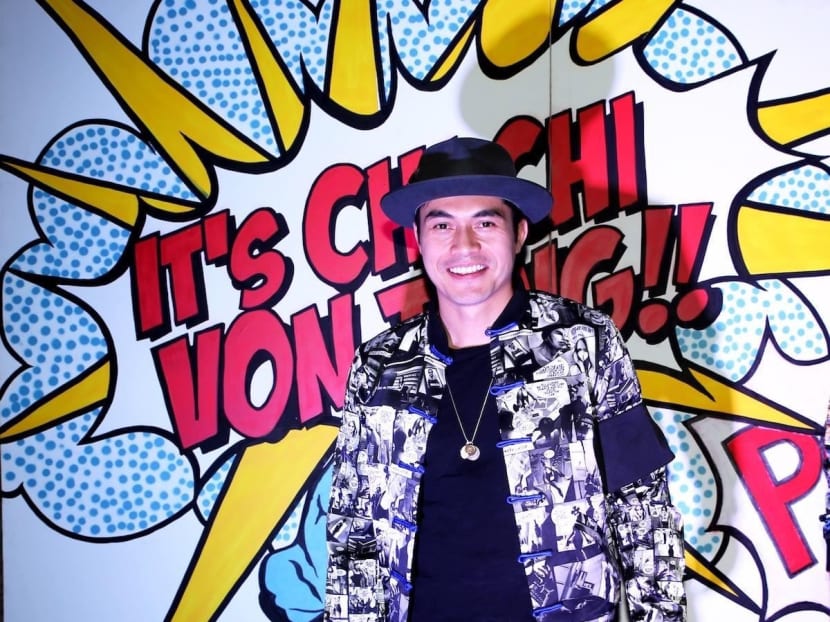 Her brand is a mix of East and West, mirroring her half-Asian and half-Caucasian roots.
Every part of her is infused with this cultural blend, including her design style — Ms Von Tang's signature is a bomber jacket with Chinese frog fasteners, the essence of western casual suave tossed with oriental flavour. It is an amalgamation of her own personality and heritage.
Her other designs embody this theme as well, from mandarin-style crop tops to shirts with jade buttons.
Then there's her jackets, which she said are designed to make the wearer feel "empowered".
"It's not for the faint of heart, and I like that when you put on a jacket it's kind of transformative. People have come up to me telling me that they felt bolder when they wear our designs," she said.
That boldness is perhaps reflected in Ms Von Tang's penchant for doing things differently.
Growing up in Vancouver, she would doodle clothes while other kids would draw people. While studying Political Science at Simon Fraser University, she did modeling on the side.
She moved to Singapore in 2009 to be with her now-ex-husband, and felt at home with the Republic's multiculturalism and fast-paced lifestyle.
She worked as a brand strategist for Ogilvy & Mather, before starting an online fashion retailer called Gnossem sometime around 2012 that featured products from independent designers.
Feeling that Gnossem had stagnated in late 2016, Ms Von Tang decided to focus on her own fashion label, which she initially named CHI CHI VON TANG and subsequently Lisa Von Tang.
'HAPPY TO BREAK TRADITION'
While it is common for designers to name their labels after themselves, for Ms Von Tang it was the other way round.
Before, she had been Ms Lisa Crosswhite, with her surname taken from her ex-husband whom she married at 23. After their separation, she was faced with the issue of having Lisa Crosswhite as her only legal identity.
Changing her name back to her father's, Rosentreter, was out of the question. She was never close to him, in both her childhood and adult life, especially after her parents divorced when she was 12.
"So I was in quite a pickle, because I didn't want to have to legally change my name back to my father's name and neither did I want to change my name for another man again," she said.
Only later, while in discussions with brand advisors, did she realise there was the possibility of naming herself after her label.
"Even if you take your mom's surname, it was probably from a male ancestor. The silent meaning of this tradition is that women are less important. I'm happy to break tradition with my name," she said.
She is happy to have found Singapore as well.
"When I tell people that I live in Singapore, the first thing they say is: 'Urgh Singapore, it's so hot', or 'it's so plain there'. But no, I love it here. The people here are hardworking and are driven and come from all sorts of different backgrounds," she said.
Now, Ms Von Tang has set her sights on America.
While she is keeping her plans close to her chest, she said she would maintain her current business approach, with pop-ups across the country and a focus on LVT's digital store.
It helps that US reality romance television show The Bachelor filmed an episode in Singapore in October 2018, with its onscreen stars dressed in LVT.
Ms Von Tang launched a test collection right before the episode aired, in January 2019, and it sold out almost instantly online.
"When I heard about how well we did I thought: 'Damn, if only we had made more'," she said.
She is intent on putting Singapore on the world fashion map.
"I want to make us a fashion brand that people around the world can recognise Singapore for. I don't think we have something like that yet," she said.