Heroes Unmasked: Art graduates raise funds, bring cheer to migrant workers through unique postcards
When 19-year-old School of the Arts (Sota) alumnus Russell Chong heard about the surge in Covid-19 cases among migrant workers here, he wanted to do something for them in his own way.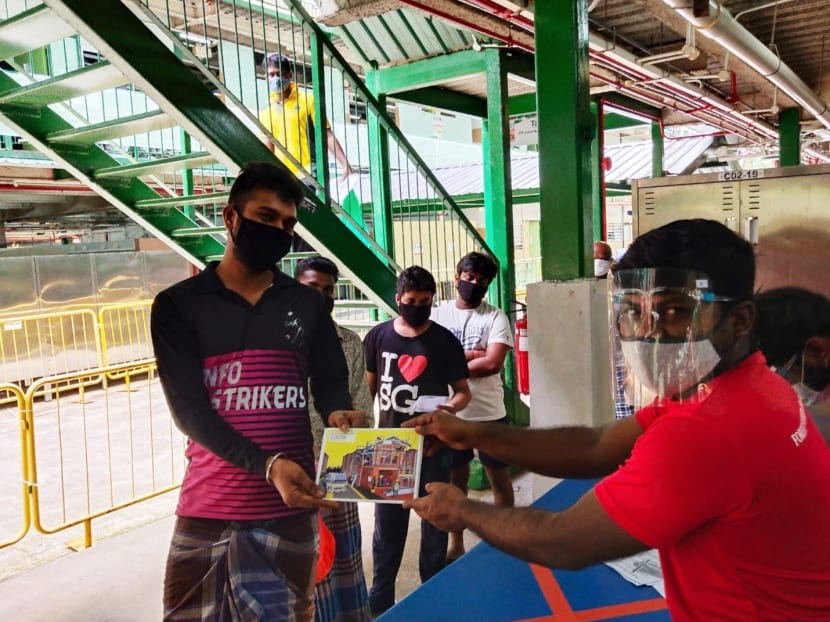 As Singapore battles the Covid-19 outbreak, TODAY's Heroes Unmasked series highlights those who are doing their bit to spread kindness and compassion during this period. In this instalment, we speak to several School of the Arts graduates, who raised S$15,000 for a migrant worker non-profit group by selling postcards online and distributed another 10,000 postcards to the workers for them to write home.
SINGAPORE — When 19-year-old School of the Arts (Sota) alumnus Russell Chong heard about the surge in Covid-19 cases among migrant workers here, he wanted to do something for them in his own way.
He came up with the idea of designing postcards and selling them online to raise funds for migrant workers. In early April, he posted an open call on Instagram to his friends and old schoolmates for help with the initiative, and 14 of them responded on the same day.
Less than two months later, the group has collected more than S$15,000 through their ground-up effort.
Called Project Postcard, their initiative gives all of its sales proceeds directly to Humanitarian Organization for Migration Economics (Home), a non-profit group that supports migrant worker rights in Singapore.
In May, Project Postcard distributed 10,000 postcards to the Woodlands and Cochrane Lodges so that workers staying at the dormitories there could write to family and friends in their home countries. Project Postcard will cover all mailing and postage costs.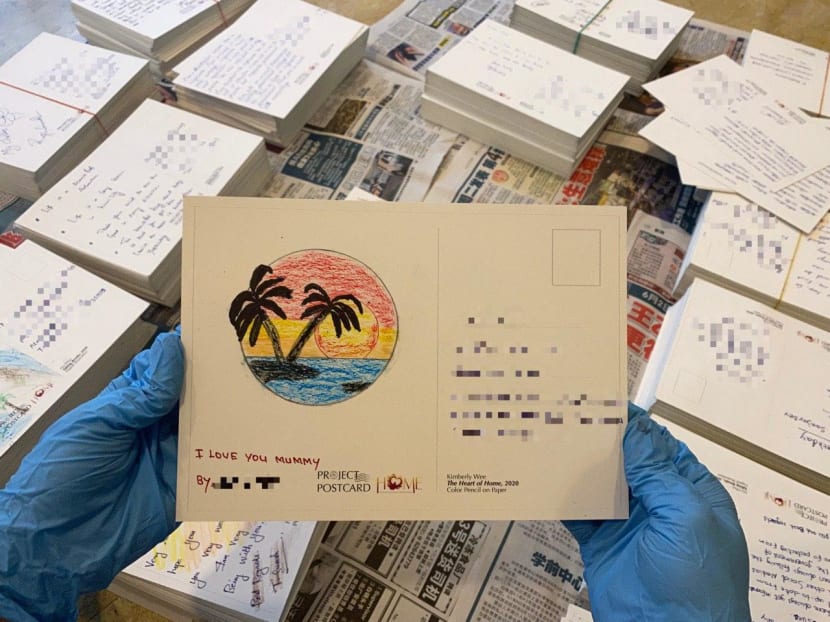 Mr Chong, who is serving his National Service, said that the intent behind this was to lift the workers' spirits by helping them to connect with their loved ones.
He noted that many other Singaporeans have made philanthropic efforts to help migrant workers, but these tend to focus on improving the workers' living spaces or providing for their physical needs. He felt it was also important to help the workers with their emotional needs.
"(The pandemic) has really exacerbated the insecurities these workers face every day. They could be worried about their job security and their health. Apart from raising money for them, we wanted to also use the art to cheer up the migrant workers and show them that they are also a part of our community and that Singaporeans stand in solidarity with them."
All of the artwork on the postcards revolves around this theme.
Project Postcard's creative lead Kimberly Wee, 20, said that the group's 12 featured designs, created by 11 former Sota visual arts students, are aimed at inspiring the workers and making them feel a part of Singapore.
The group avoided creating designs that focus on the difficulties that migrant workers may have faced during the pandemic.
Ms Wee, who is waiting to start her second year of study at Yale-NUS College, said: "We didn't want it to be patronising and have the migrant workers see these artworks of themselves in moments of hardship. We wanted to show them that we don't just appreciate them because they helped to build our country or because they have suffered, but because they are a part of our community."
For example, one of the postcards depicts two workers standing at a construction site with their arms around each other's shoulders, while another features several workers taking a break and relaxing on a grassy field.
Since it launched on April 19, Project Postcard has sold around 15,000 of these postcards and they are now out of stock and no longer for sale.
It is a satisfying end, especially considering the rough start they had.
Ms Pujaa Kasivishvanaath, 20, who is in charge of Project Postcard's finances, said that the group was initially rejected by sponsor candidates over doubts that the young team could manage to break even.
"We were getting pretty discouraged… But we decided we had to prove ourselves and show the sponsors that this is something really worth supporting," she said. Ms Pujaa is waiting to enrol in the National University of Singapore.
The former schoolmates then started selling their postcards using S$2,000 of Mr Chong's personal savings for printing costs.
On May 4, Project Postcard received confirmation of a grant from philanthropic organisation The Majurity Trust that funded 80 per cent of their initiative, up to S$5,000. Mr Chong plans to use some of this money to reimburse himself.
The group also received an 80 per cent subsidy for the printing of their postcards from KHL Printing.
Project Postcard is now in talks with other sponsors to provide postcards to more dormitories, but does not have any specific plans laid out for now.
Mr Chong hopes that the initiative can continue beyond the pandemic.
"This was a huge task for us to take on and it was a steep learning curve, but we're really proud of ourselves. We took what we had and used what resources we had to do something to help others. I think anyone can do it if they come together and put their minds to it."