Heroes Unmasked: Music and content loaded on MP3 players for seniors living alone to enjoy
SINGAPORE — Dr Skye Yeo, 46, who is close to her 77-year-old mother, wondered how other seniors, some of whom might be living alone, were coping with being cooped up at home during the circuit breaker period.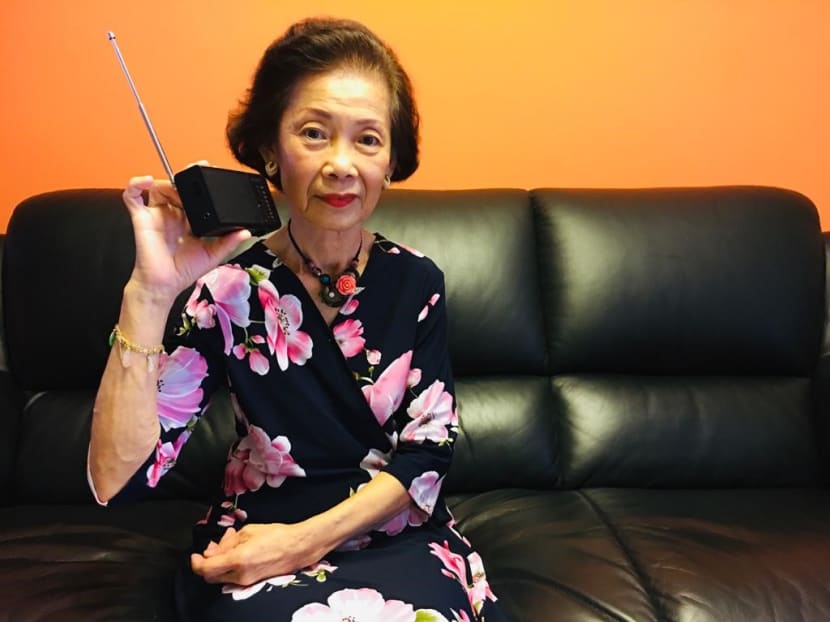 As Singapore battles the Covid-19 outbreak, TODAY's Heroes Unmasked series highlights those who are doing their bit to spread kindness and compassion during this period. In this instalment, we speak to Dr Skye Yeo who started a project to give out 3,000 portable MP3 players to elderly individuals from underprivileged backgrounds. 
SINGAPORE — Dr Skye Yeo, 46, who is close to her 77-year-old mother, wondered how other seniors, some of whom might be living alone, were coping with being cooped up at home during the circuit breaker period.
"Seniors are no longer allowed to mingle. Home visits and social outings have been cancelled and senior activity centers are closed. Many lack human connection for mental wellbeing. Unlike the digital savvy, they are unable to turn to the online and digital world to pass time or stay connected," said Dr Yeo, a freelance industrial organisational psychologist.
She wanted a way to brighten up their days and came up with the idea for Project Audible Cheer after noticing her mother switching on her radio to fall asleep with music playing in the background every night. 
"I realised that for the elderly, music is comforting to them. Especially if you put on something that they grew up with and used to listen to 30 or 40 years ago that they don't actually hear on the radio nowadays," said Dr Yeo.
Instead of handing out mobile phones which incur monthly costs or televisions where cable and streaming sites come with subscription fees Dr Yeo decided on portable MP3 players as they would be easy to use and seniors would only have to charge them. 
Dr Yeo first took to Facebook two weeks ago to ask for donations for used MP3 players but only received one.  
"No one seems to have held on to their MP3 players. I also surveyed the local market twice and realised that there are barely any here," she said.
So she decided to rope in some friends to help her to raise funds to be able to purchase new MP3 players from China. Each set comprising a MP3 player, two memory cards and a USB charger cost around S$22. 
She managed to raise S$9,800 before social service agency Lions Befrienders Service Association heard about her project and decided to come on board to help out. 
A Giving.sg page was set up with the goal of collecting S$70,000 to provide 3,000 devices to seniors.
As of 10am on Saturday (May 9), S$14,500 has been collected and Dr Yeo will be placing her first order of MP3 players on Monday. 
To ascertain how many sets to buy, Lions Befrienders Service Association, which currently assists 6,000 seniors who mainly live in one or two-room Housing and Development Board rented flats, reached out to the seniors under them to ask if they would be keen to receive these MP3 players. 
When these seniors receive their devices, they will be loaded with memory cards filled with content. 
The content will include music from their era and also content created by non-profit arts company 3Pumpkins, which have started Warung Cakap Apa, a programme funded by Our Singapore Fund and created in Mandarin, dialects and Malay.
Theatre practitioners helm programmes that range from radio plays, storytelling to talk shows that are broadcast five days a week at 9pm live on 3Pumpkins' Youtube and Facebook pages. 
3Pumpkins, which has a 3-year arts residency in the Lengkok Bahru neighbourhood in Bukit Merah to conduct research on arts and social development in the area, came up with Warung Cakap Apa after noticing that the senior activity centre was closed. 
"I wanted to create content so that when there is a chance for us to plug it somewhere, we can. Since these programmes are largely audio-based when I heard about Project Audible Cheer, it seemed like the perfect fit," said Lin Shiyun, 38, Creative Producer of 3Pumpkins.
"There is storytelling, which was popular in the 60s and 70s, of Journey to the West in Cantonese. The Malay programme is a talk show about life during Covid-19 where the hosts have a dialogue with each other. There is also a programme where they will discuss movies from the 30s to the 90s, something that the seniors can relate to," said Ms Lin.
Ms Lin explained that once a month, during their visits, befrienders will switch out the memory cards in the MP3 players, with a new memory card that has been uploaded with new Warung Cakap Apa content so that the seniors will be able to have something new to listen to.
As the players will take two weeks to arrive in Singapore, Dr Yeo hopes that she will be able to reach her target of S$70,000 as soon as possible to be able to provide these sets to seniors while they need it the most.
"This product will still be useful after the circuit breaker but it is more useful now, because they can't go out and sit in a coffee shop. But for some immobile seniors who are not able to go out so easily, it will still be useful," she said.
"Socially isolated, our seniors might feel increasingly demoralised or depressed."