Heroes Unmasked: No hand sanitiser? No fear. These 'super mums' are here to help
SINGAPORE — Before the Covid-19 coronavirus outbreak, they were acquaintances who occasionally shared parenting tips and deals for bulk purchases on a WhatsApp group for the mothers living in their Ang Mo Kio estate.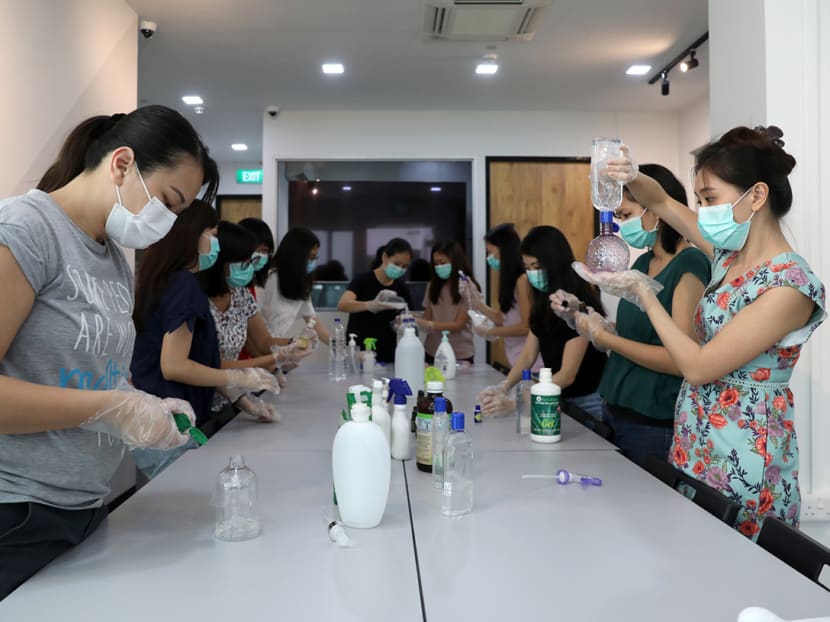 As Singapore battles the Covid-19 outbreak, TODAY's Heroes Unmasked series highlights those who are doing their bit to spread kindness and compassion during this period. In this instalment, we speak to Ms Lini Chew of the "Teck Ghee Super Mummies" about how their community rallied together to make hand sanitisers for the whole residential estate.
SINGAPORE — Before the Covid-19 coronavirus outbreak, they were acquaintances who occasionally shared parenting tips and deals for bulk purchases on a WhatsApp group for the mothers living in their Ang Mo Kio estate.
Then news that local retailers had run out of stock of hand sanitisers prompted one of the mothers to suggest that they make their own, put the product into recycled dispensers and place the bottles in all the lifts of their estate for the residents to use.
For the group at Teck Ghee Parkview who call themselves "super mummies", the simple idea was the push that they needed to spring into action.
They quickly got to work sourcing for the ingredients, such as various essential oils, and materials such as the dispensing bottles needed to make the disinfectant.
Speaking to TODAY on Wednesday (Feb 12), Teck Ghee Parkview resident Lini Chew said she was shocked by the overwhelming response from the mothers to kick start the initiative.
"When I threw out my idea, I did not expect anyone to want to do it because during this period we are told to have minimal contact if possible," said the 36-year-old marketing manager.
"So I was quite shocked that (right after I posted my question) there were 15 mothers in the chat group who wanted to help," she said.
In the end, close to 10 women turned up on the designated day to help make the sanitiser. Some others who were unable to be there helped to collect recycled bottles and donated ingredients from their homes.
The result? Fourteen bottles of homemade hand sanitiser to distribute to the lifts in the housing blocks of their estate.
Ms Chew told TODAY that this was the first time that the residents have rallied together as a community and the experience has brought them closer together.
"Honestly, at first everyone was a bit awkward. Although we are neighbours, we are still mostly strangers… But after two hours of (making the hand sanitisers together), everyone started to get comfortable with each other and you can feel the trust being built between the residents."
Some of the women also roped in their kids to help with tying the bottles onto the railings in the lifts, Ms Chew said. Notices inviting residents to use the sanitisers were also placed in the lifts.
When asked about the reaction of residents in the block, Ms Chew said that those who were not aware of their efforts did not immediately catch on.
"Initially, when we first put up the hand sanitisers, some people were curious and others also wondered if we were vandalising (the lifts).
"But when they realised that (the bottles) were hand sanitisers, some of them stopped to thank us. Their facial expressions were priceless… you can tell they were touched that people in their community cared for them," she said.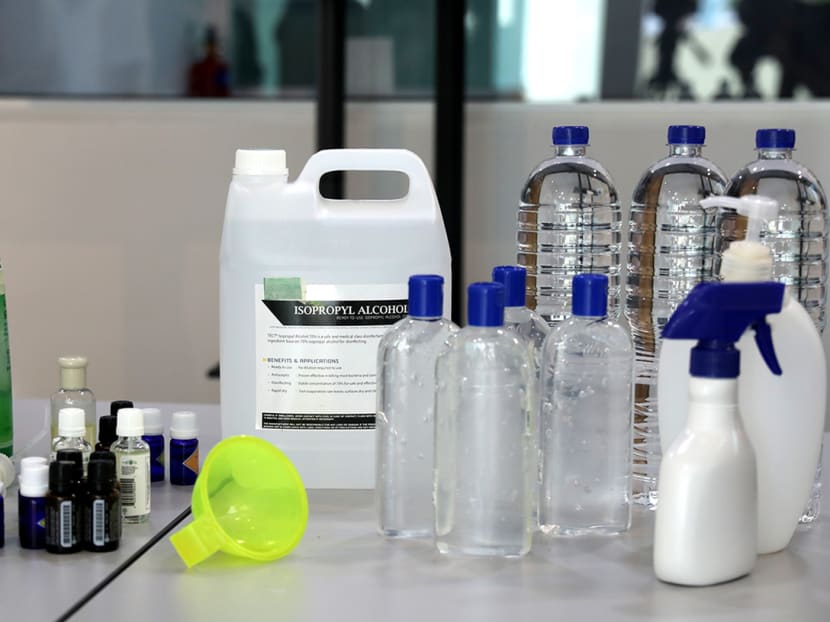 Mindful that health experts have said hand sanitisers need at least 60 per cent alcohol to be effective, Ms Chew said the mothers are looking for ways to procure rubbing alcohol for when they make more bottles of hand sanitiser on Saturday (Feb 15).
In the original recipe, which was provided by another resident who had it on hand, the mothers had replaced the rubbing alcohol with vodka, which contains a high level of alcohol.
She said that they made sure they labelled the hand sanitiser bottles with the ingredients so that the residents would know what is in them.
Aside from the residents in her community, other housing estates — in Punggol and in other parts of Teck Ghee's residential network — have contacted Ms Chew for the recipe so they can make hand sanitisers from their own estates.
Prime Minister Lee Hsien Loong on Tuesday also commended the mothers' efforts on his Facebook page.
"You don't have to be on the frontline fighting the coronavirus to make a difference. The acts of neighbourliness and kindness happening across our island show that the Singapore spirit is alive and well," said Mr Lee.
Ms Chew said: "I'm very shocked at how this one idea has grown into something that has affected a whole group of people and the group is still getting wider and wider.
"I hope that Singaporeans can put their selfishness aside and come together as a nation, pull our resources together and work with each other because if we keep doing things along, we will never fight the virus," she said.